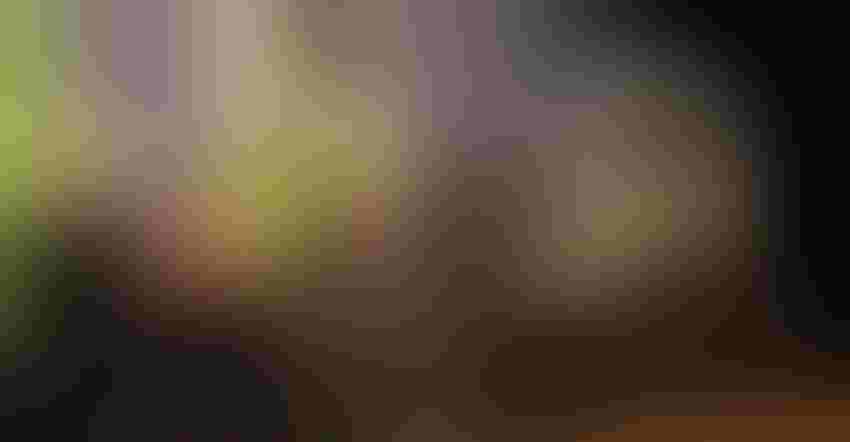 Brian Buhr, Devry Boughner Vorwerk, Randy Spronk, Jeff Nawn and Lesly McKnitt participate in an ag trade discussion at the Minnesota AgriGrowth Council annual meeting at the Minneapolis Convention Center.
Janet Kubat Willette/Farm Progress
Ever feel like you're fighting the same argument over?
Consider these quotes:
"Successive rounds of tariff reduction have fueled the rise of international trade. The United States has been the leader in efforts to cut not only tariffs, but quotas and other non-tariff barriers. And now the leader would be seen to have turned away: turned inward." 
"The irony is that the jobs they want to protect, many of them, are low-wage jobs. But the future prosperity of the United States depends on moving people and capital into new enterprises, high-paying ones, not in telling us we need to learn nothing new."
These quotes are not new, they are from a Nov. 5, 1993, New York Times opinion, yet the arguments sound shocking similar, Devry Boughner Vorwerk said while speaking during an agricultural trade discussion at the Minnesota AgriGrowth Council annual meeting in November at the Minneapolis Convention Center.
"Let's build the future, not deconstruct the past . . . focus on ways that we can help even more people, communities and countries benefit from trade," said Vorwerk, who works in global corporate affairs for Cargill.
Benefits of trade
Since NAFTA began, U.S. agricultural exports to Mexico and Canada have more than quadrupled from $8.9 billion dollars in 1993 to $38.6 billion dollars in 2015. These trade flows supported more than 15 million jobs in the United States. In 2016, Canada was the second largest destination for U.S. agricultural products and Mexico was the third.
Mexico is the leading destination for U.S. corn, with about a quarter of U.S. corn exports going to Mexico last year, said Lesly McKnitt, director of public policy for the National Corn Growers Association. Corn exports to Mexico were valued at $2.5 billion in 2016.
Corn growers are watching federal trade policy closely as both the No. 1 market (Mexico) and the No. 3 market (Korea) have trade agreements that the Trump administration wants to change.
"The rest of the world is watching to see what we do with NAFTA and Korea as well because we talk about bilateral agreements as being a priority and it certainly is, but there's not going to be a lot of countries lining up to be our dance partner if they think that we're just going to leave them standing a few years in," McKnitt said.
Trade is about policy, not politics, Vorwerk said. At a very basic level, it helps feed people around the world.
"Trade agreements enhance market access, they deepen integration into local value chains, they often incentivize sound fiscal policies, and the results are greater productivity and output, increased demand and sustainable economic growth," she said.
But many of these benefits are threatened today because there's been either withdraws or threats of withdraw from trade agreements, including the Trans Pacific Partnership, Transatlantic Trade and Investment Partnership, the Korea-U.S. Free Trade Agreement and the North American Free Trade Agreement.
Implications of regressive trade policy
No U.S. economic sector is more at risk than agriculture from a pullback in international trade, Vorwerk said. Agriculture accounts for about 20% of overall total U.S. exports. If the U.S. turns inward from trade, there will be job losses, higher consumer prices and economic fallout, she said.
"The risk of these reversals puts a drag on productivity and income growth," Vorwerk said.
The uncertainty in the marketplace has a very long tail, said Jeff Nawn, global grain trade and biotech affairs lead for DuPont Pioneer.
Randy Spronk, a pork producer and past president of the National Pork Producers Council, agreed. Farmers and businesses make investments for decades, he said, citing the five new pork packing plants coming online in the United States. When there is uncertainty in the market, those investments don't happen, he said.
"I'm afraid there is an unfortunate distance between what is being done in Washington, D.C., and what our producers are aware of and I don't think . . . it's sunk in the risk we've put our export sector in yet," Nawn said.
The majority of global growth is happening outside U.S. borders and 96% of the world's consumers live outside the United States, yet the administration appears ready to pull back from previously negotiated trade agreements.
Call to action
Vorwerk issued a call to action. Those involved in agriculture need to push for social and policy change because it matters.
"We know that there are drawbacks to trade and we know that trade is not perfect, it's not evenly distributed," Vorwerk said. "It is true that trade itself cannot equip us for the transformations that are going on right now and some communities in our country have been and can be disproportionately impacted by trade liberalization, if a local plant closes, for instance.
"But we also know that trade is being vilified as a driver of job loss. In the last decade, 88% of job losses in manufacturing were attributed to increases in productivity driven by automation and better technology, not trade, so government, private companies and NGOs need to be working together to build a future workforce, not deconstruct trade agreements."
If Mexico takes it corn business elsewhere, there's going to be a hit to the farm sector GDP and lost revenue on individual farms, McKnitt said. The federal government will need to issue $1.2 billion annually in additional commodity payments just to try to compensate for the lost revenue. Impacts will ripple through the supply chain.
"All of us in this room need to engage," Vorwerk said. "We need to be storytellers. We need to use every opportunity to explain the benefits of trade to our key stakeholders and to those who craft our trade policies. It's our responsibility to make our voices heard, to speak up forcefully and to ensure we preserve and build on the gains we've made from trade."
Subscribe to receive top agriculture news
Be informed daily with these free e-newsletters
You May Also Like
---