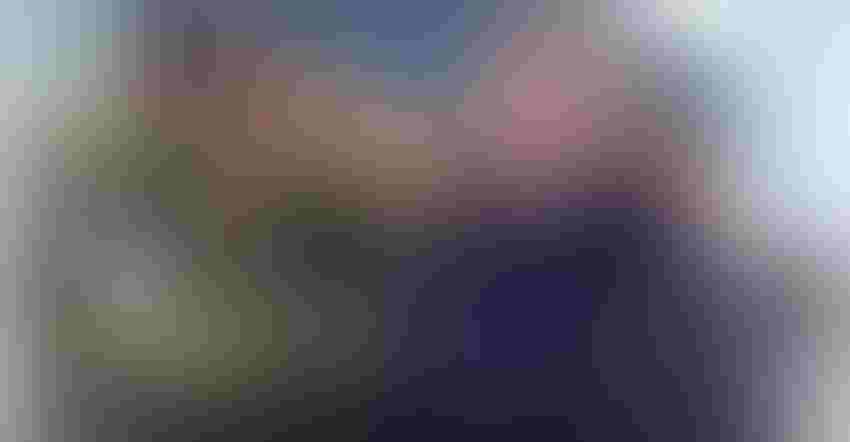 Michelle Erickson-Jones is featured in a Farmers for Free Trade ad campaign, shown in this screenshot from YouTube.
Farmers are increasingly concerned that President Trump's trade policies will reduce access to export markets.
In response, Farmers for Free Trade today released a national cable television advertisement that calls on Trump to protect free trade policies that support American farmers. The spot, features fourth-generation Montana farmer Michelle Erickson-Jones and her family.
Erickson-Jones grows grains and raises cattle near Broadview, Montana. In the ad, she explains the importance of export markets to her farm and the dangers of trade policies that restrict exports.
"We depend on free trade policies to maintain our export markets," Erickson-Jones says in the 30-second spot. "The crops that we grow here on this farm are exported across the globe. Policies that restrict trade would be devastating for farms like ours. Someday I'd like to pass the farm down to my boys. Mr. President, protect free trade and keep our agriculture economy strong." 
The message to the president will run at least the next four weeks on cable news channels including Fox, CNN, and MSNBC, online and on rural ag programs across the country. The TV spots will run in D.C. and are expected to run in Florida when Trump travels there. The ad will also help launch Farmers for Free Trade's "Voice of the Farmer" campaign, which will allow farmers from across the country to record a video in support of trade or call their lawmakers to ask that they work with the president to maintain and expand export opportunities for American agriculture.
"Farmers are increasingly worried about what they are seeing from Washington D.C. on trade," said Farmers for Free Trade Co-Chair and former Montana Senator Max Baucus. "When the U.S. engages in a tit-for-tat fight with our trading partners, farmers pay the price. While we need tough trade enforcement, we need to be smart about avoiding global trade fights that hurt American agriculture."
"American farmers and ranchers depend on policies that open markets and are hurt by policies that throw up barriers to trade," said Farmers for Free Trade Co-Chair and former Indiana Senator Richard Lugar. "Escalating trade tensions will invite retaliation targeted at our farmers and will raise the price of ag equipment and inputs. We are working to ensure that American farmers are making their voices heard so that we avoid a trade war."
Farmers for Free Trade is bipartisan, non-profit campaign to rebuild support at the grassroots level for trade policies that benefit American agriculture. Farmers for Free Trade works to amplify the voices of millions of American farmers, ranchers and agricultural businesses who want to open new markets for American ag products, protect free trade policies, and reduce risk and uncertainty. 
Source: Farmers for Free Trade 
Subscribe to receive top agriculture news
Be informed daily with these free e-newsletters
You May Also Like
---