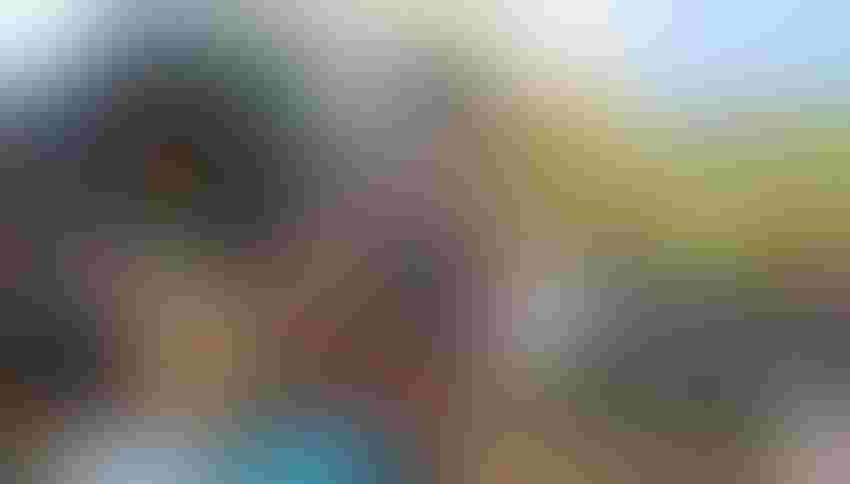 Karen Mills of R&K Orchards in Corning, Calif., sorts peaches at a farmers' market in Redding, Calif.
Tim Hearden
Those who till the earth don't do so for kudos. They don't seek praise, but it's nice when the accolades do appear. In California, the month of October was designated California Farmer and Farmworker Month.
A proclamation from Gov. Gavin Newsom reads: "As a thank you for the tireless work the farming community performs to feed families all over the world, (we) celebrate their hard work and dedication to provide a safe food supply. Their efforts are worthy of our gratitude every day -- especially during the pandemic."
In Arizona, a similar honorific came in the form of a virtual event called "Feeding Arizona: How Dairy Farms, Food Banks, and Schools Work Together in Response to COVID".
Sitting at her farm office desk with a message board sign reading "Thou Shalt Not Whine", Stephanie Smallhouse, director of the Arizona Farm Bureau and panel moderator, noted: "What we saw as the coronavirus played out was an anomaly in our food system -- plenty of product being produced, but empty grocery shelves. It's given us some insight about what can be done to prevent that from happening again in the future."
An immediate need
Panelist Angie Rodgers of the Arizona Food Bank Network told of an immediate and nearly overwhelming need as coronavirus changed all of our lives. "We feed over 7 million people a year, over 450,000 a month, and we saw something we hadn't seen before as 55% of those showing up in the food box line were first-timers who had never been here before.
"We call ourselves the last mile of distribution as part of the business solution between agriculture, retail, and the federal government and in some instances, we were stretched thin with more people showing up for distribution than we had planned for," she said. "But thanks to the Farm-to-Foodbox program and other suppliers, we were able to meet that unanticipated need."
Before the impact of the virus really hit, the Arizona Food Bank Network was distributing an average of 17 million pounds of food per month. Within a short time, that figure rose to $19.1 million pounds monthly.
"While need increased, our volunteer numbers dwindled and we relied on volunteers in fatigues, members of the National Guard, to help in packing and distributing food boxes," she said.
Meat sales jumped
While grocery store shelves were quickly depleted -- and not just of toilet paper and hand sanitizer -- grocery store meat sales jumped 78% in a single week (as Easter approached, sales of spiral hams surged 413%) and retailers experienced a 75% increase in online grocery sales.
"We served 33,500 million grab-and-go or drive-up meals from March to July," said Ashley Schimke, Farm-to-School Specialist with Arizona's Health Nutrition Services Division.
That's on the distribution side. On the production side, Keith Murfield, CEO of United Dairymen of Arizona -- the 9th largest dairy co-op in the U.S. -- said the impact of the coronavirus came at the worst possible time.
"We were in peak season, bringing in about 13 million pounds of milk per day, and traditional food service needs just stopped," Murfield said. "We ran out of storage space in a hurry and there was no place to go, we couldn't run any more through our dryers and we ended up dumping about 13 million pounds of milk.
"We asked our producers to cut back by culling cows (but the meat packing industry was having its own set of problems)," he said. "We suggested changing rations and going from 3 to 2 milkings per day. The pandemic hit hard and fast and with cows still giving ten gallons per day, the milk just kept coming because it was difficult for the industry to respond quickly."
Backup plans are being made as a contingency against future such occurrences. "There's a limit to what you can do in the way of plant capacity because we're already one of the largest plants in the U.S.," he said. "For us to increase another 3 or 4 million pounds per day would cost in the neighborhood of $400 million and that larger plant would just sit empty most of the time."
As dairy economist Bob Cropp noted in a recent Western Farm Press story: "There remains a lot of uncertainty as to where milk prices are headed for the remainder of the year and for next year. Until the coronavirus comes more under control and things return to more normal, demand for dairy products will be depressed."
Subscribe to receive top agriculture news
Be informed daily with these free e-newsletters
You May Also Like
---