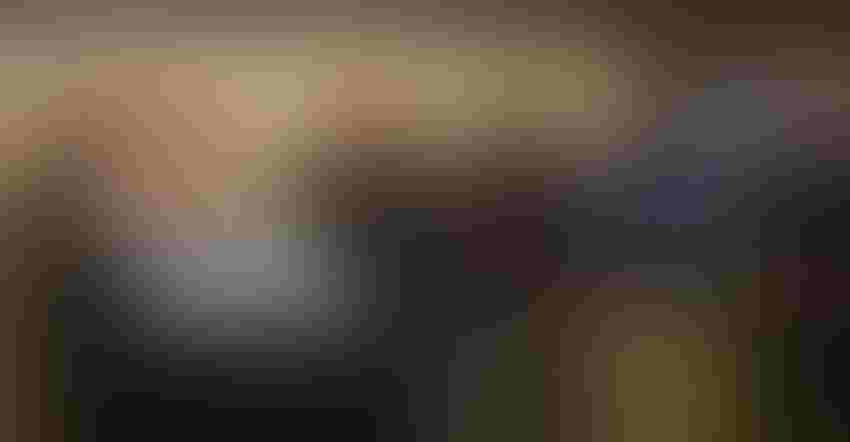 TOURING NBAF: DHS Secretary Kirsten Nielson speaks to reporters Sept. 10 after a tour of the National Bio and Agro-defense Facility in Manhattan, Kan. Tour members included, Sen. Jerry Moran, left, Nielson, Sen. Pat Robers, who hosted the tour, Kan. Gov. Jeff Colyer, Rep. Kevin Yoder, Rep. Roger Marshall and K-State President Dick Myers.
Construction of the National Bio and Agro-defense Facility on the Kansas State University campus is on time, on budget and about 65% complete, Sen. Pat Roberts, R-Kan., said following a tour of the site with Kirsten Nielson, Department of Homeland Security secretary, and other officials.
Sen. Jerry Moran, R-Kan., Rep. Roger Marshall, R-Kan., Rep. Kevin Yoder, R-Kan., Gov. Jeff Colyer and Dick Myers, Kansas State University president, were also part of the tour group.
The NBAF, which will replace the aging animal disease research laboratory on Plum Island, N.Y., is slated to be complete in 2021. It will take close to another year of testing and verification before the lab is fully open for business in December of 2022.
Gearing up to the opening of the new Biosafety Level 4 facility, a variety of transition work is being done in the K-State Biosecurity Research Institute, a Biosafety Level 3 facility located in Pat Roberts Hall on the campus.
Nielson said she wanted a first-hand look at the facility and to learn more about the complex construction project. She said she was impressed with the security measures being built into the facility and was particularly pleased that it had been engineered to withstand potential weather disaster events such as tornadoes.
Roberts said the facility is more than worth its $1-billion price tag.
"That is a high price but, compared to the economic losses and potential loss of life that would result from a major animal disease outbreak, it is well worth it," he said.
Roberts said he became deeply concerned about the potential for an attack on the food supply after touring in the former Soviet Union and realizing the threat presented by huge stockpiles of biological weapons.
"After we conducted a massive exercise on the impact of an outbreak of foot-and-mouth-disease, it became apparent that we needed to take action to be prepared to handle any outbreak and its aftermath," he said. "So, this is really a project that has been in the planning for decades."
Planning for the institute, beginning in 1999, was the first response to concerns. After the Sept. 11 terrorist attacks in 2001, Roberts began pushing for funding to build a research institute capable of addressing concerns about the security of the food supply and conducting research in foreign animal diseases, including zoonotic threats such as West Nile Virus and Rift Valley Fever.
Scientists around the world, including researchers at K-State, are currently studying the deadly African Swine Fever virus that has wiped out thousands of pigs in Russia and Eastern Europe and has more recently spread to China, where there have been at least 13 outbreaks in recent weeks.
The need to build a new, modern Level 4 facility was already apparent when the BRI was completed in 2007. Plum Island was too small for the large animal research necessary and was nearing the end of its life cycle.
Design of the new NBAF was initiated in March of 2007 and site preparation started in November of 2010. Design was complete in July of 2012 and site prep was finished in August of 2012. The central utility plant was completed in 2015.
Plans call for transitioning the ownership of the plant from DHS to USDA in 2021 when the building is commissioned. Moran said the move was considered from the beginning, and that the mission of NBAF will not change.
"It's always been a joint project; the only change is in technical ownership," Moran said.
Myers said the new facility has already benefitted Manhattan, K-State and Kansas.
"In addition to the benefit of jobs from construction, we have animal health companies that have already chosen to locate in the region between Manhattan and Columbia, Mo., in the Kansas City Animal Health Corridor. We anticipate there will be many more that will come here in the future because of the advantage of working in the proximity of researchers at BRI and NBAF, and we anticipate that some researchers may work at both laboratories," Myers said.
Yoder said the state of Kansas has invested $300 million in the facility, but it is a wise investment to protect the Kansas ag industry, which contributes $68 billion annually to the Kansas economy and employs 200,000 people across the state.
The research institutions also offer an opportunity for good-paying jobs for highly skilled workers that will, in the future, include students from Kansas, the U.S. and around the world to work there.
Yoder said one goal of ongoing research is the development of vaccines against disease threats before they arrive on American shores.
Sen. Roberts addresses plans for 'vaccine bank'
Roberts hinted that there's been farm bill agreement on funds for developing a structure for the creation and storage of vaccines against exotic animal diseases that may threaten agriculture in the future.
In a brief press conference following a tour of the NBAF construction site with Nielson, Roberts said that there is agreement on the House Committee on Agriculture from both Chairman Mike Conaway, R-Texas, and Ranking Member Collin Peterson, D-Minn., as well as between Roberts and Sen. Debbie Stabenow, D-Mich., in the Senate, that the vaccine bank is necessary. Roberts said he believes that it will be part of the final legislation.
"We have the 'Fab Four' in agreement," he said. "I guess we will find out how fab we are."
The idea came up a year ago when Roberts and Sen. Claire McCaskill, D-Mo., held a roundtable with the Agribusiness Council of Kansas City and local DHS and Emergency Management officials.
At that time, the panel agreed on the need to establish an infrastructure for how vaccines would be created and stored, as well as a plan for how they could be moved quickly and effectively around the country to mitigate the damage from a disease outbreak.
On Monday, Roberts said that it will take a "consortium" of stakeholders at other institutions to establish the framework for building the vaccine bank.
"I anticipate we will be working with the University of Missouri, Iowa State and others," he said
Subscribe to receive top agriculture news
Be informed daily with these free e-newsletters
You May Also Like
---