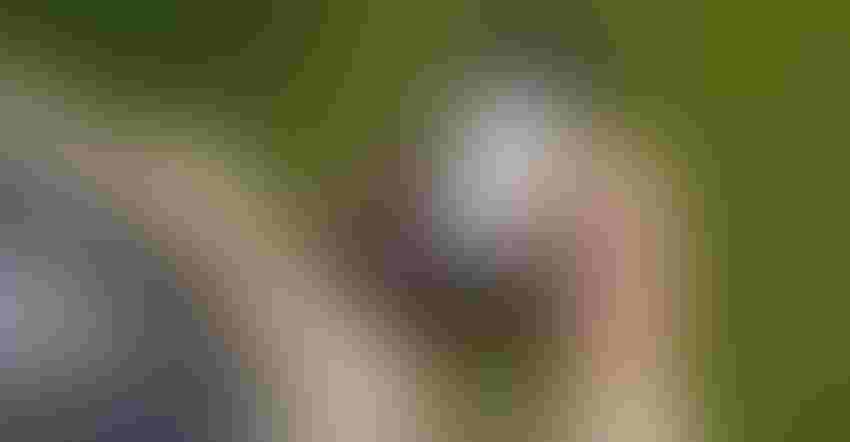 AT HAND: Bushel, a mobile platform and app, puts nearly all of your business with grain elevator in your hand.
Bushel
Ryan Evans doesn't call his grain elevator much anymore. And he doesn't have to sit down at his home desktop computer to log into his grain elevator's website, and then search through his statements to find critical information anymore. He doesn't even have to carry around a laptop or iPad in his pickup or tractor.
Evans, from Scranton, N.D., uses an app on his cellphone almost exclusively to do business with his elevator, Scranton Equity. Through the app he can see scale tickets, cash bids, contracts, pre-paids and other important business data.
The app saves a lot of time and hassle, according to Evans, who serves on the elevator board. It is especially handy in spring and fall seasons when he finds it logistically impossible to get to the office computer during the day.
The app is super easy to log on to, as well. Evans, 35, just taps on the app icon. He doesn't have to type in any numbers, letters or symbols for a password, which can be hard to do when you are bouncing around in farm equipment. The app recognizes his phone and connects him automatically.
It is pretty slick technology, Evans says.
Powered by Bushel
Scranton Equity's app is powered by Bushel, a software platform and app designed by a Fargo, N.D., company. Bushel won the Judge's Choice — Food and Ag Tech Award at Rabobank's recent FoodBytes! Competition. FoodBytes! is a global pitch and networking event for food and ag tech startups. Winning an award at the competition raises Bushel's profile, especially among investors. Bushel is trying to raise capital to expand its software platform and app to grain elevators throughout the country and to connect them with ethanol plants, mills, feedlots, export terminals and other grain buyers. Its broader vision is to connect and enhance the grain industry through digital infrastructure.
Bushel was launched in June 2017 by Myriad Mobile, a software and app development company based in Fargo. (Farm Progress Companies, publisher of Dakota Farmer, is a Myriad Mobile client).
"We were inspired by a project we worked on for a sugar beet cooperative that had almost 100% adoption among producers," says Ryan Raguse, executive chairman and co-founder of Bushel. "It was a scale ticket app that allowed producers to see their scale tickets in real-time through their mobile device. While we were working on that project, we had a grain company ask us to build an app that displayed their cash bids. We collaborated and approached it with the idea of, 'How can we make the app do more?' That's when we moved forward and built the Bushel software platform for the grain industry."
Each grain facility gets its own branded mobile app from Bushel. The Bushel platform runs the app, but the grain facilities have their branding out front and in the app stores.
Is your elevator using it?
Forty-three companies with 1,500 grain facilities currently use the Bushel-powered web platform and app. They include:
• Ag Valley Coop
• Agtegra Cooperative
• Beach Coop
• Berthold Farmers Elevator
• Border Ag & Energy
• C-W Valley Co-op
• Central Farmers Cooperative
• Chandler Feed
• Chippewa Valley Ethanol
• Columbia Grain
• Cooperative Producers Inc.
• Dakota Midland Grain
• Dakota Mill & Grain
• Flint Hills Resources
• Garden City Co-op
• Highline Grain Growers
• Hooker Equity Coop
• Hunter Grain
• Lansing Trade Group
• Lighthouse Commodities
• MarKit County Grain
• MinnKota Ag Products
• Mountain View Coop
• North Dakota State Mill
• Oahe Grain Corp
• Plains Equity Exchange
• Prairie Grain Partners
• Ray Farmers Union
• Ritzville Warehouse Co.
• Scott Cooperative Association
• Scoular (GrainView app)
• Scranton Equity
• Siemer Milling
• Skyland Grain
• Smithfield Grain
• Tharaldson Ethanol
• The Arthur Companies
• The DeLong Co., Inc.
• United Quality Cooperative
• Valley United Co-op
• Walsh Grain Terminal
• Wheaton-Dumont Co-op Elevator
Learn more about Bushel and see links to download the apps from the elevators at bushel.ag.
About the Author(s)
Subscribe to receive top agriculture news
Be informed daily with these free e-newsletters
You May Also Like
---