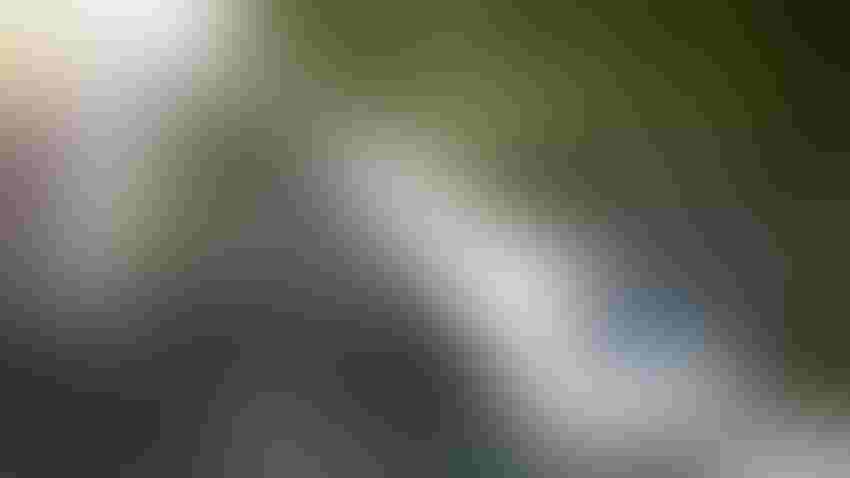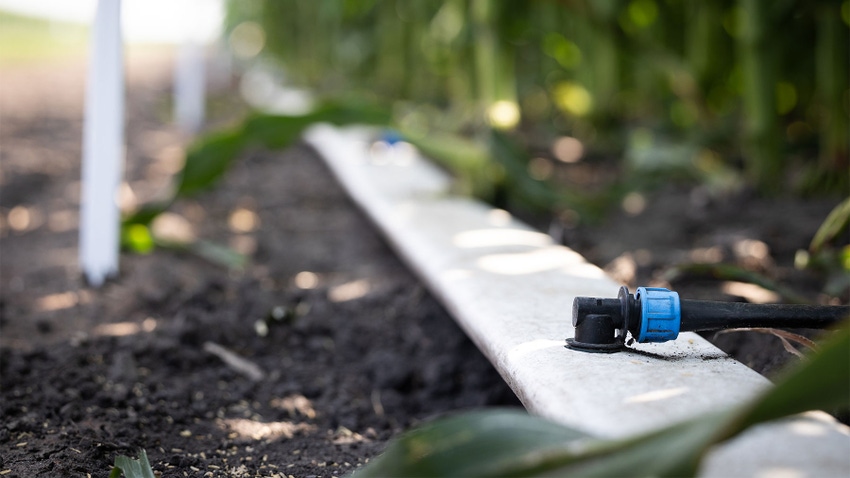 DRIP TAPE: Drip tape irrigates and fertigates several fields on the PTI Farm. For growers to see how the system works, the drip lines are placed on the soil surface between rows. If a farmer were to install a similar program, the drip line would be buried 14 inches deep, after drainage tile at 32 inches deep.
Photos by Betty Haynes
At Precision Planting's PTI Farm in Pontiac, Ill., 150 agronomic tests are being conducted that challenge the status quo.
"It's a challenge for farmers to do trials on their farm," says Jason Webster, PTI Farm manager. "It takes time and money. In farming, those are two things we don't have near enough of."
Webster says one of the most interesting findings since the farm opened in 2018 has been with its water management project.
When the PTI Farm was purchased, Webster and his team discovered the farm presented some drainage challenges. One region, coined "the prairie pothole," was consistently holding water, and irrigation was out of the question since Livingston County lacked groundwater.
In response, the PTI Farm retention pond project was born. Tile was installed and now drains into a 2.5-acre retention pond dug into the prairie pothole. Tile water plus any rainwater collected is redistributed to the field via drip irrigation.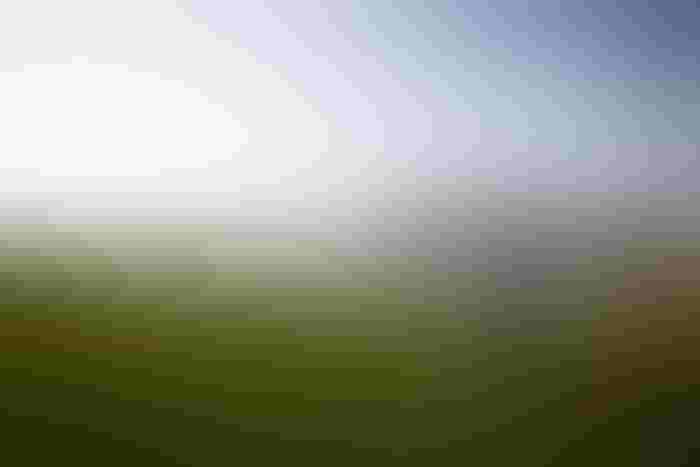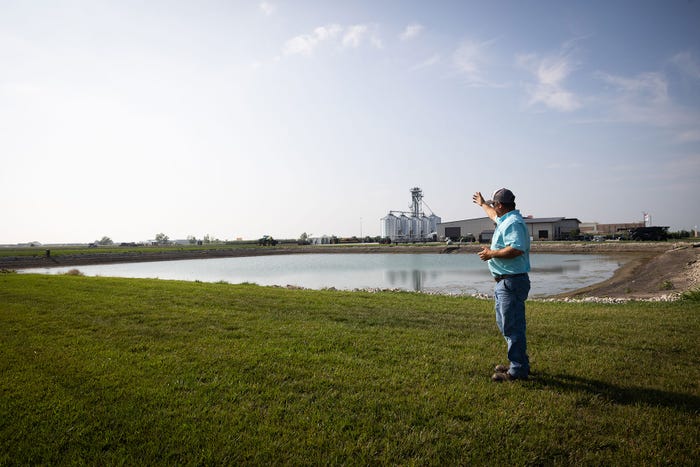 RETENTION POND: The PTI Farm retention pond covers 2.5 acres and is 25 feet deep. When PTI Farm manager Jason Webster and his team farmed it in 2018, this part of the farm consistently held water.
At the farm, the drip lines lie on top of the soil between each row of corn. If a farmer were to install a similar program, the drip line would be buried 14 inches deep, after drainage tile at 32 inches deep.
"We're listening to what the crops are needing. We're giving it to them and studying the response," Webster says. "And that's not just with water. It's also fertigation, or nutrients in that water."
The PTI team has fed fertilizers, micronutrients and biologicals through the drip line. Their most successful fertigation nutrients have been nitrogen, potassium, sulfur, boron and zinc.
"Most people think that farmers are the reason nitrates are in drinking water," Webster says. "We're not getting any nutrients in our reservoir, and they're not getting into rivers or streams. It's a really green program."
The team measures the water supply every 30 days for nitrates, phosphorus and other minerals. They've found spoon-feeding plant nutrients as an effective method against nutrient leaching.
Drought year
2023 has proven to be the farm team's most challenging year yet for keeping water in the retention pond, since summer rains have been sparce.
"We have to be as efficient as possible with our irrigation," Webster says. "Once the pond is dry, I don't have any more water. I have no way to refill it until it rains."
In late June, the retention pond got so low that they were down to just four more days of water. Fortunately, the PTI Farm received 4 inches of rain in early July, enough to replenish the supply with tile runoff and rainwater.
"In areas where water is so precious, they may be irrigating today, but what if they could use this as some type of a backup system?" Webster asks. "Or what if they could hold water in reserve to protect against catastrophic crop loss?"
Webster says the retention pond system could also possibly be used with an overhead pivot; however, that would require a sizable amount of water.
"They're getting 200 or so gallons per minute through their overhead pivot, and I'm pumping 130 or 150," he says. "If you look at 28,000 gallons and an inch of water on an acre, you're going to need a lot of water to feed that pivot."
But does it cash-flow?
The findings regarding cash flow speak for themselves. In 2020, on a field harvested following the project's initiation, corn yield jumped 83.2 bushels per acre. Webster says this yield increase is undoubtedly from water management and fertigation measures.

In 2019, the project totaled about $4,000 per acre on an 80-acre field, or a $320,000 total investment. Although, Webster admits if the project was done with today's prices, it would likely be much higher. After calculating cost to income, it will take 10.5 years for the project to cash-flow.
"We want to have growers look at this and ask how they would improve drainage and irrigation," Webster says. "Because water management is so crucial."
Webster says he hopes to get some legislators on board to develop government funding options for farmers interested in implementing water management programs on their farms.
"We've had legislators in here to show them what we're doing, and they're excited about it," Webster says. "I'm encouraged that there's work being done where farmers could be eligible for a program like this."
Subscribe to receive top agriculture news
Be informed daily with these free e-newsletters
You May Also Like
---