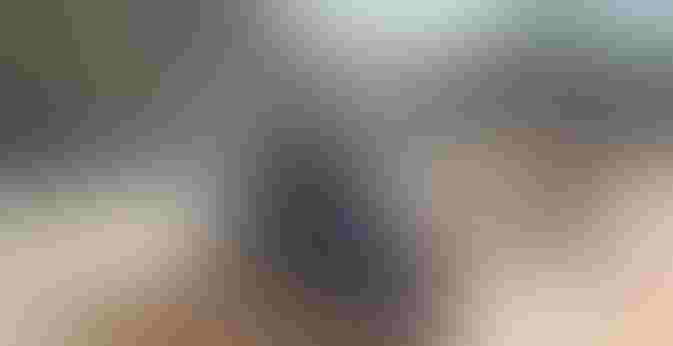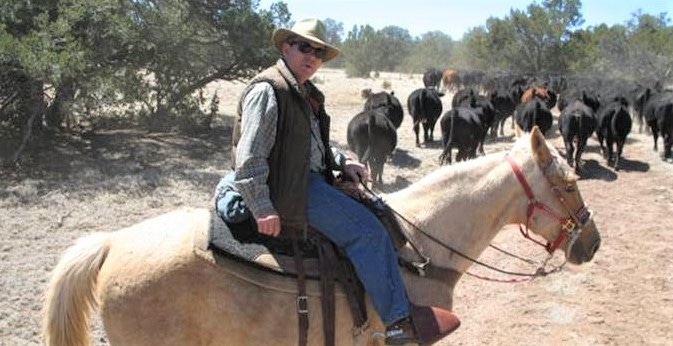 Mark Killian, director of the Arizona Department of Agriculture, runs about 500 head of Angus cattle on about 160,000 acres.
Mark Killian
During World War II, a poster appeared advising -- "Keep Calm and Carry On".
That advice is somewhat similar to today's words of Mark Killian, Director of the Arizona Department of Agriculture, a man who belongs to a family that has been involved in Arizona farming and ranching for more than a century.
"America has always had an excess of food and there's plenty of it out there today, so storing and hoarding it isn't necessary," he says. "At the start of the virus outbreak, the public pretty much overwhelmed the system and it's taken a little while for us to get back on track. It's hard to hear this message, but folks just need to start calming down with the understanding that there's plenty of food to go around for everybody."
Currently family farming on 1,500 acres with a 500 herd Angus cattle ranch spread out over another 160,000 acres, Killian has been in the state's top aggie job now for five years.
"Agriculture understands they have a mission to produce food and fiber and they're dedicated to that mission of raising and delivering," he notes. "The frustration they're experiencing is because supply lines have been shut down and produce is often just sitting, waiting, with the challenge being how to get it out to folks."
Related: Arizona pecan growers express optimism
Related:Arizona agriculture remains on the job
With shutdowns and stay-in-place orders being the rule rather than the exception, farmers and ranchers "are watching commodity prices go down along with the stock market and a lack of export movement," he said. "They are faced with the dilemma of figuring out if they'll be in business a year or so from now.  While there are some U.S. Small Business Administration help programs they might be eligible for to cushion them through this disaster, a lot of them are having serious discussions with their bankers."
Stimulus bill passed
Washington has acknowledged a need for involvement with a coronavirus stimulus bill that includes billions of dollars to replenish funding for the U.S. Department of Agriculture's Commodity Credit Corporation --- much to the relief of an amalgam of agricultural groups.
In a letter addressed to Senate leaders, the group (comprised of farm, ranch, and dairy leaders) noted: "Congress needs to have farmers' and ranchers' backs by expanding USDA's borrowing authority (because) millions of producers will need help with cash flow given the rapid and unanticipated decline in commodity prices and the effective elimination of direct-to-consumer sales."
"Part of the problem," says Killian, "is that you see a lot of demand in stores as product moves off their shelves, but you don't see an upward price reflection with that increased demand."
While the Federal Coronavirus Task Force refers to food supply as 'critical infrastructure' with food and agricultural workers deemed 'essential', the supply and demand calculation of labor --- healthy labor --- to keep product flowing from the field remains.
And while the Feds have fast-tracked the process of returning H-2A workers who cross the Mexican border into the Yuma Valley (258,000 H-2A laborers were approved to work in the U.S. in 2019), their continuing health is a question.
Finding enough workers
"Number one is finding enough workers. Number two involves the viral impact of bringing people back and forth across the border every day," says Killian.  "There are concerns on the Mexican side about an epidemic there and I'm not sure we know how to handle that yet, although it's on everybody's radar screen.
"If this pandemic increases in Mexico, it could have a tremendous negative impact on the ability to harvest crops. The leafy greens season is getting ready to wrap up in Arizona, but crop harvesting then moves into California's Imperial Valley and further inland and the need for workers to harvest those fields doesn't change."
In what is now a war against the coronavirus, "We've tried to keep farmer's markets going because we see no difference between a grocery store and a farmer's market. It's another alternative food source, particularly in rural areas.
"We're taking a multi-pronged approach, reassuring people that there's plenty of food available and farmers and ranchers are staying on the job, producing, as they always have."
About the Author(s)
Subscribe to receive top agriculture news
Be informed daily with these free e-newsletters
You May Also Like
---