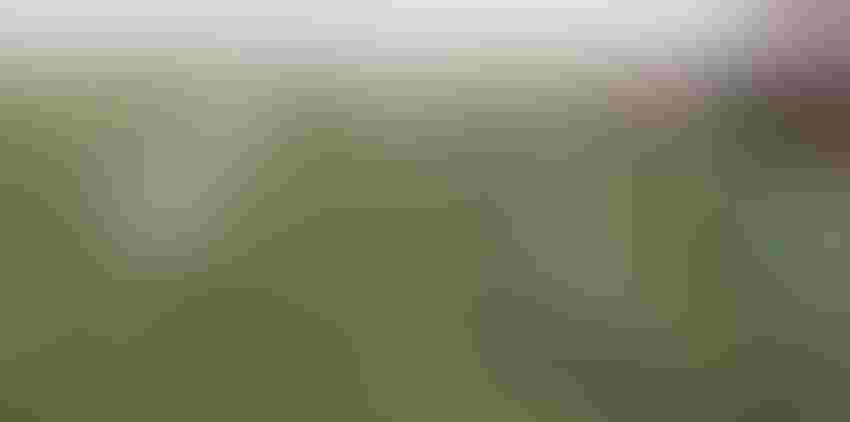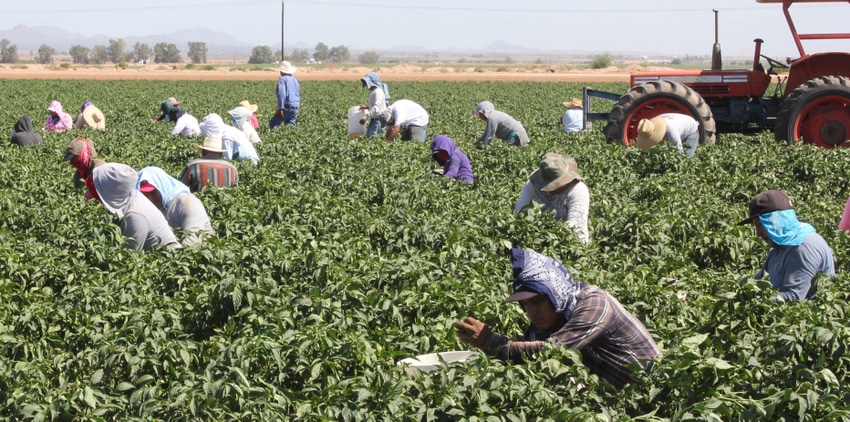 Laborers work in an Arizona field.
Lee Allen
With agriculture now designated as 'critical infrastructure' by both state and federal governments, the California Farm Bureau Federation notes: "With people who work in a sector defined as critical, we encourage interpretation of guidelines as broadly as practicable to be sure everyone in agriculture can stay on the job, producing food and farm products during the crisis.
"It's in challenging times like this when farmers and ranchers true passions shine, feeding and contributing to the stability of local communities," said CFBF President Jamie Johansson.  "In fields, orchards, processing plants, and right down the line to farmers markets and grocery stores, California agriculture remains on the job."
The same goes true for adjacent states like Arizona where the Arizona Farm Bureau, representing production agriculture throughout the state, is rising to meet the new challenges.
Speaking on behalf of a large portion of the 19,000 farm operations on 26,000,000 acres in the state, Stefanie Smallhouse, State President of AFB and a fifth generation rancher in Arizona who, along with husband, Andy, runs a cow/calf operation that grows its own forage, says: "There's a lot of similarities between California and Arizona and farmers and ranchers in our state are committed to doing our best to supply the marketplace.  In agriculture, we are our brother's keeper in good times and bad."
Of greatest concern to Arizona agriculture is availability of workers.  "Our largest impact involves using H2A workers and day laborers who cross the border every day.  We have a lot of farmers who employ folks with work visas and we have concerns about how border restrictions will impact these folks being able to get back and forth."
She cites Yuma and Imperial Counties where some 90% of America's leafy greens come from at this time of year --- "We need some 50,000 harvesters working each day in the vegetable fields and a third of that number cross daily into the U.S. from Mexico to harvest lettuce, broccoli, and cauliflower.
Farmworkers are essential
"We're hoping everyone connected with the virus restrictions are aware that farm workers are part of the essential industry category and should be able to cross the border.  We're in a good place in terms of food supply, but we need to keep everyone in the supply chain healthy and at work.  We need to keep our labor force in tact, transitioning workers on the edge of their contracts, and we'll be viable in terms of produce going into the summer."
She points to a need for a strong and reliable worker immigration system.  "This whole situation brings home the labor shortage concerns we've had for years in agriculture.  Farmers and ranchers are more than capable of producing food, but if we don't have folks who can bring it to market, it doesn't matter how efficient we are at producing it."
Asked for a message to her farmer/rancher members, she said, "Just keep on doing what you're doing, continue to toil to make sure our food demands are met."
Although developments in the crisis are moving at wildfire speed, one of the most recent developments telling the depth of concern is approval from the Small Business Administration declaring Arizona eligibility for up to $2 million in loans under the Economic Injury Disaster declaration (made possible by the Coronavirus Preparedness and Response Supplemental Appropriations Act).
"We're working to mitigate the economic impact of our small businesses that are suffering substantial economic injury," said Governor Doug Ducey.  Loans will be let at an interest rate of 3.75 percent.
"These are tough times that will take a significant toll on our economy and the livelihood of working men and women throughout the state," commented Chad Heinrich, Arizona Director, National Federation of Independent Business. "This relief will go a long way to repair damage done."
Subscribe to receive top agriculture news
Be informed daily with these free e-newsletters
You May Also Like
---