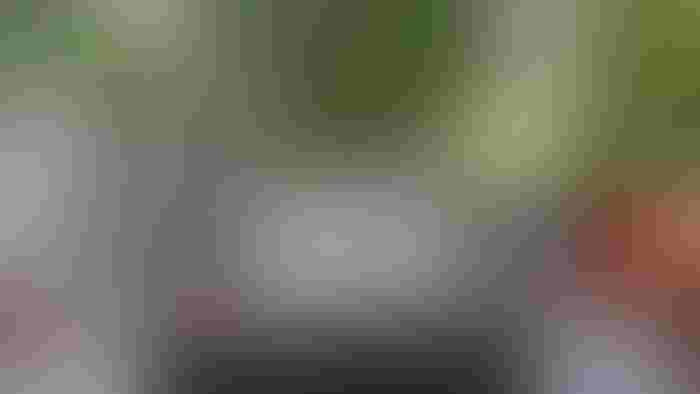 Swirling kernels inside a grain bin can suck a human under faster than quicksand, and if farmers think they are strong enough to get ahead of it, think again.
"That's a race you're not going to win," says Dan Neenan, who is a paramedic and firefighter from Iowa and the director of the National Educational Center for Ag Safety (NECAS).
But even before thinking about safety precautions, Neenan says grain bin safety starts with not storing high-moisture grain (above 14%), which is often linked to out-of-condition or spoiled grain.
"That leads to crusting and bridging, and when grain is not coming out, farmers or workers want to go in there and knock it lose," adds Neenan, who provides valuable resources — such as grain bin rescue tubes — to rural first responders through a close partnership with Nationwide Insurance. He also leads grain safety programs and demonstrations, including three in Michigan this past summer.
No matter where he's talking, his message is universal: Avoid entering grain bins, but if you must, there are several precautions to follow — including the process for confined space entry and lockout-tagout procedures, how to properly wear a harness during grain bin entry, and understanding rescue procedures for someone trapped in grain.
Despite widespread educational efforts and demonstration, according to Purdue University's Agricultural Safety and Health Program's report on 2022 agricultural confined space-related injury, there were 42 fatal and nonfatal grain entrapment cases documented, representing a 44.8% increase from the 29 recorded in 2021, and substantially higher than the five-year average of 35 cases per year. Nearly 36% of the cases involved a fatality, which was lower than the five-year average.
Nearly all cases examined in 2022, in which adequate details were available, involved grain that was non-flowing because of spoilage.
Put good grain in
It starts with grain quality, Neenan says, noting that 2010 was the worst year on record in America for grain engulfments and entrapments.
"The 2009 harvest was late and put away with a high-moisture content," he says. "January and February in Michigan it gets very cold — the top 6-7 inches of grain freezes and crusts. When pulling grain from the bottom, it creates a void area. When someone walks across there, it can't support their weight and down they go. They are trapped, and if you try to put a rescuer in there, it could drop more grain on top of them."
According to 2021 data, Neenan says 60% of those who died in confined spaces were would-be rescuers.
He tells the unfortunate story of four teenage boys hired to stomp down grain in Iowa. "The 14-year-old started to go down, so the 15-year-old came to help and then the 17-year-old came to help, while the 19-year-old finally shut off the auger," he recounts.
A grain rescue mission tube was brought in, and the 17-year-old was rescued, but grain had to be evacuated — 27 semi loads — to reach the 15- and 14-year-olds, who did not survive. "The worst part about it was, they had brand-new harnesses and brand-new ropes down in the office … still in the bag," Neenan says.
Neenan says every farm operation with grain bins should heed the following:
Develop a rescue plan, and train employees to understand the hazards. Walking down grain when equipment is running is strictly prohibited under OSHA's grain handling standard.

Develop a written permit system (checklist) for bin entry that must be filled out and signed before entering any confined space.

Lockout-tagout (de-energize and disconnect) all mechanical, electrical, hydraulic and pneumatic equipment before entry.

Monitor air by testing for combustible gases, vapors and toxic agents to ensure sufficient oxygen.

Secure a lifeline by using a harness and safety line that's securely tied to a fixed, overhead anchor point able to support 1,800 pounds.

Use ventilation when needed, as well as a respirator.

Use an observer, who is required to be stationed outside the bin in constant communication with the person inside the bin.
The intent of the permit (see links to examples below) is to make sure entry is deliberate and carefully thought out, Neenan says. While a farmer with 10 or fewer employees at all times during the previous 12 months is exempt from OSHA enforcement, permits are still strongly encouraged.
"The grain bin entry permits must be filled out before entering the bin, not after," Neenan says. "If you realize you left a tool in the bin after exiting, a new permit must be filled out to reenter."
Neenan says 19.5% oxygen is prime when monitoring air. He recalls an accident 12 years ago that claimed two lives.
"Dangerous gases are heavier than air, causing it to sink and displace oxygen," he says. "Twelve years ago now in Iowa, a father and son were found dead in a bin. They weren't trapped by grain at all, but they suffered from lack of oxygen. There was a fire in the bin the day before, and they were going in to check out the damage. The fire actually put itself out because it ran out of oxygen. … Incomplete combustion like that creates carbon monoxide."
The day after, investigators measured just 1% oxygen in the bin, Neenan says. Carbon monoxide was measured at 500 parts per million, well above the 35 ppm that triggers household carbon monoxide detectors.
A grain bin safety permit sample is provided by Nationwide at mynsightonline.com and from OHSA at osha.gov.
Subscribe to receive top agriculture news
Be informed daily with these free e-newsletters
You May Also Like
---