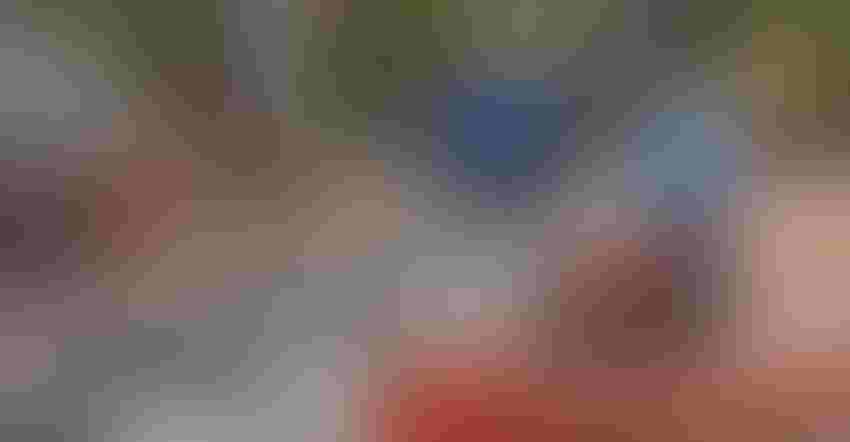 Brennon Huguley and his dad, Preston, get a planter ready to go to the field on the Olton, Texas farm.
Shelley E. Huguley
Brennon Huguley, 15, took advantage of the COVID-19 school shutdown to help his dad, Preston, prepare land for the 2020 grain and cotton crops on the Huguley's Olton, Texas, farm.
Preston says Brennon's effort eased the typical planting-time workload he usually shoulders mostly alone. "We don't hire full-time employees," he says, "so, having Brennon available was a big help."
Preston and his wife Shelley (Southwest Farm Press editor) also recognize the importance of assigning Brennon ability-appropriate tasks and teaching him to do them efficiently and, even more important, safely.
"The main thing is just talking him through things," Preston says. "I know farm accidents can happen so easily and so quickly."
He says it could be something as minor as a twisted ankle. "But if something goes wrong, it could be life threatening. So, I just try to talk him through those things."
Preston has farmed on his own for 36 years, much of that time working alone, so he is aware of the hazards inherent in farming.
Anticipate trouble
"I tend to see things, maybe not all the time, but I anticipate things that are coming or could be an accident or could break or something that could be trouble. Most of my life I've worked alone, so I've had to watch stuff like that."
He says before everyone had a cell phone, farmers had to think about how to get help if they were working alone. "I knew if I got hurt, it could be a major issue, so I always tried to train myself to anticipate what could happen."
He talks Brennon through those possibilities. He says he doesn't want Brennon to be too fearful, just careful.
"I talk through a few things and tell him that it's not that something bad will happen, but if it does, it could cause this and this to happen. I tell him it's not worth the time you save to do something faster or jump off instead of going down the steps of the tractor.
"He's young and has strong legs and bones, but it's not worth saving a few seconds, especially when we're working around equipment."
Preparing land
Preston says Brennon ran a finishing plow over some 2,500 acres this spring, preparing ground ahead of the planter.
"It wasn't too hard. He picked up on tractor driving pretty quickly."
Brennon says he's never been concerned about injury.
"I've been in control the entire time," he says. "I never, never worried about messing up."
He started doing some field work last year. "He plowed a little last year," Preston says. "We didn't let him start super early. He plowed a lot more this spring."
And Preston made certain he was ready.
"I tried to slow him down a little bit because this equipment's pretty big," Preston says. "I always told him that slowing down and taking more time is better than hitting something or breaking something and then having to repair it."
Technology helps
He says operating farm machinery is a bit easier than when he started. And Brennon, with his generation's technology expertise, took to it quickly.
"The autosteer came extremely easy for Brennon. Figuring out how to set up and select AB lines or fields all came easy to him."
Autosteer, Preston says, takes some of the pressure off operating equipment, but can provide its own hazards.
"Paying attention is essential. I don't know what it's called, hypnotized or mesmerized, when you're not paying attention to where you're holding the tractor. I told him, especially if he gets sleepy, he needs to stop, get out, run around the tractor, wake up or take a break.
"If you're using autosteer and you get to daydreaming and not watching, you can run up on the other end. Everybody's done it, I've done it. So, just pay attention, know what's going on around you and don't stare at the ground or right in front of the tractor."
He says he instructed Brennon to stop the tractor if he needs to text or take care of something.
As Brennon takes on new tasks, Preston goes over the steps carefully and may ride with him to make certain he understands.
"And he has a cell phone so he can call and ask for help if he needs to," he says.
Not all work
Preston says when he was growing up on the farm, work was his life. He had little time for anything else. He wants Brennon to have an opportunity to enjoy being a teenager.
"I don't want him to miss out on a lot, so I try to work it where he has most evenings and Saturday and Sunday off. We might work Saturday morning, just to stay caught up. But after that, he can go swimming with his friends, and he does have fitness workouts for high school athletics. He has plenty of time to come in and rest and do some things around the house before he goes to workouts."
Preston says he's tailored Brennon's work to his age and abilities, moving from helping with equipment repairs, setting irrigation nozzles and moving equipment from one place to another to running a finishing plow over 2,500 acres this spring.
Brennon, who did not inherit his mother's loquacious inclinations, says the thing he likes best about working on the farm is, "I'm not bored all day. I'm just working."
It's a bit more than that. His work this spring made a sometimes frustrating, dry, hot planting season a lot easier on his dad. He also kept up with virtual schoolwork, workouts and other activities.
And Preston made sure he balanced work, play and rest. And taught him how to do it safely.
Subscribe to receive top agriculture news
Be informed daily with these free e-newsletters
You May Also Like
---