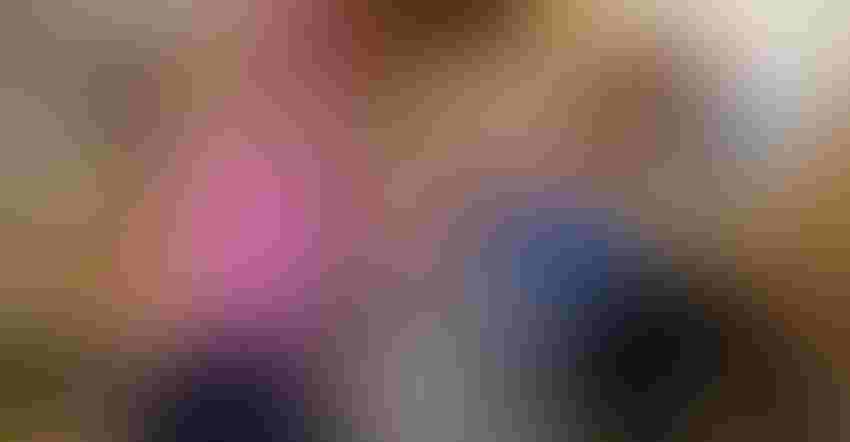 My mom, Virginia Abendschan, with two of her eight grandchildren.
Is it sped up or speeded up? Is it OK to end a statement with a preposition, such as, "where your roots are at"? Today my editor e-mailed me after he received one of my articles to congratulate me on using sped up rather than speeded up, a tense commonly used incorrectly in the written English language.
I responded by telling him if I had used speeded up my retired-English-teacher-mother would have jumped in her car, driven six hours, and scolded me. Whew. Mom got to stay home this time. But it made me think about her and all that she's taught me about English, writing, grammar — and life.
Growing up, if we asked Mom how to spell something, her response was, "Look it up in the dictionary." I and my two siblings would respond, "How are we supposed to look it up if we don't know how to spell it?" She always stuck to her guns, "Sound it out and look it up." What a simple way to teach us problem-solving skills, how to find things alphabetically, and to learn to spell. Today, our kids simply say the word into their phone and Google finds it for them.
If we ever said something using incorrect English, she didn't tell us it was wrong. Rather, she would repeat it back to us using the proper word. I may or may not do the same thing to my own kids today.
When it came to editing our school term papers, it was a double-edged sword. I wanted her help because she's good at what she does, but at the same time I knew I had work ahead because she wouldn't settle for mediocracy, nor would she rewrite or correct my mistakes. And she always used a red pen.
Mom was a stickler about thank you notes. No matter the occasion, no matter the gift, we were required to write a thank you note. We were responsible for penning the message, dating it, and addressing the envelope. A simple task with a trifold lesson: learning to be thankful, letting others know of our appreciation, and one more opportunity to practice writing.
Mom was also an amazing typist. I can remember her furiously pounding the keys of a typewriter, composing an assignment for her English class, all the while making eye contact with us and carrying on a conversation.
My mother is the Queen of Grammar, an amazing writer, an excellent teacher, and one of my biggest encouragers. She had high expectations of her students, and no less of her kids. My editor did find one mistake he said might cause her to gig me though: "where your roots are at."
Yep, I'm pretty sure she's jumping in the car as we speak.
Subscribe to receive top agriculture news
Be informed daily with these free e-newsletters
You May Also Like
---