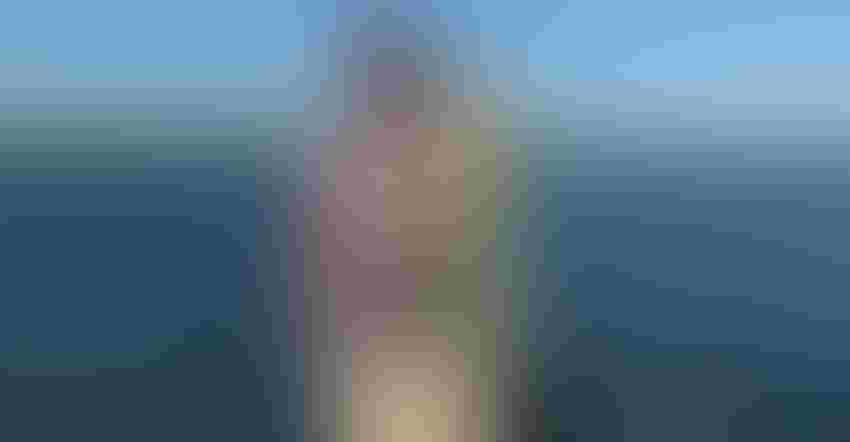 GOOD CATCH: Paul Steffen, a farmer and fishing guide, lifts a fish he caught on the Missouri River.
Courtesy of Paul Steffen
Paul Steffen was a farm kid finishing his sophomore year in high school when he came up with what seemed to him the best summer job ever. An avid fisherman who'd grown up next to the Missouri River, Steffen paid $14,500 in the summer of 2001 for a used 18-foot Fisher boat and started guiding other anglers to where the fish were biting.
He's been at it ever since, only leaving the river long enough to study agricultural production at Lake Area Technical Institute in Watertown, S.D. He's used his growing expertise as a fishing guide as a side enterprise while staying active in his family's farming operation.
"My first guide job ever was out of Sunset Lodge [of Pierre, S.D.]. They were the first to take a chance on me," Steffen says. "That's where I began to learn. I realized there's so much more to it than just going fishing."
Now, with a 21-foot Ranger boat, Steffen charges day rates of $450 for two people on a guided fishing outing, $550 for three people and $650 for four people.
Paul's family once operated a goose camp on the Missouri River and now runs a lodge for pheasant hunters as a side enterprise to farming. People can book Steffen as a fishing guide through the family operation: Steffen Brothers Outdoor Expeditions.
It helps that Steffen has several tournament wins to demonstrate he knows how to catch fish. He and his tournament fishing partner, Travor Diegel, also of Pierre, won an artificial-lures-only tournament at Devils Lake, N.D., in 2014. They won the tournament at Cass Lake, Minn., three years in a row in 2012, 2013 and 2014. And they've placed in several other tournaments.
Steffen knows a few other producers who are fishing guides, but it isn't common, perhaps because farming and ranching require so much labor.
Steffen says he's fortunate that his family's operation is a large one. His dad and two uncles — Dave, Larry and Ernie Steffen — are the owner and operators, while Steffen and his cousin Jesse work for the operation. The family manages about 5,000 acres, calving about 375 to 400 cows and farming about 3,000 acres, including close to 2,200 acres under irrigation. They have 18 pivots.
Steffen takes a big role in the spring planting and the calving, as well as winter tasks such as moving hay. That allows him to give a lot of his time to guiding in June, July, August and the start of September.
Does it ever feel like work?
"When you're in the boat fishing, it's still work because you're stressed with trying to keep clients on fish," he says. "But at the end of the day, you are fishing and it's still enjoyable. It gives a guy a break from standing in an irrigated cornfield sweating on a sunny day."
Nixon writes from Pierre, S.D.
Subscribe to receive top agriculture news
Be informed daily with these free e-newsletters
You May Also Like
---