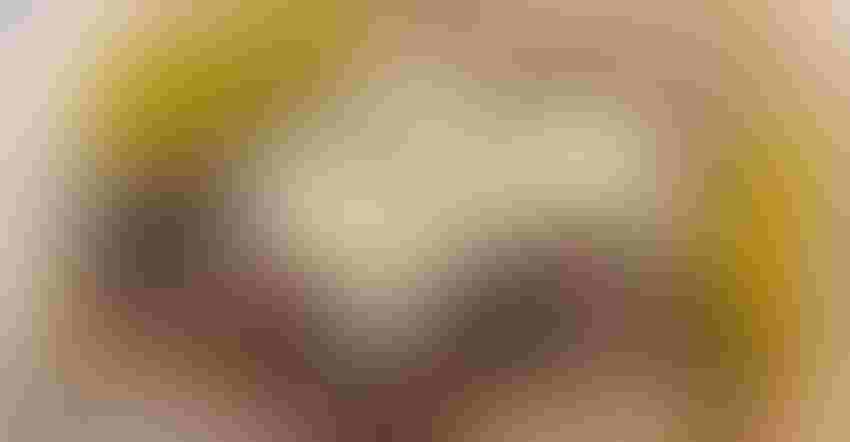 READY: This slow-cooker Philly cheesesteak sandwich could be ready and waiting for you when you get home.
Most of us struggle with the how-to-get-dinner-on-the-table dilemma.
Imagine you just picked up your kids from an after-school activity. They ask, "What's for dinner?" If you have no dinner plans, the drive-thru or pizza delivery may sound like the best options.
Now imagine instead: You walk into the house to the aroma of a tender beef stew simmering in your slow cooker. You slice a loaf of whole-wheat bread and toss a simple spinach and strawberry salad. Dinner is served, and you feel like the best parent ever.
Dust off that slow cooker. It can be your trusty assistant to making sure dinner is ready in the midst of homework, practices, meetings and field work.
Mine is going as I write this – simmering with beef that will turn into Philly cheesesteak sandwiches that will be cooked when I finally get home tonight. And within minutes, dinner will be ready, with a side of fresh asparagus, quick-steamed in the microwave.
Like with anything else, there are some tips and tricks to making tastier, healthier meals in your slow cooker. For example, flavors tend to meld together with long cooking times – a sprinkle of fresh herbs just before serving can brighten a dish. Also, it's best to add noodles and rice the last half hour of cooking, rather than putting them in to cook all day. It's also a good idea to sear meat and roast vegetables before adding them to a slow cooker to bring out the flavors.
Here are some other tips:
Use the right size. Slow cookers are available in a range of sizes, from 1 quart to 8.5 quarts; use the right size for the recipe so the meal will cook properly. Most slow-cooker recipes work best in a 5- to 6-quart slow cooker.
Don't overfill your slow cooker. To make sure your meal is finished in the time listed on your recipe, and to avoid potential food-safety hazards, don't overfill your slow cooker. Most manufacturers recommend filling them no more than two-thirds full, but check your owner's manual.
Keep a lid on it. Resist the urge to take off the lid and peek at your meal. Opening the slow cooker lets heat escape and slows cooking. Only open it 30 to 45 minutes before the end of the cooking time to check doneness.
Plan meals ahead.  The night before: Cut and trim any meat, chop any vegetables, measure out dry ingredients and prepare any sauce; refrigerate the components in separate containers. (Do not refrigerate the slow-cooker insert; a cold insert takes too long to heat up and affects cooking time and food safety.) In the morning, add ingredients and reheat sauce to a simmer before adding. Make sure your slow cooker can switch to "warm" when cooking is done.
Maximize flavor. Brown meat and/or vegetables in a skillet before adding to the cooker. Then deglaze the pan with liquid called for in the recipe to get all the brown, caramelized bits from the saute pan into the cooker. You'll end up with a richer flavor that can't be achieved by slow-cooking alone.
Keep temperature in mind. Avoid food-safety hazards by keeping food out of the danger zone — from 40 to 135 degrees F, where bacteria thrive. Don't add frozen ingredients to your cooker, especially frozen meat, and refrigerate any ingredients you've prepped ahead in separate storage containers. If you're cooking on low, jump-start the heating process by bringing liquids to a simmer before adding. Start your cooker on high and turn down to low after an hour.
Make sure you have the best slow cooker. Your 20-year-old slow cooker may still work, but a programmable one cooks your meal for a predetermined time and switches to warm to keep food safe.
Here are a couple of recipes to get your slow cooker working for you:
Philly Cheesesteak Sandwiches
2 teaspoons extra-virgin olive oil
1 pound sirloin steak, trimmed and thinly sliced
1 medium onion, sliced
8 ounces mushrooms, sliced
1 red or green bell pepper, sliced
2 tablespoons minced fresh oregano, or 2 teaspoons dried
½ teaspoon freshly ground pepper
1 tablespoon all-purpose flour
¼ teaspoon salt
½ cup sliced hot banana peppers, optional
¼ cup reduced-sodium chicken broth
3 slices reduced-fat provolone cheese (about 3 ounces)
4 whole-wheat buns, split and toasted
Heat oil in large nonstick skillet over medium-high heat. Add sliced meat, onion, mushrooms and bell pepper, and cook, stirring often, until soft and beginning to brown — 2 to 3 minutes.
Remove and put into slow cooker. Add oregano, pepper, flour and salt. Stir. Add banana peppers (if using) and broth. Start slow cooker on high for 15 minutes, and then turn to low to cook 6 to 8 hours.
To serve, divide into four portions and scoop a portion on each bun. Lay cheese slices on top of the vegetables and meat, let stand until melted, 1 to 2 minutes. Serves four (one sandwich each).
Per serving: 430 calories, 15 grams fat, 6 grams saturated fat, 74 milligrams cholesterol, 646 milligrams sodium, 31 grams carbohydrate, 5 grams fiber, 45 grams protein
Slow Cooker Taco Soup
1 pound lean or extra-lean ground beef
1 onion, chopped
1 (16-ounce) can chili beans, with liquid
1 (15-ounce) can kidney beans, with liquid
1 (15-ounce) can whole-kernel corn, with liquid
1 (8-ounce) can tomato sauce (low sodium or no salt added)
2 cups water
2 (14.5-ounce) cans peeled and diced tomatoes (low sodium)
1 (4-ounce) can diced green chili peppers
1 package taco seasoning
In medium skillet, cook ground beef until browned over medium heat. Drain. Place ground beef, onion, chili beans, kidney beans, corn, tomato sauce, water, diced tomatoes, green chili peppers and taco seasoning mix in slow cooker. Mix to blend and cook on low setting for 8 hours. Makes 10 servings.
Per serving: 220 calories, 30 grams carbohydrate, 3 grams fat, 6 grams fiber, 500 milligrams sodium
Fargo is a dietitian for Hy-Vee in Springfield, Ill. Send recipe ideas to her at [email protected].
Subscribe to receive top agriculture news
Be informed daily with these free e-newsletters
You May Also Like
---