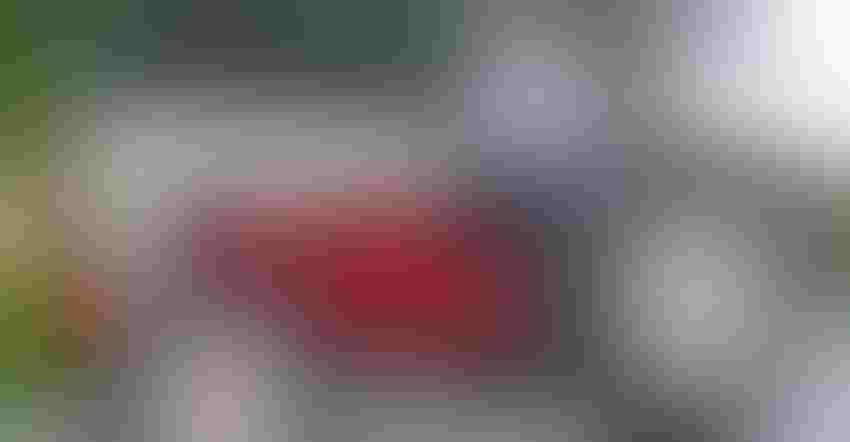 FACE-LIFT: After putting jacks under his 1953 Ford NAA Golden Jubilee tractor, Franklin Wolter of Ashippun, Wis., completely dismantled it and cleaned everything with sandpaper, wire bushes and electric drills. The job took four years and 250 hours.
Harlen Persinger
Franklin Wolter of Ashippun, Wis., has been indirectly linked with one popular tractor line for the past 45 years. That association began in 1975 when his father, Arthur, bought a used 1953 Model Ford NAA Golden Jubilee, Serial No. 04874, from a local dealer near Wausau, Wis., for his 70-acre farming operation near Hutisford, Wis. He also worked in a local shop for the Dodge County Highway Department and primarily used the machine to plow snow.
Wolter's connection with the Jubilee began that same year and continued until 1988. During that time frame, he was employed at Gaugert Service in Sullivan, Wis., selling Ford tractors along with short-line equipment brands such as Gehl, Brillion, New Idea, Knight and Iron Works.
"When Dad retired, the Ford was stored in the basement on the farm until 2010, when I bought it from his estate sale. After sitting idle in that damp environment for eight years, fluid had leaked from the rear tires and nearly rusted the rims to pieces," Wolter says. "I realized restoring that machine back to its original condition was going to be quite a challenge.
"First, my brother Bernard and I removed and fixed the radiator and poured diesel fuel into the pistons to help free up the engine. It started, but shifting into gear was impossible. However, we were able to haul it back to my garage."
Restoring the tractor
After putting jacks under the tractor, it was completely dismantled and everything was cleaned with sandpaper, wire bushes and electric drills. That was a four-year job and took 250 hours. Completing the process included overhauling the engine and adding new items such as rims for the rear wheels, a wiring harness to hook up the lights, brakes, front tires, a carburetor, a seat and lights. The gas tank was flushed and relined.
Once everything was reassembled and repainted by Bruce Frederick from Alderley, Wis., Wolter turned the key. The tractor turned right over and sounded like it had just come off the showroom floor. Even now, it never has to be choked.
This machine was one of 128,965 units that were built until 1959 in Highland Park, Mich. It was released as part of the 50th anniversary of Ford and features a special nose (hood) badge acknowledging that occasion.
The tractor has a wide front end, hydraulics, live PTO, four forward gears and one reverse gear, two headlights, two lights inside the fenders, stepped-up road speed to increase from 15 to 22 miles per hour, and a toolbox below the clutch pedal. Other features include differential mechanical drum brakes; dry disc clutch; open operator station cab; three 110-pound weights inside each wheel; 6-volt push button starter; 800 pounds on the rear lift; amp, temperature, oil pressure, rpm, and mph gauges; 31.14 hp on the belt; road speed of 15 to 18 mph; and a Ford 2.2-liter, four-cylinder gasoline engine.
"In 2015, I picked up a Dearborn field cultivator, put on new shovels, springs, and teamed it with the tractor," Wolter says. "Today, both items are covered and stored in the garage. During the summer, I'll take the tractor to shows in the area and have even won a couple of trophies. This is Deere and IH country, so when folks walk around a dinky little Ford, it sparks their curiosity.
"Just knowing that I still have Dad's tractor, how this model was assembled, what it took to get it running again, and being able to sell them created a true passion for the Golden Jubilee."
Persinger writes from Milwaukee, Wis. To have your favorite tractor featured, email or send in a photo of yourself with your tractor, along with a 300-word write-up about the tractor, to: [email protected] or Wisconsin Agriculturist, P.O. Box 236, Brandon, WI 53919.
About the Author(s)
Subscribe to receive top agriculture news
Be informed daily with these free e-newsletters
You May Also Like
---