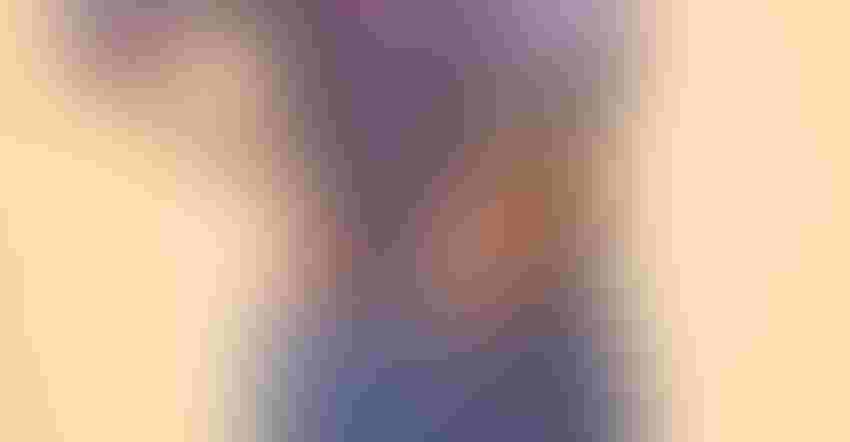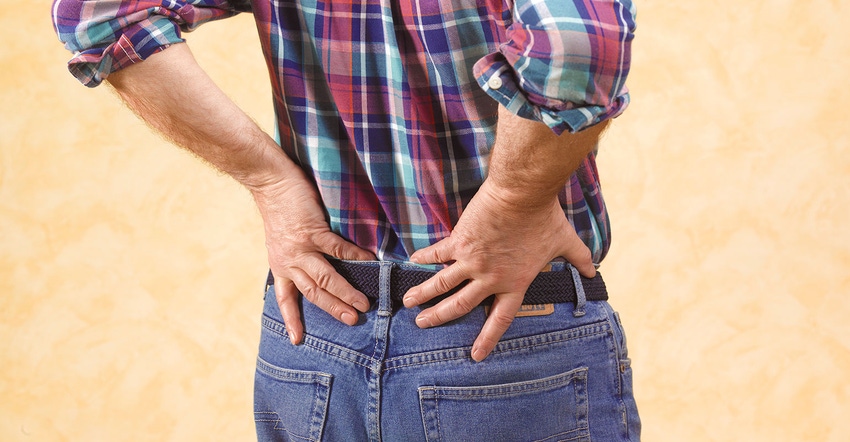 "Back injury is also one of the most common forms of farm-related injuries," Dan Neenan said, "and musculoskeletal pain is associated with higher levels of depressive type symptoms among ag workers."
Getty Images/iStockphoto
There is no replacement for a healthy back. Protecting the back is one of the most important things a producer can do to stay productive on the farm, claims Dan Neenan, paramedic specialist and National Education Center for Agricultural Safety (NECAS) manager, during an AgriSafe webinar.
Farmers and back pain
Nearly 80% of Americans experience back pain at some point in their life. Back pain is the second most common cause of lost work time, behind the common cold.
"Back injury is also one of the most common forms of farm-related injuries," Neenan said, "and musculoskeletal pain is associated with higher levels of depressive type symptoms among ag workers.
"Men and women alike are prone to work-related back pain, with the first episode usually occurring between the ages of 20 to 40. The frequency and economic impact of back injuries and disorders in the workforce are expected to increase over the next several decades as the average age of the workforce increases and medical costs go up."
Lower back pain occurs among all ages and job types, but the people who are most at risk work in the agriculture sector and are 35 to 65 years old.
"Causes of back pain and injury in agriculture varies," Neenan said. "Handling livestock can be a factor. Other causes include prolonged sitting to operate equipment, repetitive motions, forceful movements, awkward working positions or posture, reaching for and lifting heavy objects, long working hours, whole-body vibration from operating equipment, etc.
Related:Sleeplessness affects farm work, tips to improve sleep
"Many work tasks in agriculture require strong core muscles, especially in the lower back. Workers may be paid a piece rate, so it incentivizes them to work quickly and to skip their breaks."
Establishing healthy habits
The severity of back pain symptoms can vary, ranging from relatively mild and short in duration to pronounced and incapacitating.
"With stiffness and pain, back injuries also can cause other problems; with driving, you may not be able to look left and right with ease," Neenan said. "Many injuries or conditions develop over time, so establishing good habits early will help preserve back health."
A few healthy habits to prevent back injury include having help lifting heavy loads, especially if lifting oddly shaped items. When working with livestock, be careful not to trip over shorter animals and use animal handling equipment to restrict an animal's movement when doing something such as branding.
"Position workstations and equipment at the proper height to minimize the need to bend or stoop," Neenan said. "Store frequently used parts or tools between waist and shoulder height, and place anti-fatigue mats in areas where you stand for long periods. Use a stool when working close to the ground and use long-handled tools to increase leverage and reduce the need to bend or reach."
Further tips
Using three points of contact when mounting or dismounting equipment is a simple but important preventive measure.
"Remember to maintain three points of contact, two feet and one hand or two hands and one foot, when coming out of a combine," Neenan said. "Turn around and descend backward rather than treating the ladder like a set of stairs, coming down forward and jumping onto the ground, especially if it's an uneven area."
Work in a well-lit area and minimize stumbling or fall hazards by keeping work areas clear of clutter. Complete work at the ground level when possible and wear the correct footwear for the job. Use handrails and use a lift and harnesses to work at heights. Open gates rather than climb over them.
"Whole-body vibration is another problem and happens when mechanical vibrations from working in equipment transmit to the body through surface contact, such as a seat," he said. "Health effects include speech interference, increased heart rate and blood pressure, increased breathing rate, disruption of balance and perception, muscle fatigue and cramping, and low back pain and damage to the spine."
Taking frequent breaks to stretch and walk around is one way to eliminate possible symptoms.
"Other things to consider: make sure to keep your tires properly inflated and that the vehicle's suspension system is maintained," Neenan said. "Use different machines for different tasks and reduce vehicle speed over rough terrain to take some of the bounce out. Also, rotate workers between tasks to limit exposure and avoid physically demanding activities for a short time after exiting machinery to allow the back to recover."
Taking care of an injury
Following a back injury, make sure to take time to rest. Use ice or heat, anti-inflammatory medication, stretch or go to a physical therapist.
"A first step should always be to seek proper treatment from a healthcare provider for chronic pain," Neenan said. "A physical therapist might be able to give you some exercises to be able to strengthen the back muscles and work on safe solutions for work tasks that still need to be done daily. Surgery should be a last resort.
"Manage stress to prevent muscles from becoming tense. Tense muscles injure far easier and cause more distress.
"We don't want back pain to be a part of the job. Anytime you have pain, that's going to decrease your ability to move, which can lead to other problems. Remember, use your head before you use your back."
About the Author(s)
Subscribe to receive top agriculture news
Be informed daily with these free e-newsletters
You May Also Like
---