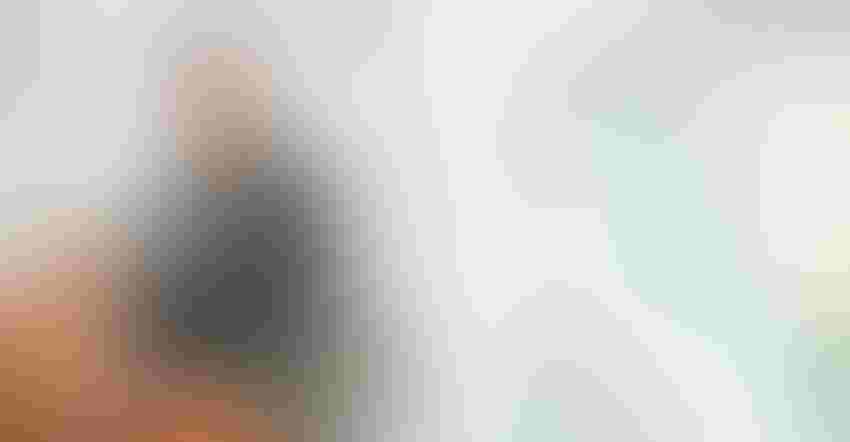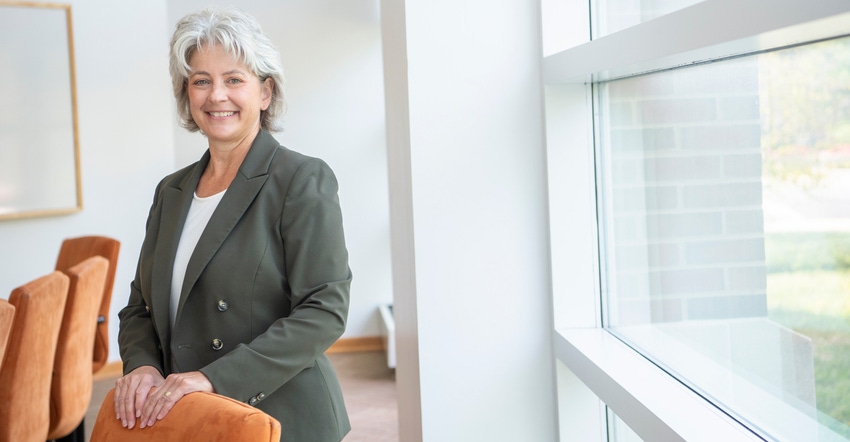 CONSENSUS: Dean Kim Kidwell has been on the fast track to building consensus in Illinois ag. How? "Always land back in values and purpose. Every issue in agriculture is controversial from some lens."
Courtesy of U of I College of ACES
Kim Kidwell's path to becoming dean of the University of Illinois College of Agricultural, Consumer and Environmental Sciences three years ago has long been marked by deep twists and turns, starting with the U of I acceptance letter she never signed as a teen: Her dad was so excited, he signed it for her and sent it in.
"I used to tell my dad all the time, he's really lucky I loved it here," she says with a laugh.
And though her career lies in plant breeding, teaching and leadership, she started out as a communications major, taking up plant genetics only after sitting in class with John Laughnan, the inspiring father of Illinois' "super sweet" sweet corn. And she landed at Washington State because it was one of only four plant breeding jobs open after she got her Ph.D. She taught because she loved it. And she applied for the ACES dean position to come back home.
In this interview with Prairie Farmer, take a look at how she's redirected a bureaucracy, built consensus and spotted the very best in this generation of students:
Growing up in Danville, did you spend a lot of time on campus? To tell you the truth, I had not even been on campus until after I applied to school. You'd think I was over there all the time. We're big Illini fans, too.
Tell us about your first mentor. I took a genetics class that had a really phenomenal professor — John Laughnan, who was the father of the sweet corn industry in the state of Illinois. He gave this unbelievable lecture on corn. And my friends and I were like, "Does that guy know he's talking about corn? Why is this so interesting?"
So I went down and talked to him after class, and he said to come visit his lab. That lit my whole career up. I loved him. I actually worked for him for three years. He was unbelievably approachable and used to take me out in the fields and show me all kinds of stuff about plants. And he really became a mentor in every sense of the word.
And how did you decide to pursue a career in academia? I went to Wisconsin for my master's in plant breeding because Dr. Laughnan had gone to Wisconsin. It was such a good experience that they convinced me I should get a Ph.D. I really wanted to go to law school after I got my master's and work in the biotech industry, but then I started doing some teaching. I liked teaching and I stayed in academia because I think people that love to teach should teach. So I looked for a tenure track job and found four in plant breeding in the whole country. I applied for two, I got two interviews, got an offer and ended up going out to Washington State, a place I'd never been, essentially because I needed a job.  
Why does mentoring matter? Every student I've ever worked with, if they realize I see them in a classroom or I know they're there or I care about them, it always changes or improves their behavior. That's been true my whole career. Being seen and heard is important. Usually when people are doing something out of line, it's a value compromise. Something happened that's compromised their values, and they're acting out because they feel violated in some way. If you can get to the heart of that matter and address it, it really does change behavior. That's why I think really supporting people is really important.
What makes a good leader? Good leaders are authentic, they're connected with people, and they lead from a solid value-based platform. I am a value-based leader. Good leadership is not happenstance. Explicit intention and real connection to purpose are vital for any leader to be successful. You don't always get what you want, but you do the right thing. That's important.
What do you see in this generation of students? The ability to fall down and stand up is really important. You have to develop resiliency skills in a way that allows you to hit challenges and navigate your way through them. For every student we accept into the University of Illinois, the unwritten contract is that we will challenge you. That's what they're here for. And they don't always like what challenge looks like. But people who are going to sit and struggle and figure out how to navigate out of that in a constructive way tend to do extraordinarily well.
Resiliency is important. If you're going to do anything transformational in life, you're going to come up against challenges.
How can parents help develop resiliency? Don't just tell stories about how good you were and all the successes that you had. Tell the stories about when you fell down hard, and you didn't think you were going to make it. That humanness is important for kids to see in people they respect. They won't understand that successful people actually have struggled, unless we tell them or show them.
How have you known when it was time to make a big change in life? It's when the important things that I used to be really excited become routine, and I'm not interested in doing them anymore. If you stay too long, you run out of good ideas, so change can be good for the individual and for the organization.
What made you say yes to Illinois? When I interviewed at Illinois, I wasn't really on the job market but what got me was the people. I love the quality of the people. They really convinced me that if I came, we could do amazing things together.
You've become known across campus for getting things done faster than what people might expect in a bureaucracy. How have you done that? I'm fearless in silly ways sometimes. But I'll say this honestly. I don't aspire to be a provost or a president. I aspire to be the best dean that I can be. Being an alum of that institution motivates me in ways that people don't know because I always believe people deserve better. And if I think it's worth fighting for, I'll do all I can to gather the best people around me to help get it done. That's been the difference.

TEAMWORK: Rubbing shoulders with leaders across agriculture, Kidwell has observed: "The rap that people in ag are very conservative and don't really like to ruffle feathers? I have never experienced that in my career."
How do you decide what to fight for? I'm willing to make a mistake. I'm an adaptive manager from way back when. I'll make the best-informed decision I can. I don't do that in a silo. I talk to a lot of people about it. But at the end of the day, I'm accountable and responsible. The fear of failure prevents people from taking action. I'm not afraid to fail.
Has that gotten you in trouble yet? Not yet, but there's always tomorrow.  
What's one thing you do that's directly tied to your success? Being chained to a desk has been hard for me. I almost always start my day with a walk with my dogs, and then in the evening, I debrief the day in the same way. Being mindful about what I want to create every day — and a debrief of whether or not I got it done — has been really helpful for me.
And you're still an Illini football fan? The struggle is important. That's why I like underdogs so much. That's why I'm still an Illini fan into football. We're the underdogs, and I'm still in. We need to develop some resiliency, and we're going to do it!
KIDWELL REFLECTS
On Generation Z:
"They have big hearts. I love that they're socially minded."
On the hardest part of any job:
"Learning to deal with people. It's irresponsible to launch students into the world without teaching them how to deal with people."
On pinch-me moments:
"Every time I went to an event the whole first year, I'd think to myself, 'I'm the dean of the college I graduated from.' It was completely surreal. Just surreal. I never imagined that I'd have this opportunity."
On leadership:
"I've noticed there are really great scientists that get put into leadership positions but aren't necessarily good leaders. Those are actually different skill sets."
On leadership style:
"I'm persistent in a way that if I believe it's the right thing to do, I just don't give up. And we've attracted like-minded people to the college who are willing to lay it down and make it happen."
KIDWELL IN BRIEF
Tractor? Partial to green
Livestock? Horses
Team? Illini
Technology? iPhone 8
Book?  "The Grapes of Wrath"
Best decision? Becoming a plant breeder
Podcast? TED Talk by Simon Sinek: Golden Circle
Movie? "Forrest Gump"
Hobby?  Hiking
Pets? Schnoodles Malley and Myrlo
Subscribe to receive top agriculture news
Be informed daily with these free e-newsletters
You May Also Like
---