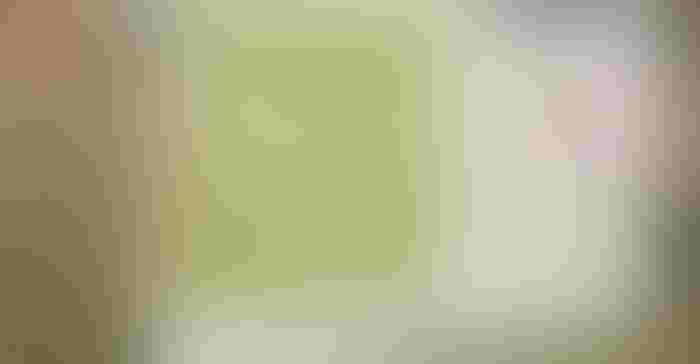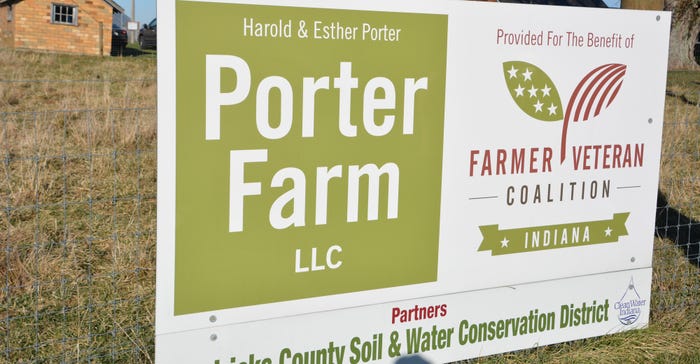 Harold Porter loved tinkering and repairing farm machinery on his small farm near Danville, Ind. He also enjoyed his neighbor Steve Stamper helping him in the shop when he could. 
Stamper recalls hanging around the Porter shop a lot during some 20 years before Harold died at age 90 in 2014. Harold's wife, Esther, a schoolteacher, had died earlier.
"Harold kept saying that he was getting things ready for me to carry on," Stamper says. "But I didn't think much about it. He left his small farm for my wife, Kathy, and I to take care of. We looked for ways to benefit others and honor Harold, and it led to Porter Farm LLC.
"We believe Harold would approve, because the primary goal is to assist military veterans, and he was a veteran. All we did was get the ball rolling. We've had plenty of help. This project is all about groups cooperating together to help others."
Sowing seeds
Sara Creech, a neighbor and friend, jumped on board. A member of the Indiana chapter of the Farmer Veteran Coalition, she soon got others involved. It became clear early that the small acreage could best be used for intensive vegetable production. That would also give veterans interested in agriculture a chance to learn skills they could apply to develop their own operation.
Indiana AgrAbility became an early partner. It's administered through Breaking New Ground, a program within the Purdue University Department of Ag Engineering. Cindy Chastain provided support and channeled veterans interested in agriculture toward Porter Farm. Chastain retired and today, Joe Ricker represents AgrAbility. A retired career military officer, Ricker, like Creech, is a member of the Farmer Veteran Coalition. Ricker, who lives in Wilkinson, Ind., also operates his own nonprofit, At-Ease Orchard, helping veterans while maintaining an orchard and beehives on his own small farm.
"Our lifeblood at Porter Farm is many groups working together, acquiring as many applicable grants as possible to keep things moving forward," he says.
Until now, the farm's twofold goal was to provide lessons and work experience for multiple veterans while aiding one veteran in developing his own business at scale to move out on his own, Creech explains. She helps teach and work with veterans, bringing many techniques learned at her own Blue Yonder Organic Farm.
"This farm isn't organic yet, but many of the same principles apply," she notes.
The veteran preparing to go on his own embarked on a three-year program and lived in the house. "Our first veteran just moved on to his own operation last fall, so we're in transition," Creech says.
Ricker explains that whether the program continues in the same direction, prepping one veteran over three years, or goes a different direction, depends on funding.
"We're seeking a grant which would allow us to teach several veterans here at one time for a much shorter period, using the house and farm," he says. "Either way, we will continue helping and training veterans."
More than veterans
The Hendricks County Soil and Water Conservation District didn't need much persuading to become a partner, recalls Creech, a supervisor on the SWCD board. "They pursued and received a Clean Water Indiana grant to help here," she says.
Bree Ollier of the Hendricks County SWCD staff works on the project. "We were able to do many things with the CWI grant," she says. "We assisted in running a water system, building fence for livestock and much more.
"A big part of what we've done relates to sponsoring educational workshops, not only for veterans, but for anyone in the community. We've held workshops on all kinds of things related to local food production here, and we've been pleased with participation."
The grant culminated with what Ollier calls a Water Festival held at Porter Farm. "There were activities for everyone, including kids, and it was a huge success," she says.
That grant is over, but Ollier says the SWCD is seeking more grants and even more ways to help. "We're vested in what's going on at Porter Farm," she says.
The Indiana Association of Soil and Water Conservation Districts presents four district showcase awards each year. The Hendricks County SWCD is a recipient for 2023.
"We held an early celebration at the farm in November," Ollier says. "Fifty people gathered, and we fed them all with food grown on the farm. It was a great transition into another year."
About the Author(s)
Subscribe to receive top agriculture news
Be informed daily with these free e-newsletters
You May Also Like
---