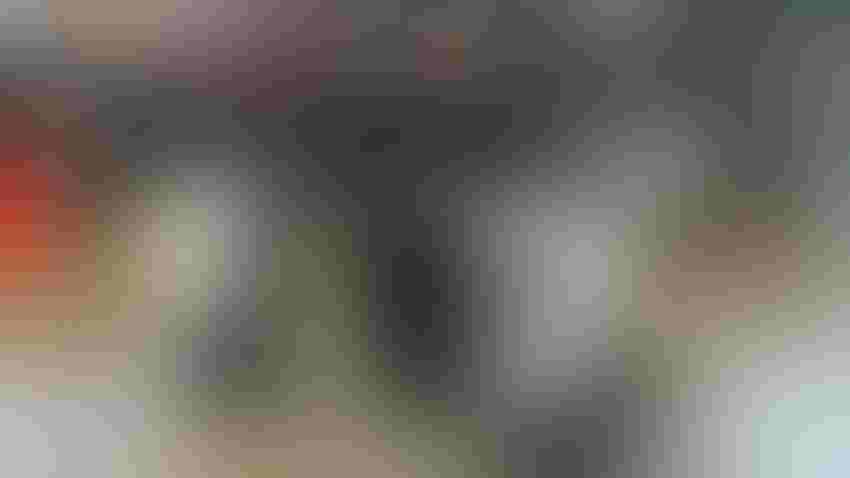 First-year Hartnell College student Napoleon Navarro is benefitting from the agricultural programs at his local community college. The Salinas High School graduate is part of a campus project to help Ocean Mist Farms develop a robotic platform to efficiently scout artichoke plants.
Todd Fitchette
Not all high school students are destined for four-year universities. Nevertheless, agriculture needs a new generation of skilled workers to build and troubleshoot sensors, operate food processing equipment, who want to remain in their communities.
Hartnell College in Salinas is working to that end, helping students from agricultural communities learn how to build and operate the equipment necessary for today's farming operations and food processing.
Clint Cowden is the dean of academic affairs at Hartnell. Armed with seed money from local agricultural businesses and others, he's helping to build programs at the community college to teach young students about electronics, computer programming and machinery operations necessary to work with the technology used to manage, grow, harvest, and process crops.
Partnerships
Aside from the classroom learning in labs that feature state-of-the-art food processing lines, students are working with agricultural firms like Ocean Mist Farms on robots that will aid in their artichoke production. Castroville-based Ocean Mist Farms is the largest grower of fresh artichokes in North America.
One such project includes retrofitting a farm-ng electric tractor to perform tasks in artichokes. The idea, according to Napoleon Navarro, a first-year student at Hartnell College, is to outfit the machine to take photos and record plants at various stages of growth. Those photos from cameras mounted on the platform will allow company officials to scout their fields for pest and disease issues in a more efficient way.
The platform won't be completely autonomous. An operator will control the machine, setting it at a fixed speed with cameras poised over the plants.
The project is part of a competitive program Hartnell is enrolled in with other colleges and universities, Cowden said.
"They're working with Ocean Mist Farms to solve real world problems that growers have," he said. "I think these students are going to have an amazing, real-world solution."
Mechatronics
Mechatronics is a multidisciplinary field involving skills needed in automated manufacturing and food processing.
Armed a few years ago with $1 million in seed money from Taylor Farms, Cowden said the college continues to scale up its ag programs and "produce the technicians that can handle these food processing plants."
One such processing line, scaled down to fit in one of Cowden's labs, is the only one like it in the world, he said.
"It runs at a slower pace for our purposes," he said.
A goal of the program isn't merely to teach the individual components of electronics, computer programming, hydraulics, and pneumatics, but to employ a systems approach in the learning so students can accurately troubleshoot problems as they arise and predict them to avoid costly shutdowns. Cowden said it's not enough to simply teach students how to change out a worn belt, for instance, but to understand why that belt may be worn and to troubleshoot larger causes before they lead to a major malfunction.
"That's the big thing: teaching them how to gather information and get to the point where everything is predictive," Cowden said. "These food processing facilities have tight windows. We can't have a breakdown; there's times when lines are shut down for cleaning and food safety. They need to predict those issues and be able to address them during these down times before a costly shutdown occurs."
C-suite participation
Top executives in the various agricultural firms that operate on the Central Coast of California are coming along side students and faculty at Hartnell to shape their learning and programs that will benefit private industry and the college. Students learn practical issues from farm managers and business leaders that can translate into career opportunities with agricultural companies.
Cowden said the time spent by some of these executives, with their 30-plus years of business experience, to coach and mentor young students is valuable.
"It's amazing to see how willing agriculture is to take a C-level executive and spend time with students," he continued.
Hartnell students are also exposed to DOT-approved driving simulators, teaching them how to operate big rigs, heavy equipment, forklifts, and even welding equipment. Many of these blue collar jobs pay well and can lead to other opportunities for the students.
The C-suite participation is also bringing financial capital with it. A wall in one of the agricultural buildings on campus lists major donors to the college.
"There's a reason why they're putting their names on our doors," Cowden said of the donors. "They want students to have that brand ID."
Cowden said companies are discovering that investing in their local community colleges is a win-win for them and students. Training future employees to do more than just operate machines by rote is part of a larger community building effort, he said. For many of these students, it's their opportunity to remain in their local communities, plant roots, and develop career opportunities in agriculture.
Subscribe to receive top agriculture news
Be informed daily with these free e-newsletters
You May Also Like
---