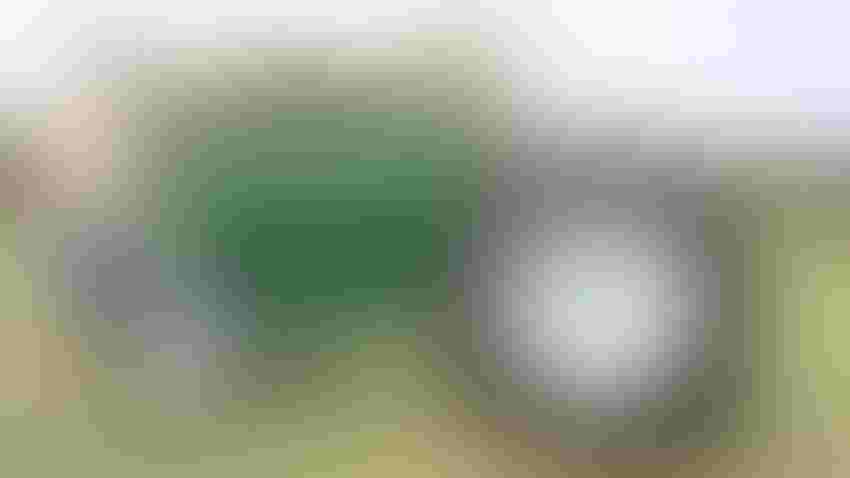 PRISTINE CONDITION: In 1999, Doug Kautzer purchased a 1958 model 550 Oliver at an auction. It took about 2,000 hours to restore the tractor.
HARLEN PERSINGER
While growing up, equipment mechanization shaped daily life for Doug Kautzer from Sussex, Wis.
His father, Edward, was a machinist, and two uncles owned an Oliver dealership in New Holstein, Wis., where the young lad hung out in their shop and often studied different tractor manuals or watched repair jobs and restorations being done.
"The first machine I drove when I was 12 was a Minneapolis-Moline with a hand clutch to help move wagons," Kautzer recalls. "However, my interest in owning a tractor someday developed after receiving a toy model Oliver Super 55 with a three-point hitch."
Bought at auction
In 1999, Kautzer, who worked at Briggs & Stratton and Wisconsin Motors as an application engineer, purchased a 1958 model 550 Oliver with the serial number 68-100,516 from his nephew's father-in-law, John Schwaoerer, at an auction. The original owner was a dairy farmer. The tractor had a tire scraper on the back, but was in rough shape — totally covered with manure and layers of dust.
"It just sat in my yard for eight years, and then for another decade in the shop," Kautzer says. "From 2017 to 2019 the engine was rebuilt, and everything was washed and cleaned. The cost for sand blasting, painting and labor to get it running again was $2,000. The toughest restoration challenge was pulling the transmission apart. It took about 2,000 hours to have the tractor look like it had just come from the factory assembly line."
There were 20,368 models of this utility tractor manufactured from 1958 to 1975 in Charles City, Iowa. Features include two-wheel drive, manual steering, open operator station, rear-type hitch, gear-type transmission with six forward and two reverse gears, dry disc clutch, differential mechanical dry disc brakes and 2-by-2 two-wheel-drive chassis. There was an electric starter, 13-gallon fuel tank, and Oliver 2.5-liter, four-cylinder arc-cooled gasoline or diesel engine. The tractor weighed 3,726 pounds, and the list price in 1975 was $4,400.
"I exhibit the Oliver at the Sussex Antique Power Association Day, local events and area parades," Kautzer says. "This is my favorite tractor. Besides being in pristine condition, the 550 is a mirror image of that toy model I played with as a kid."
Persinger writes from Milwaukee. To have your favorite tractor featured, email or send in a photo of yourself with your tractor, along with a 300-word write-up about the tractor, to [email protected] or Wisconsin Agriculturist, P.O. Box 236, Brandon, WI 53919.
Subscribe to receive top agriculture news
Be informed daily with these free e-newsletters
You May Also Like
---