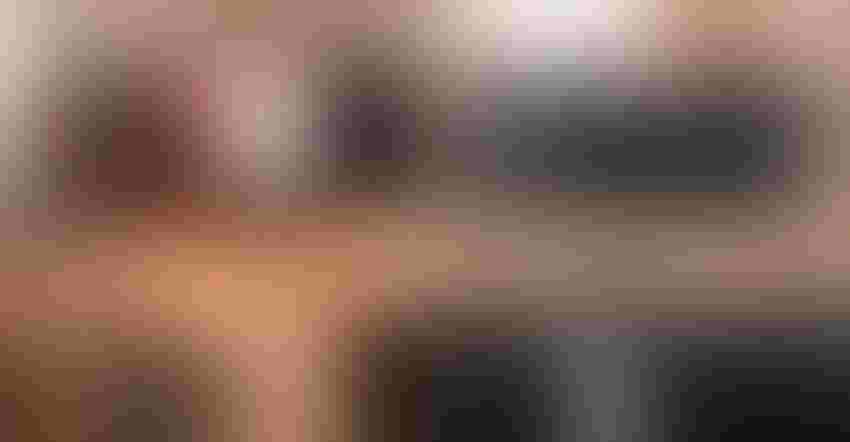 MASTERS: The last four Master Farmer classes are (clockwise, top left): 2020's Ted Mottaz, Joe Pickrell, Susan and John Adams, Dale Hadden; 2019's Bill Sahs, Boyd Schaufelberger, Jim Robbins, Marty Marr; 2017's Tracy Jones, Allen Entwistle, Joel Kooistra, Kent Kleinschmidt; 2018's Darell Sarff, Fred Reichert, Jim Rapp, Tom Martin.
Prairie Farmer is now accepting applications for 2021 Master Farmers.
If you've ever considered nominating someone — maybe your parents, a sibling, your neighbors, a friend or even yourself — don't wait. This lifetime achievement award is competitive, and applications require time to fill out before they close in September.
You can nominate or apply as an individual, or as a husband and wife. In 2016, four farm couples received the award. Siblings can also be nominated, as was the case for Doug and Tom Block, who farm in partnership and were named Master Farmers in 2009. They joined a list of names that's grown past 350.
Tips for success
Here are some tips from past judges on how applicants can submit a successful application:
Be thorough. In the sections asking about farm history and growth, more information is better than less. Share how the individual(s) got started and show how their operation has progressed. No detailed financial information is required.
Get letters. Ask for at least 10 recommendation letters to support your nomination. These letters give insight to character and reputation in the community.
Think small. When listing community and industry work, consider the nominee's entire body of work. For spouses or siblings, list both individuals' activities, noting who did what.
Start early. It's not a quick process to nominate a Master Farmer. It's a once-in-a-lifetime award, and the application reflects an entire career.
Community involvement is weighted highly as judges select winners, but so too is a farmer's agricultural production skills and dedication to family.
You can find the 2021 application online. Download it, fill it out and send it in, complete with letters of support, by Sept. 7. Email [email protected] for more information or to have an application sent to you.
Background
In 1925 when the award was founded, the editors at Prairie Farmer believed the values of a Master Farmer were worth recognizing as a way to help farmers take pride in themselves and their jobs.
The editors at the time felt it was important to recognize farmers for excellence the same way an individual is honored in any other profession. The same holds true in 2020, as Prairie Farmer and Growmark continue to honor new Master Farmers because their actions and beliefs, both on and off the farm, capture the essence of this award.
In 2020, three farmers and one farming couple were inducted into the Master Farmer group. Those selected for the 2021 award will receive a plaque and coverage in the March magazine, along with recognition at the annual Master Farmer awards banquet. The 2020 banquet was postponed due to the COVID-19 pandemic but will be held as soon as possible.
The 2020 awardees are John and Susan Adams of Atlanta, Dale Hadden of Jacksonville, Ted Mottaz of Elmwood, and Joe Pickrell of Buffalo.
Subscribe to receive top agriculture news
Be informed daily with these free e-newsletters
You May Also Like
---