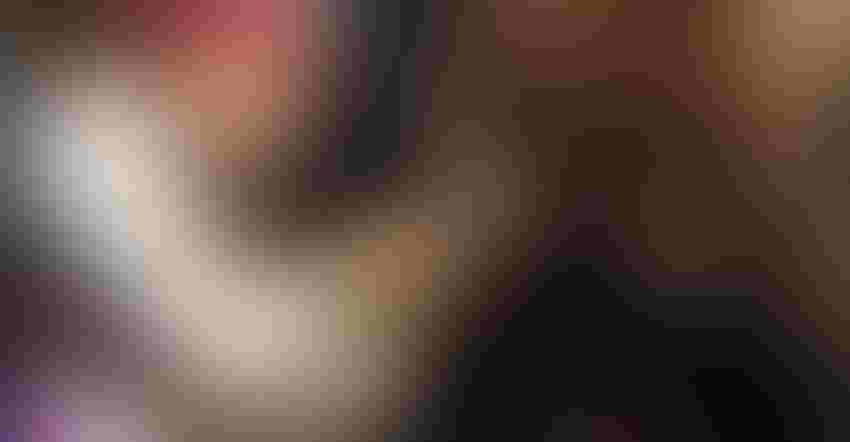 HANDS ON: Sarah Gleason attaches an ear tags to one of the bison cows she purchased.
Sarah Gleason
Editor's note: This is another entry in an occasional series about beginning farmers and ranchers.
Sarah Gleason is a first-generation bison rancher who got started in an unusual way. She didn't grow up on a ranch. She didn't have a family's or a friend's ranch to work on. She didn't access to any land.
Furthermore, she didn't know anything about bison. She didn't study animal science or ranch management in college.
But today, Gleason has about 30 bison and is in the final stages of negotiating a lease for 900 acres of rangeland.
How did she get started? Mostly by old-fashioned networking.
"It was about relationships," she says.
Gleason, 35, of Durango, Colo., loves the outdoors. She is skier, runner and horseback rider. She also worked for a while as river rafting guide. She's an avid gardener and local foods advocate. She worked for a decade in marketing and business development positions for several agencies, trade associations and businesses, including Whole Foods and the Savory Institute.
Though she loved her work, she was always searching for some way to get out from behind the desk and to earn a living by being outside. She turned eventually to agriculture, an industry she was exposed to at Whole Foods Market, a multinational supermarket grocery chain known for its organic selections; and the Savory Institute, a non-profit organization dedicated to holistic management and regenerative agriculture.
"It not a big leap from loving the outdoors to wanting to be a farmer or rancher," she says. "If you want to be a good steward of the earth, there's no better ways to better to earn your living than to produce food for people".
At first, Gleason talked about raising horses or cattle. She considered operating a traditional grain farm; or growing fruit, vegetables and even lavender, a common specialty crops in certain parts of the West.
Her husband, Mike, offhandedly suggested she look into bison. One of his family's friends raised bison. Gleason was intrigued by what she learned about the market for bison and the positive affect the animals can have on the land. She visited the bison ranch and was hooked.
Gleason next steps were to research the industry and to get to know bison producers. She joined the National Bison Association and began going to the organization's meetings. She started calling other NBA members and asking questions. Most bison ranchers were more than happy to talk to her, she says. The NBA has been working to attract to new producers to help meet growing demand for bison products.
In 2013, while working for Whole Foods, she met one of the ranchers who supplied the grocer with bison meat. She told him her dream of raising bison. He invited her to his ranch to work during a roundup. For the next two years, she visited as many bison ranches as she could fit into her schedule.
In 2015 she met Mimi Hillenbrand, owner of the 777 Bison Ranch, Hermosa, S.D. It one of the largest and most celebrated 100% grass fed bison ranches in the U.S.
Hillenbrand agreed to formally mentor Gleason and to allow her to begin her own herd by buying some of her animals and running them with the 777 herd. Gleason bought 15 two- and three-year-old animals. She paid 777 Bison Ranch a custom grazing and management fee. She kept the heifer calves and sold the bulls each fall. She traveled to the ranch from where she continued to her marketing career first in Denver, Colo., and then Lexington, Kent., to work the animals and learn more about grazing and ranch management.
In 2018, Gleason tried to buy a ranch in Colorado near her hometown. The deal fell through, but neighboring landowner offered to lease her grassland.
MENTOR AID: Sarah Gleason (right) poses with her mentor, Mimi Hillebrand, owner of the 777 Bison Ranch.
In January this year, Gleason resigned from her position at the Savory Institute and became a fulltime rancher. Her bison will be moved to her ranch in October.
"Then the real work will start," she says.
Gleason expects fulltime ranching will be difficult. She will likely make mistakes. But she vows that she will learn.
Gleason is inspired by a quote by Jon Acuff, a best-selling self-help author and motivational speaker. He says one of the one of the keys to success is "being brave enough to be bad at something new."
"I kind of like that," Gleason says. "It's going to be my motto."
Subscribe to receive top agriculture news
Be informed daily with these free e-newsletters
You May Also Like
---