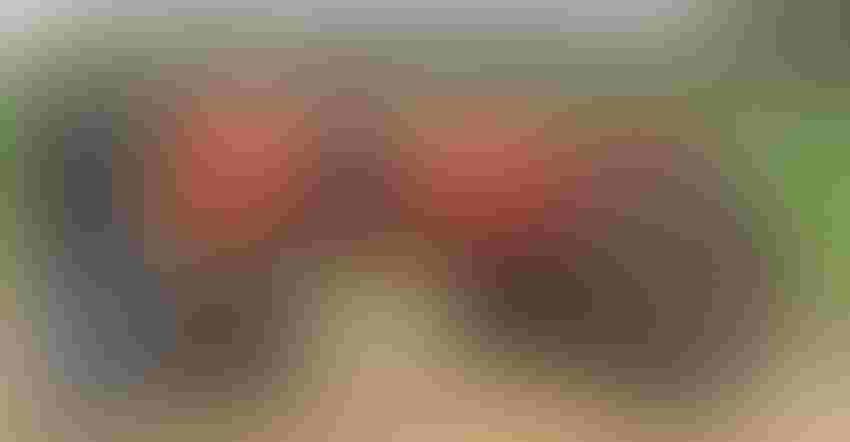 VERSATILE TRACTOR: Eric Johnson poses with his 170 Allis Chalmers tractor, which was used for everything from disking and planting to cultivating and operating a Gehl bunk line feeding wagon. The tractor was purchased by Eric's dad, Ken, in 1968.
Harlen Persinger
Ken Johnson moved to his farm near Dane, Wis., in 1953. He had 100 acres of corn, oats and alfalfa, plus 125 head of feeder steers. He also worked as a mechanic at Raemisch Implement Co. Inc.
"In 1968, two Model 170 Allis Chalmers tractors arrived on a rail car. One had a broken front pedestal," his son Eric remembers. "Dad paid $3,200 and purchased the parts to fix it. He felt the 170 was a good opportunity to get a tractor at a reasonable price that would enable him to boost overall horsepower on the farm, which at that time included a model WD-45 and a D-14."
Workhorse
The 170 was used for everything: disking, planting, cultivating and operating a Gehl bunk line feeding wagon. When Eric and his wife, Cindy, started renting 120 acres of ground in 1978, he purchased a set of duals, a 13-foot AC disk and a six-row AC planter. Later, the Dane County farmer added two 100-gallon saddle tanks to sidedress nitrogen.
Features on the 170 include a Perkins 3-9-liter, four-cylinder, liquid-cooled engine made in England; hydraulic power-assist steering; open operator station; differential mechanical contracting band disc brakes; fenders; eight forward and two reverse gears in high and low range; 47.39-hp rating on the draw bar; 18.5-gallon fuel tank capacity; four lights in the front, and one in the rear. The transmission is controlled by means of the gear shift lever and power Director Lever. When placed in control, this keeps the PTO engaged while the tractor is stopped.
The serial number is 2211 D, which stands for diesel. Even though the tachometer shows 6,000 hours, no engine, injection, transmission or clutch work has been performed on the 170. However, the tires have been replaced twice, along with adding a couple of new seats, a water pump, batteries and brakes. The tractor sat in a shed for a decade but is now used between 50 and 100 hours per year to split logs, rake hay, transport bales, pull grain wagons and operate a small 4x4 Case IH round baler.
"This is my favorite tractor because I liked the brand. It was fast, versatile, worked great for cultivating corn, and for its age had the best hydraulic package at the time," Eric says. "When I was growing up, the 170 handled every chore with ease. The model is unique because of the narrow front end combined with the diesel engine, and I never used a full tank of fuel in one day."
Persinger lives in Milwaukee, Wis. To have your favorite tractor featured, email or send in a photo of yourself with your tractor, along with a 300-word write-up about the tractor to [email protected] or Wisconsin Agriculturist, P.O. Box 236, Brandon, WI 53919.
Subscribe to receive top agriculture news
Be informed daily with these free e-newsletters
You May Also Like
---