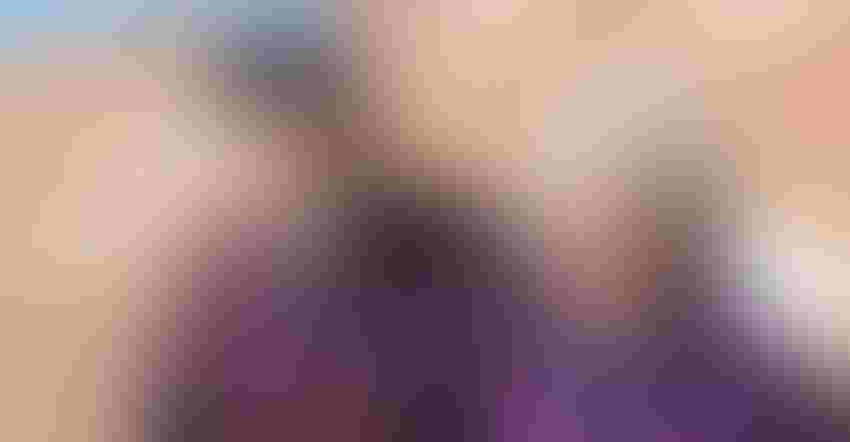 EDUCATORS' HEARTS: Larry and Virginia Kepley of Ulysses, Kan., met at Kansas State University, where each was pursuing a path in education. They combined their love of agriculture and educators' hearts to not only serve their local community and help schoolchildren grow to appreciate agriculture, but also to promote the budding hard white wheat industry in the state. That drive to educate about and promote agriculture is one of the many reasons they were named to the 2021 Class of Kansas Master Farmers and Master Farm Homemakers.
Jennifer M. Latzke
There's a Chinese proverb that states, "Teachers open the door, but you must enter yourself." In their more than 61 years together, Larry and Virginia Kepley have certainly lived that proverb, having opened many doors to learning and opportunities for farmers and schoolchildren in Kansas.
Their service to Kansas agriculture and their local Ulysses, Kan., community is one of the reasons Larry and Virginia Kepley were named to the Class of 2021 Master Farmers and Master Farm Homemakers.
A foundation in education
Larry and Virginia met at Kansas State University, where each was pursuing a path in education. Larry was earning his bachelor's degree in agricultural education, and Virginia was earning her bachelor's degree in home economics education.
Larry had grown up on the family farm near Ulysses, Kan., and Virginia had grown up on a farm southeast of Clearwater, Kan. But she was reluctant to marry a farmer, Larry says.
"She told me she wasn't going to marry someone from west of Wichita, and definitely not a farmer," Larry says with a grin. "Well, she didn't, exactly. She married a teacher, who became a farmer."
As they started their marriage, the young couple moved around the state as Larry found opportunities as a vocational agriculture instructor and then as an Extension agent, and even a Kansas Farm Management Association field man. And each move brought new opportunities for Virginia as a school bus driver and then as a home economics teacher.  
In 1973 the couple and their two children, Tad and Kim, moved to Ulysses and started farming with Larry's father, Ralph. Virginia focused for many years on raising their children and helping Larry on the farm. But as their children grew older, there became time for Virginia to return to working off the farm. First as the educational director at the First United Methodist Church, and then by becoming a paraprofessional for gifted students. She earned her gifted education teaching certificate and was a facilitator for gifted students in Lakin, Deerfield, Holcomb and Ulysses. She also coached "Odyssey of the Mind," a problem-solving competition for youth.
Growing opportunities
Larry's family has been farming near Ulysses since the settlement of the town in 1888. He remembered that the farm evolved from raising dryland wheat, to drilling the first irrigation well in 1947.
"Those years that followed were pretty good," Larry says. Developing irrigation led to the rise of the farm's success for the next couple of decades.
In the 1970s, Larry saw an opportunity to diversify the farm and built a 50-sow farrow-to-finish facility. The Kepleys also were instrumental in launching the Southwest Kansas Pork Producers Association. But then, in the 1980s the market dropped, and the family got out of the hog business and refocused efforts on crops — specifically, the family's certified wheat seed business, Kepley Wheat Seed, which had been the backbone of the operation since 1948.
But there was something new on the horizon that could provide opportunity to the family.
White wheat
"I started looking for opportunities to expand crops in either acres or a crop with added value," Larry says. It was about that time that he was elected to the Kansas Association of Wheat Growers board of directors and heard about this "new" opportunity of hard white winter wheat being developed at K-State.
Hard white wheat is prized by millers and bakers because of its lighter bran color, which allows for more of the grain to be used. This results in a more nutritionally packed, sweeter flour that still results in a tasty bake.
"KAWG set up a committee that evolved into the American White Wheat Association, and later that changed to Farmer Direct Foods," Larry says. "We bought a small mill to process white wheat."
Larry was board chairman of Farmer Direct Foods for 10 years. As he talked to Kansas farmers around the state about the white wheat opportunity, Larry leaned on his educator's background.
"Most growers wanted to know two things," he says. "'What will it yield?' And, 'Will I have a lot of extra trouble?'" For the past three decades Larry has been recognized as the champion of the white wheat crop in Kansas, seeing how the crop can add value to farming operations if they're able to segregate the crop and meet the market demand.
Ag in the Classroom
After she retired from teaching in 2000, Larry encouraged Virginia to take a class at K-State called Ag in the Classroom. It was perfect for her educator's heart — creating educational modules for students around agriculture, bringing the farm to the classroom.
"Since our farm had 25 varieties of trees and a mature windbreak, a lesson on trees seemed like a good idea," she says. The orchard had been planted by Larry's father decades before. She created a lesson plan, and fifth- and sixth-grade classes would come out to the farm in May, when the trees were blooming.
These days on the farm encompassed English lessons, where the students were tasked with writing poems about trees. They learned to identify trees on the homestead; and at the end of the day, there were always Virginia's homemade applesauce brownies as a reward.
Educators' hearts
Larry and Virginia have recently decided to retire from farming and have made arrangements to have a cousin take over the farm. The couple will spend more time visiting their grandchildren. But there's always going to be room on the calendar to give back to the Ulysses community, just as they've done for the past 50-some years.
Whether it was service through the Ulysses First United Methodist Church; or their work with the Grant County Home Product Dinner, which promotes the wide array of food products grown in the county, their hearts were in serving their neighbors and educating the next generation about farming.
As Larry notes, there's a commonality that Kansas Master Farmers and Master Farm Homemakers share.
"We work within our communities because we've been cultivated by our communities," he says. "Cultivation is a part of farming. But it's more the treatment you get within your community. It may be trite, but it takes a village to grow all of us. What that village is, what it looks like and how you fit in it is different to each. But that's what I feel in this recognition. We represent a village that brought us to this point."
The village may have opened the door to opportunity. But the Kepleys walked through it and chose to use their opportunity to help others find theirs.
Family motto
"For I know the plan I have for you," says the Lord: "Plans for well-being and not for trouble, to give you a future and a hope." Jeremiah 29:11. This is the Scripture that Larry and Virginia see still bears fruit in their lives.
The couple has experienced the loss of their son, and has weathered many challenges as farmers in southwest Kansas. But their faith has sustained them and also provided opportunities to educate others about agriculture in many ways.
Local lore
Kepley Middle School in Ulysses is named for Larry Kepley's ancestor, who was one of the founding members of the community in 1888.
Subscribe to receive top agriculture news
Be informed daily with these free e-newsletters
You May Also Like
---