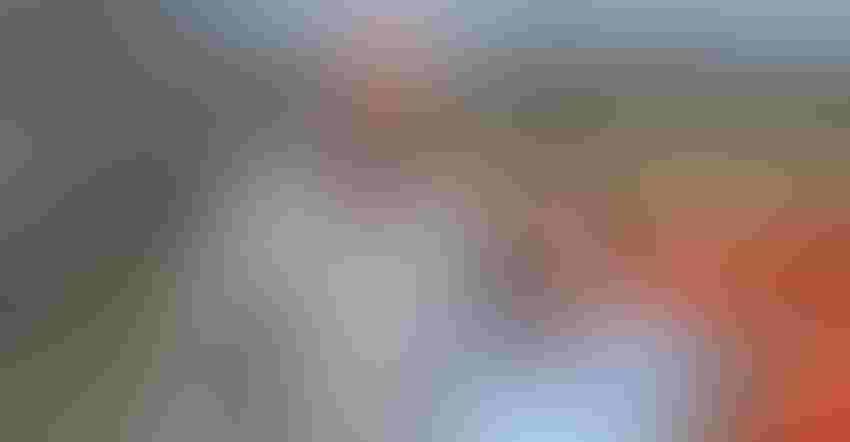 TRUE PARTNERS: Randy and Joyce Kron are both heavily involved in the farm operation. Today, Joyce and their son, Ben, handle daily management, while Randy serves as Indiana Farm Bureau president.
Photos by Tom J. Bechman
Bob Meyerholtz, a retired vocational agriculture teacher, takes credit for bringing Randy and Joyce Kron together. Both were students in his vo-ag program at Evansville Reitz High School decades ago. Both Randy and Joyce acknowledge that they met through ag classes. Today, the former high school sweethearts are husband and wife, farming partners along with their son, Ben, and outstanding leaders for Indiana agriculture.
Their former ag teacher deserves credit for helping them to aspire to be lifetime servant-leaders, too.
Related: Welcome new class of Master Farmers
"He always instilled the need to participate and be involved in his students, including me," Randy says.
For the past five years, Randy has led Indiana Farm Bureau Inc. as president. The list of organizations he contributed to before becoming INFB president is long. Joyce is an accomplished leader in her own right, serving as president of the Indiana Young Farmers Association during its heyday in the 1980s.
Fulfilling a dream
Both Randy's and Joyce's leadership credentials are impressive, but so is the story of their growth and success in farming. Randy's father didn't farm — he was a soil conservation employee with the Natural Resources Conservation Service. But Randy's heart was in farming, and Joyce's heart was, as well. She grew up on a farm in the Ohio River bottoms near Evansville, Ind.
Related: Neighbors, state ag leaders support Krons
Randy graduated from Purdue University in the early 1980s intending to become a full-time farmer. It was a difficult economic time for agriculture. He and Joyce started farming anyway. Technically, they are first-generation farmers.
"We must give lots of credit to the support our families gave us to help us get our feet on the ground," Randy says. "We couldn't have borrowed the money we needed and achieved a foothold without their support."
The farm grew over time. While they still live and farm in Vanderburgh County north of Evansville, a large portion of their land base is in neighboring Gibson County. Over time, they found it easier to acquire land to rent or buy in that area. They've been able to adapt to farming different types of soils spread out over 20 miles.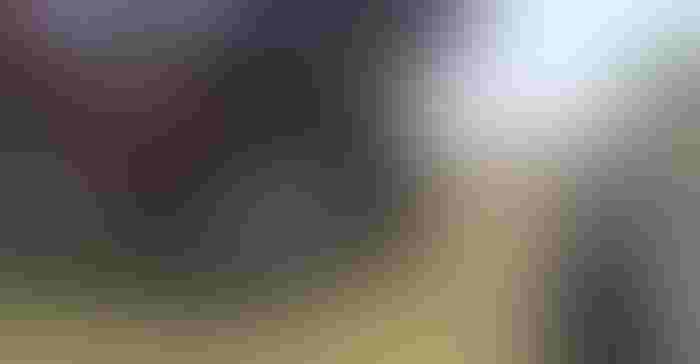 KEY INVESTMENT: The Krons invested in this sprayer so they could be more flexible in making various pesticide applications during the season.
Although the Krons grow some white corn, commercial corn is an important part of their operation today. The white corn is marketed at the local Azteca plant for use in foodstuffs. They have grown wheat in the past but are currently primarily in a corn-and-soybean rotation.
At an early age, Randy's father instilled in him the value of conserving soil and preventing erosion. Since their soil types are so variable, from sandy to heavy, they use various tillage methods, practicing minimum tillage or no-till on lighter soils. They're also experimenting with cover crops.
Kron Farms today
Serving as INFB president takes Randy away from the farm during the week most of the year.
"We discussed it, and Joyce was comfortable stepping up and doing more of the day-to-day management," Randy recalls. "We certainly could not have kept the farm operating efficiently with me being away so much without her taking a larger role."
That doesn't mean Randy isn't still a farmer. "I believe our membership appreciates the fact that I am an active farmer, and I stay involved," he says. "I try to work in as many days at home during spring and fall to help with planting and harvest as possible."
Meanwhile, their son, Ben, now 30, has become a partner in the operation. He works alongside Joyce when Randy is away. Randy is proud that the operation really doesn't skip a beat even when he isn't present physically.
"They are doing a great job of keeping things running," he says. "Ben keeps us up to date on technology, and that is a huge help."
Randy and Joyce Kron at a glance
Age: 60 (Randy)
Location: Evansville, Vanderburgh County
Started farming: Randy and Joyce began farming after he graduated from Purdue in the early 1980s. He didn't grow up on a farm, but he credits support from both his family and Joyce's family with helping them become established.
Farming entity today: Joyce and Randy farm in partnership with their son, Ben. A large portion of the acreage they farm is in Gibson County.
Crops: The Krons grow corn and soybeans, with some corn being white corn sold to Azteca for foodstuffs.
Children: Tori and husband Daniel Langton, a teacher in the local area, and Ben, 30, a partner in the farm. They have one grandchild, Eli Langton, age 3, with a second grandchild expected in August.
Employees: Steve Glazer, longtime employee
Leadership: Randy is state president of Indiana Farm Bureau and serves on the board of directors of the American Farm Bureau Federation. Through the years, he was a supervisor for the Vanderburgh County Soil and Water Conservation District, Vanderburgh County Extension board member, a member of Purdue PCARET and Armstrong Township trustee and assessor for 20 years. Joyce served as president of the Indiana Young Farmers Association in the early 1980s, and she and Randy served in leadership roles on the Indiana Farm Bureau Young Farmers state committee. Joyce managed the trustee township office when Randy served as trustee.
Nominator: Kent Yeager, Mauckport, Ind.
Notable: Ben achieved 367 bushels per acre and placed first in the National Corn Growers Association category for irrigated strip-till corn in 2020.
Subscribe to receive top agriculture news
Be informed daily with these free e-newsletters
You May Also Like
---