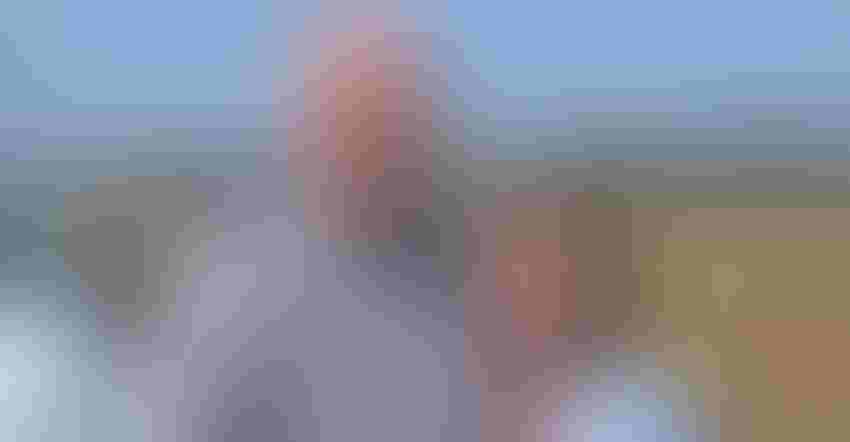 MATCHED FOR SUCCESS: People who know them say both Randy and Joyce Kron are integral parts of their farm operation, plus both have made large contributions to agriculture off the farm.
Tom J. Bechman
Kendell Culp, Rensselaer, Ind., a farmer and vice president of Indiana Farm Bureau, summed up what many people thought when learning that Randy and Joyce Kron were being nominated for the Master Farmer award in 2021. The award is sponsored by Indiana Prairie Farmer and the Purdue University College of Agriculture.
"It's hard to believe that a couple so rich in agriculture accomplishments and community involvement have not already received this distinguished and coveted award," Culp says. "Randy and Joyce epitomize the title 'Master Farmers.'
"As a first-generation farm couple, they have proven the value of an education coupled with determination and agricultural leadership. They have turned their dream and vision into a model farming operation, now with son Ben joining the multigenerational farming operation near Evansville."
Related: Krons invest in ag while growing farm
Culp has served alongside Randy in various roles in Farm Bureau for nearly two decades. "Randy is a leader whose list of accomplishments is ever growing. He has an infectious personality and does not seek praise for his accomplishments," Culp says.
Isabella Chism, Howard County, Ind., also serves alongside Randy as second vice president for INFB. "As their partnership grew stronger in skill and decision-making compatibility, another evolution took place," she says. "Randy's leadership skills and passion to support agriculture and Indiana farm families opened Farm Bureau's doors that he could only walk though because of his confidence in Joyce's ability to run the farm while he was away.
"Their strong faith has brought them through several hard times surrounding farm and family. They have come through every situation better and stronger than they started. Their shared faith in God and each other is a model worth emulating and recognizing. They have a well-oiled partnership — one that is successful and inspirational."
Other comments
David Brenner is president of the Farm Bureau in Vanderburgh County, Ind. "Randy and Joyce have both been involved with Farm Bureau starting at the township level since the 1980s," he says. "They were winners of the state Young Farmer Achievement Award. Their Farm Bureau roots are strong and have made the organization better at the county, district, state and national levels."
John and Marybeth Feutz, veterinarians who operate the Princeton Veterinary Hospital, met Randy and Joyce through involvement with Farm Bureau over 15 years ago. Marybeth sits on the state board of directors that Randy heads as state president.
"Marybeth is always impressed with his diplomacy and tact in running a meeting and leading a discussion," John says. "As you can imagine, in a room full of farmers from all over the state and in many different farming practices, we do not always agree. Randy is excellent in letting the discussion flow where it needs to go, moderating the conversation when need be, and wrapping up with a solution that appeals to everyone."
Kent Yeager, Mauckport, Ind., has known Randy and Joyce for over 35 years. He nominated them for the award.
"In nearly anyone's estimation, the 1980s were some pretty challenging years for farmers. It was particularly difficult for those who had not been established long enough to have assets to fall back on," Yeager says. "That is exactly where Randy and Joyce were — beginning farmers during a time that ended many longtime farming careers. Perhaps once they survived those years, it made the rest seem easier.
"I think the major reason for their success is that they really make a great team. Both are always ready to do whatever is necessary, wherever and whenever that might be."
Subscribe to receive top agriculture news
Be informed daily with these free e-newsletters
You May Also Like
---