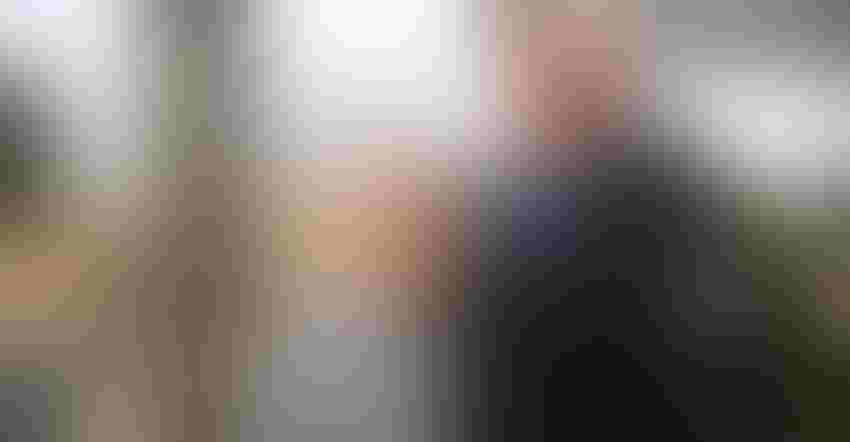 EXTENDED FAMILY: Farming and faith have given Pam and Jim Robbins an extended family that ranges from nonfarming churchgoers to local Farm Bureau members.
A focus on soil health has helped the Robbins family pave a path to success.
2019 Master Farmer Jim Robbins' soils near Peotone, Ill., have benefited from decades of no-tilling, occasional targeted wheat fields on erodible land and other soil-conserving practices.
After graduating from Joliet Junior College with an associate degree in ag business, Jim began his career working at Agro Inc. as a sprayer operator. He married his wife, Pam, in 1980, and their early farming years were peppered with drought and high interest rates.
With a nurse's income and health insurance, Pam helped the family make it through several challenging crop years.
"You can't just plant the seeds and leave them; you've got to tend to them," Pam says, adding that Jim hires an agronomist to scout and then write herbicide prescriptions. "He's mindful of the health of the crops and the soil. And he's never been shy about fixing and building things — which is good for a healthy bottom line."
Jim's diligence has paid off with low equipment costs. He's also made progress against a waterhemp "onslaught" experienced by the region, says John Kiefner, nominator and fellow Will County farmer.
"We're fighting herbicide-resistant weeds by using different modes of action and changing the chemistry we put out there year to year," Jim says.
Jim's corn yields "are amazing for our area," Kiefner notes in his nomination letter, adding that Jim was "well ahead of the curve" for the area in planting soybeans early and giving them more time to grow.
"Jim's strategy is to make more yield with less inputs," Kiefner says. "He is an aggressive forward-seller and places sell orders with grain elevators ahead of time to catch market moves."
Sharing a legacy
At 62, Jim recently began a three-year plan to move control of the operation over to his partner and nephew Michael Robbins, a former mechanic. While Jim and Pam don't have children, they say they think of Mike and his two siblings, Michelle and Mathew, as their own.
"My goal is to give Mike the opportunity I had, but I don't want to hang on to the reins for too long," Jim says.
Pam says Jim's father, Lester, set a good example for a proactive farm transition before he died about five years ago.
"The attitude of Jim's dad was never that overpowering, never let go of the reins, a 100-year-old who never let his 50-year-old kids make management decisions," Pam says. "Jim's dad was never like that. Every major decision was always very collaborative."
Jim started farming with two brothers and his father in 1980. A land purchase, droughts and high interest rates at the time held him back from expanding until the mid-'90s. Since then, he's been able to increase his family's land portfolio.
He bought out his brother Allen seven years ago, around the time his father retired at age 92. His brother Tom retired in the early '90s.
"When we started doing no-till in the '80s, we still did moldboard plowing on Pa's farm. That's until he saw the results. He was an evidence-based guy," Pam recalls.
Fifteen years ago, Jim began strip-tilling ahead of corn. They've been no-tilling soybeans for 30 years.
"We priced a strip-till bar last year, and it was going to be $250,000," Jim says. "Well, the one we have now is a Hiniker cultivator that was converted over to a strip-till bar. We probably have $35,000 into it, and it works great." He bought the cultivator for a reasonable price, and worked with Mike to modify it — making it the workhorse of their operation.
Pam, a health-care advocate and nursing instructor off the farm, operates an auger cart in the fall to help Jim and Mike. Retired family members Bob Robbins (Jim's brother) and Jim Blatti (Pam's brother) also help during harvest.
"It's still a family operation, and I think Pa and his wife, Rita, would be very proud of that," she says.
She thinks of their church, St. Joseph Church in Manhattan, as an extended family. They have another extended family through the Will County Farm Bureau.
"We've got our farm group, and we've got our church group," Jim says. "You need that. To expand your horizons. Farmers need to teach about agriculture and learn from the public's side of it."
Jim annually participates in Will County Farm Bureau Ag in the Classroom, which brings 2,500 middle school students to the Weitendorf Center at Joliet Junior College.
When asked if he has any regrets, he says no. "There's days where it's cold, something doesn't start. It's not easy. But I know where I'm at now, and I don't regret the things we've done or how we've done them," Jim concludes. "And I'm not done."
MECHANIC: One of Jim Robbins' winter jobs is to replace the brakes on hauling equipment.
Irons in the fire
Jim Robbins recently enrolled in the Conservation Stewardship Program, run by the Natural Resources Conservation Service.
"With CSP, we're scouting, controlling herbicide placement on the crops, variable-rate-applying nitrogen and doing tissue testing to the growing crop," Jim says.
On most of his farms, there's some kind of conservation practice, such as a grassed waterway or terrace. Outside of CSP, Jim and nephew Mike use variable-rate fall fertilizer, seeding and N based on prior yields and soil types. They've also pattern-tiled three farms.
"They say the payback on tile is 10 years," Jim says. "Well, I believe it. Those farms are our best-performing."
When Jim harvests, he makes an assessment for the next year's crop plans. There may be some change but nothing too drastic from year to ear. In 2019, Jim and Mike will amend their nitrogen application practices. They will apply 30 pounds of N with the planter versus broadcasting it with herbicides, with the balance being sidedressed.
"With 38 years into farming, you are never done learning how to improve your operation. Farming has been a rewarding career and fulfilling way of life. We are truly blessed," Jim says.
MASTER AT A GLANCE
Jim Robbins
Wife: Pam
County: Will
Operation: 2,800 acres of corn, soybeans, wheat and hay 
Leadership: Men of St. Joseph Parish men's group; District 1 Illinois Corn Marketing Board director; Will County Farm Bureau president; Will-South Cook Soil and Water Conservation District Board chairman; Farm Service Agency local committee chairman
Nominator: John Kiefner, Kiefner Farms
Subscribe to receive top agriculture news
Be informed daily with these free e-newsletters
You May Also Like
---