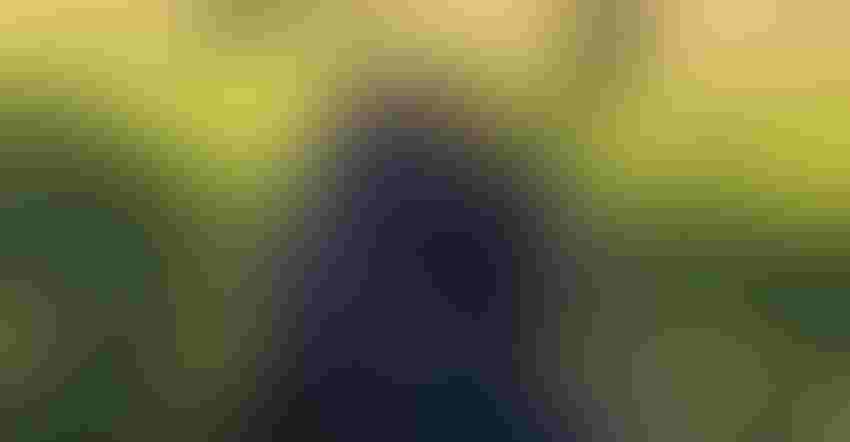 GRANDPARENT PORTRAIT: Gary (back left) and Becky Hatesohl pose with their grandchildren, Noah and Natalie. The Hatesohls say they take pride in caring for the legacy of five generations of farming and hope to pass it to a new generation.
Gary and Rebecca "Becky" Hatesohl are grateful for the legacy that makes Gary the fifth generation of his family to farm near Greenleaf in Washington County, and they are determined to see that legacy continue with future generations of the Hatesohl family.
"That's one of the reasons that maintaining buildings, fences, terraces, waterways and pastures is so important to us," Gary says. "We continue to build on what was passed down to us and make it better for generations to come."
The Hatesohls are committed to taking care of the land and the water. They use minimum and no-till farming practices on all their cropland. They also improve their water quality through soil samples and variable rate technology.
"We have a crop rotation plan on a spreadsheet which allows for future crop production based on past rotation," Gary says. "We have been planting oats, radish, turnip and cabbage cover crop blend in wheat stubble for fall cattle pasture. We base pasture counts on cows per acre limits to avoid overgrazing."
He says he also planning to plant brome in the old hog lots to help control water runoff and create clean areas for calving. The farming operation no longer includes hogs, but he has a goal of increasing both beef and stocking cattles.
Becky retired in 2014 after 31 years of teaching elementary school, the last 27 years in the Hanover district. She says her retirement has given her a chance to discover that she and Gary have as much fun working together as they already knew they had playing together.
"I retired partly so I could spend more time helping Gary with work on the farm," she says. "And I wanted more time to spoil the grandkids."
While her parents were not farmers, she grew up on a farmstead with 80 acres of pasture, which her family rented out to a local haying group.
"About as close to farming I got was watching the guys cut and put up small square bales for our native grass pasture," she says.
She was introduced to Gary by his cousin, who was dating a friend of hers and arranged for them to meet.
"I thought I was going bar-hopping in Topeka with my cousin, but I later figured out it was a set-up," Gary says. "He must have known something because we got along right away."
As a farm wife and mother, she was destined to learn a lot about farming, and as a teacher she took advantage of the opportunity to share the knowledge she had gained.
"From the early stages of our dating, Gary got involved in helping me make lesson plans for my Topeka Elementary School students," Becky says. "He would help brainstorm ideas for things that city kids needed to know about agriculture, and I would take visual aids back to the classroom and teach."
She remembers one occasion when she brought in samples of different grains grown in the region and was surprised that many students, as well as other faculty members, had difficulty identifying them or understanding how they are used in the foods you find in the grocery store.
Becky has been recognized for her leadership in education several times, with nominations from former students or parents for Who's Who Among America's Teachers in 1988, 2000, 2004, 2005 and 2006. She was also named to Who's Who in American Professional Women.
Living the farm life
Both Gary and Becky were involved with 4-H and FFA programs while their children, Adam and Kelsey, were growing up. They continue to be active in helping introduce their grandchildren to farm life.
The Hatesohls say they are happy that both children chose careers in the agriculture industry and came back to work in Washington County where they are close to the farm.
Adam, who graduated from Kansas State University in 2009 with a bachelor's in animal science and industry, went on to earn his Doctor of Veterinary Medicine. He works in a large and small animal practice. He and his wife, Lindsey, have two children: Noah, 4, and Natalie, 2.
LEARNING YOUNG: Adam Hatesohl works in a large and small animal veterinary practice, but finds time to bring his children, Noah, pictured here, and Natalie, to his parents; farm.  
Kelsey graduated from K-State with a degree in horticulture and landscape design in 2015. She works as an Extension horticulture agent.
"When the kids were growing up and playing sports and involved in activities, they always knew that they could count on their dad being there for their games, events or competitions," Becky says. "Often, Gary would be one of very few fathers present at parent-teacher conferences. He always felt it helped to show them that family is important, and it is good to see Adam beginning to follow that guide with his children."
Adam and Kelsey were involved with working on the farm from an early age as well. Becky says they were lucky to be involved with a great 4-H group.
"Preparing for meetings, projects or the fair was a whole group doing," Becky says. "Older members and established families helped younger members and new families. As we became the established ones, we taught our children to support others along the way, whether in our group or in other groups."
Gary says while working and learning what it takes to get the job done was important, they also tried to make sure the family found time for fun. They enjoyed heading to the Greenleaf pool, going camping as a family, and playing board and card games at family gatherings.
"When the kids were very young, we'd take an annual trip with Beck's entire family to go camping," Gary says. "Even now, we try to get to an area lake once or twice a summer to camp with Adam's family and Kelsey."
Subscribe to receive top agriculture news
Be informed daily with these free e-newsletters
You May Also Like
---