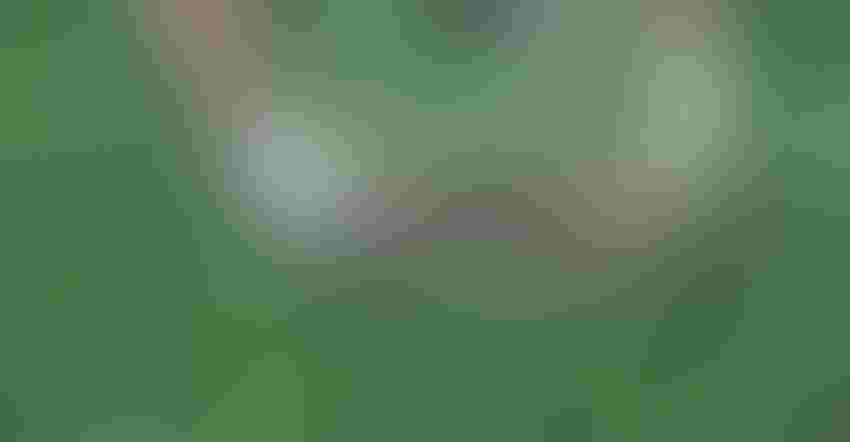 DIVIDE AND PROSPER: Expand your native plants around the farmstead by dividing them this fall and transplanting them to other locations. Separating plants can be done by hand, as seen here, or with a shovel.
Photos by Scott Woodbury
It's time to start planning to dig, divide and transplant perennial native plants.
A general rule of thumb is to divide spring- or summer-blooming plants in fall, and late-summer- or fall-blooming plants in the spring. Also, it is best to divide very large plants like poppy mallow and sunflower in spring. This will maximize blooming from year to year.
For success, water the areas where plants both are dug and transplanted one to two days in advance. Cut plant stems or leaf area in half to reduce wilting and to make digging and handling easier.

TIME TO TRANSPLANT: Successfully relocating plants requires watering before, during and after the transplant. This will reduce stress on the plants at their new location.
Dig in one of two ways. One method is to dig up the entire plant: Cut it in half, thirds, or quarters depending on the size of the root mass. Then transplant the portions. The second method leaves half of the plant untouched in the ground and digs the other half out, reducing plant stress on the one remaining in place. Begin this method by first cutting back the foliage. Then, make the first shovel cut through the center of the plant clump. Cut around the remainder of the half clump and remove. Keep plants moist throughout the entire process.
Some plants are difficult to divide because of deep taproots. The bigger and older these plants are, the more likely they will suffer or die in the transplant. You can successfully transplant young or small tap-rooted plants, but consider leaving older plants alone. These include plants like milkweeds, pale purple coneflower, compass plant and wild indigo.
Not all plants transplant well
Large grass clumps have a root mass becomes that is tough and nearly impossible to split. Examples include prairie dropseed, Indian grass, big bluestem, little bluestem, eastern gamagrass, and some sedges. When big, these plants are best left alone.
Other plants don't like transplanting at all. Never transplant mature gentian, larkspur, catchfly or bunchflower.
With cool September days arriving, get back outdoors to fulfill the native garden ideas that have been steeping all summer. Fill empty garden spaces, remove and replace what isn't working, construct a trellis and plant vines, plant a privacy hedge, add beautiful fall-fruiting shrubs, or start a pollinator garden.
Here are a few plants to consider for fall division and transplanting: shining blue star, iris, sedges, wild ginger, barren strawberry, spiderwort, alumroot, purple coneflower, blue sage, wild bergamot, prairie coreopsis, goatsbeard, Robin's plantain/spring daisy, woodland stonecrop, pussytoes, mountain mint, Solomon's seal, golden ragwort, mistflower, black-eyed Susan, phlox and rose verbena.
Woodbury is curator of the Whitmire Wildflower Garden at Shaw Nature Reserve, and is Missouri Prairie Foundation's Grow Native! program adviser.
Subscribe to receive top agriculture news
Be informed daily with these free e-newsletters
You May Also Like
---