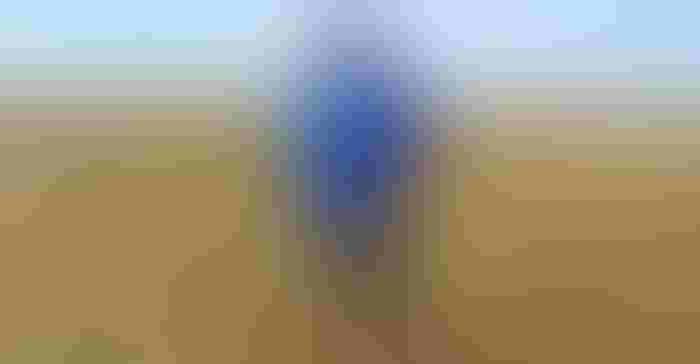 TRUE GRIT: "The people who work for me have stayed to fight for their country and their children's future," says farmer Roger Denhart.Emmanuel Farm
The stunning events of the past week have many of us wondering: What would you do if an enemy tank battalion drove through your fields or blasted your farm buildings? Would you even plant crops if you didn't know they could be harvested?
All those questions are real to American farmer Roger Denhart, who has been growing crops for over 30 years in Ukraine's rich black soils. Last year he grew 400,000 bushels of grain at Emmanuel Farm, located near what has now become a war zone.
"We're not even considering not planting this spring, but obviously we will take it day by day," says Denhart, who grew up an Illinois farm boy. He now lives with his wife in Florida when he's not in Eastern Europe overseeing the work of the 5,000-acre operation. "We were blessed to purchase fertilizer last fall before prices started jumping," he adds. "We have all our diesel stored in a bunker. With God's help, we will be planting in April. We're ready to roll."
Related: Special report explores agriculture impact of Russia-Ukraine conflict
Indeed, it may take divine intervention for Denhart's plans to come true. A country the size of Texas, Ukraine is one of the world's three black soil breadbaskets; The other two are America's Midwest and Argentina. If the war escalates or drones on for months, there's a good chance Ukraine's winter wheat, now just springing to life, goes unharvested. Some or all of Ukraine's 68 million tillable acres of highly productive soil could remain fallow.
That would be a big hit on Ukraine's corn and wheat exports and send the world's grain buyers scrambling.
For now, Denhart is directing his 45-person farm staff to continue spring plans and carry out field prep, like applying dry fertilizer to some 2,900 acres of rapeseed, winter wheat, barley and field peas emerging from dormancy. They will till chiseled soil with a 24-foot heavy harrow pulled by a Case IH 340 magnum tractor. The plan is to plant dryland sunflowers in early April, then switch to 28-inch rows for corn using the farm's two Deere 8-row air planters. This spring the farm will take delivery of a brand new Fendt Vario 939 385-hp tractor for planting and tillage applications. It will tow a new 40-foot air Horsch planter that can no-till double-crop soybeans after barley harvest each June.
"We hope to finish all spring planting by the end of April," Denhart says. "With the help of God, we'll do that. We're hoping the war will wrap up this week."
Overwhelming odds
Denhart gets frequent updates from friends and employees in Ukraine, giving him a grassroots perspective on the war. He believes the Ukrainian people will prevail despite tremendous odds.
"They are going to fight to the death," says Denhart. "Even if Putin kills Zelensky and puts his puppet in, it will still be guerilla warfare."
Millions of people who had never heard of Ukrainian President Volodymyr Zelensky a week ago now see him as a global hero. The 45-year-old former actor and comedian won the 2019 election with 73% of the vote. Zelensky, born not far from Denhart's Ukraine farm, lost three great uncles in the Holocaust. "When Biden offered him a flight to safety Zelensky replied, 'I don't need a ride, I need ammunition,'" says Denhart. "Zelensky is a true 21st century hero, and people are following him with a passion."
"These people hate the Russians now. Young and old citizens are going to throw Molotov cocktails at Russian soldiers until they are dead."
"The people who work for me have stayed to fight for their country and their children's future," Denhart says. "I have nothing but the highest respect for all of them, from President Zelensky all the way down to the people who work our fields. They are brave people and I'm honored to know them and to do business in Ukraine. I hope and pray that the Ukrainian people are victorious."
Ukrainian resolve
Denhart describes Russian President Vladimir Putin as a "mental case." But he continues to hope for the best.
"The thing Russia didn't anticipate was the resolve of the Ukrainian army and the Ukrainian people," says Denhart. "A retired U.S. general said, 'In war, the soldiers have to hate the enemy and have that resolve – otherwise they aren't going to give their lives.' It's just my opinion but so many Russian soldiers don't have the resolve to fight. There are 20-year-old Russian soldiers who have dads with cousins in Ukraine, and they're thrown into a war they didn't expect."
"As we speak, pianos are being drug out onto the streets in Kiev to barricade the roads," he adds. "It's not going to be an easy pass for Putin. The Ukrainian people and soldiers are armed with thousands of stinger missiles, grenade launchers and homemade Molotov cocktails. If those tanks pull into Kiev, they are going to be picked off one by one. Those tanks are going to be burning in the streets and the guys coming in behind them are going to think twice."
"Putin and his army have come in to steal and destroy," Denhart continues. "My prayer is these young Russian soldiers realize what they are doing and turn around and go home. If that doesn't work, my second prayer is that these stinger missiles fry them in their tanks. If this is what it takes, then this is what it takes. This is about freedom."
Freedom first
As far as he can tell, Denhart may be the first capitalist farmer to attempt a business in Ukraine.
His first foray into Ukraine agriculture was a year after the country declared independence in 1991. It was never easy.
"Four times I have faced bankruptcy in my 31 years in Ukraine," says Denhart. "My partners and I would pray, and time and time again God gave us a miracle."
His first farm was called Freedom Farm, when the first shoots of capitalism were taking root in a newly independent country. He had to explain to his new landlords the concept of property rights -- that he would give them money to rent their land each year.
"Needless to say, they were overjoyed," he says.
"We came to Ukraine to show the people that with cleverness, hard work, and the blessings of God, you can have freedom to enjoy life to its fullest."
God, and a good banker
He sold his first farm in 2004 and a week later started a new farm called Emmanuel, which means, 'God is with us.'
"When you do any business in Ukraine, you need God with you," he quips. And, maybe, a good banker. Typical business interest rate is 18%, says Denhart, and that's with good collateral. In 2020 they built an 85-ft x 280-ft. storage shed and a grain pit with a leg is being added now. Over five years they remodeled their farm office with air conditioning and hot water floor heat. "Step by step is our company slogan," he says. "We did it as we could afford it."
Today he works with 350 landlords in a system somewhat similar to our own form of capitalism. Grain buyers send agents to the farm, take back grain samples to check quality, then offer a price for a set number of bushels. If Denhart agrees, then the buyers send trucks for the grain, but nothing happens until Denhart gets a call from the bank saying the merchandiser's money is in his account. Then the trucks load and weigh through the farm's scales. Denhart currently has 90% of his 2021 corn in on-farm storage and 100% of his soybeans in on-farm storage.
Fight with your fists
For those who doubt Ukraine's resolve, Denhart shares a lesson from Russia's bleak history. The soviets introduced 'collectivization' from 1928 to 1940 as Joseph Stalin established control. This meant land would be taken from individuals and put into centrally controlled state-operated farms. In 1932 Stalin ordered the genocide of Russian and Ukrainian Kulaks, which literally translated means "fist." A Kulak was any peasant who owned over 8 acres of land at the end of the Russian empire. During the Russian revolution, the word was used to chastise peasants who resisted paying the 'tax' in the form of wheat they had grown.
"The Bolsheviks had taken away the people's guns years earlier, so when they came to collect those taxes in the fall of '32, no farmer had enough wheat to pay, and they often fought with their fists," explains Denhart. Many of these farmers were executed, and millions died that winter.
In his early days in Ukraine, Denhart would often introduce himself as a big American Kulak. "That word is just as bad as the N-word is here now," he says. "I would say that to these former communists and they would stiffen and their eyes would bulge. They knew I knew their history."
"A lot of them didn't like Americans coming in, but I taught them how to raise soybeans," he concludes. "I can't tell you how many farms copied my technology and they are very happy with me now."
At Roger Denhart's Emmanuel farm in Ukraine, farm mechanic Vitali Rayko, says "Praise to Ukraine" as we see a view of equipment at the farm.
Subscribe to receive top agriculture news
Be informed daily with these free e-newsletters
You May Also Like
---