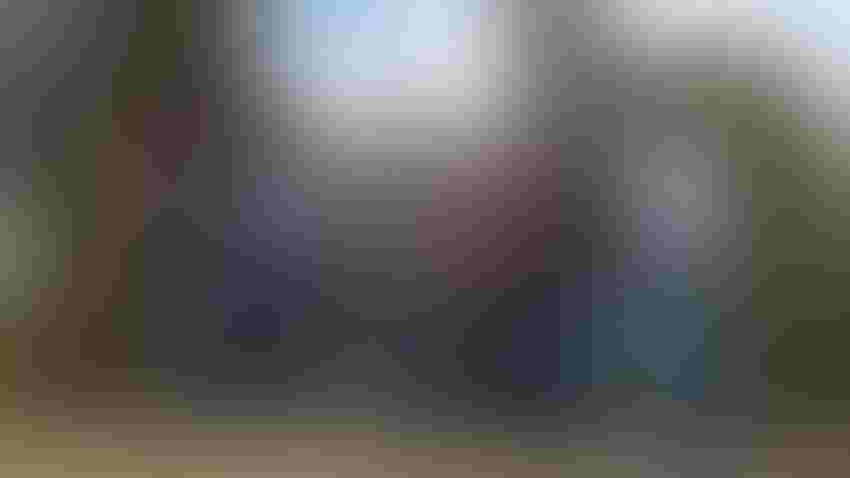 Doug and Kalah Hope Lintz, left, pose with Kalah's parents, Shane and Tina Barker-Castor, and brothers Shaedon and Rayce Castor in a photo taken during happier days for the Castor family.
Tina Barker-Castor
Shane Castor says that for most of the years he's been involved in farming and ranching in central Oklahoma he could pay his bills and make a living – not a great one, but enough to stay in business during the hard times.
That is until a year and a half ago when several years of drought began to catch up with him, and he struggled to pay his Farm Service Agency-guaranteed farm ownership loan with People's Bank & Trust Co., in Ryan, Okla.
"I'm 51 years old, and I've lived in Oklahoma my whole life," he said. "Most of my family worked on the farm or rented the farm. For most of those years, I could pay my bills and make a living. I couldn't afford to send my kids to college, but I've raised three wonderful kids. My daughter is a nurse, one son works for Heartland Billing and the other is in pilot school.
"The last several years in farming you just couldn't make any money. You were one drought or missed payment from losing everything. As a farmer, you have equipment; you have land; but you never have any money. You try to get by, waiting for that one good year that comes every five or six years to keep you afloat."
Promised help
During the last 18 months, Castor, who is Native American, received promises from the county USDA Farm Service Agency office, his state office and even from the national level that help was coming for farmers like him who had been impacted by weather, the coronavirus and high input costs.
"My most recent email said help was coming was in March," he said. "You know, you'll have enough money to pay your electric bill so your lights will stay on. March came and went, and nothing happened."
Castor, who owned a 752-acre cattle operation, exceeded the borrowing limit for the Farm Service Agency direct loan program. Thousands of producers had their FSA loans paid current with funds from Section 22006 of the Inflation Reduction Act last September.
Under the Guaranteed Loan Program, USDA pledges to pay up to 95% of the loan amount but leaves the administration of the loans to the lender. Many of the loans, like Castor's, have variable rates of interest.
"I was at 6% a year ago, and today I'm at 10.25%," he noted. "The farm ownership direct loan interest rate came out from the USDA's Farm Service Agency today, and it's at 4.5%."
In April, People's Bank began foreclosure proceedings against Castor, although the federal government had guaranteed 95% of his loan. Since then, the bank sold Castor's cattle and on May 27, it auctioned off his equipment. He's trying now to keep his home.
"I've lost all my cattle; I've lost all of my equipment; and I'm fixing to lose my home, and the Farm Service Agency has done nothing to help me," he said. "They've helped direct borrowers, but they haven't helped me as a guaranteed borrower like they said they would in all these emails."
Other borrowers
Joey Schmidt, an attorney in Norman, Okla., who is trying to help Castor keep his home, said Castor isn't the only FSA guaranteed borrower in this situation.
"Shane's case is one of quite a few I've been involved in this year and pretty much every year," said Schmidt. "If the government is going to help like they promised in Shane's case, it would be nice if they showed up some day. So far they haven't."
The U.S. Department of Agriculture's history with Black, Native American, Hispanic, women and Asian-American farmers has been problematic over the years. The Department admitted in court filings that it discriminated against those farmers almost from the time farm programs began in the 1930s until the 1990s.
Black farmers sued USDA for discrimination in the late 1990s and again in the 2000s in what became known as the Pigford I and Pigford II cases. The latter never went to trial with USDA agreeing to a settlement. Native American farmers also sued in the Keepseagle case in 1999, and, later, women and Hispanic farmers in the Love and Garcia cases.
In all of those, the plaintiffs said USDA systematically denied Black, Native American, Hispanic, women and Asian American farmers the same opportunities as white, male farmers to obtain low interest rate loans and loan servicing, causing hundreds of millions of dollars in economic losses.
President Biden campaigned on helping Black and other farmers of color in the 2020 election. The Biden administration subsequently pushed to include debt relief for those farmers in Section 1005 of the American Rescue Plan Act of 2021, which set aside $5 billion for paying discrimination claims.
Then, several farm organizations filed a lawsuit claiming the ARPA's debt relief provisions discriminated against white farmers. A Federal District Judge agreed and barred USDA from implementing Section 1005. USDA attorneys did not appeal the decision.
When the Inflation Reduction Act was passed and signed into law last August, its Section 22006 provided funding to help all distressed borrowers served by USDA. Section 22007 was supposed to help socially disadvantaged or farmers of color. Section 22008 repealed Section 1005 of the American Rescue Plan Act.
Debt resolved
Not long after President Biden signed the IRA on Aug. 16, USDA announced it was using $800 million from the $3.1 billion allocated in the act to bring 11,000 "delinquent direct and guaranteed borrowers current on their loan repayments." Another 2,100 borrowers who had their farms foreclosed on had any remaining debt resolved with the funding.
Why wasn't Cantor's loan included in those? "If you were 60 days delinquent as of Sept. 30, 2022, they would make your land payment," he said." My bank didn't allow anybody to get past 45 days because they didn't want their regulators to see that note on their books – that they had a delinquent borrower.
"So they advanced money or they maxed out my line of credit to keep me from going past 45 days due/ If I had been 60 days that would have triggered one payment through the Farm Service Agency, which would have helped me."
"These are difficult cases because the bank will either collect all of its money from Shane or, if there's not enough assets to sell, collect the balance from the government, including their attorney fees," said Schmidt. "Shane, like all of these borrowers, paid a fee to the government to get the loan insured. So you expect to get fair treatment from the bank, and, if you don't, you may have a defense to what the bank's doing."
Since USDA brought many direct loan recipients current in their payments last September, Agriculture Secretary Tom Vilsack has said the Department is working to implement Section 22007 of the Inflation Reduction Act to help socially disadvantaged borrowers by the spring of 2023.
Legal resolution
So far, the only concrete action seems to be contracting with three law firms to represent farmers in discrimination cases that can be filed against USDA. One of the firms has been running ads on Mid-South TV stations urging farmers who think they have been discriminated against in farm loan processing to contact them for more information.
Castor's and the cases of other borrowers have also drawn the ire of John Wesley Boyd Jr., and his wife, Kara Boyd, who farm in Baskerville, Va. Boyd is the founder and president of the National Black Farmers Association and a plaintiff in a lawsuit against USDA.
"From the president on down this administration has made a lot of promises," said Boyd, who campaigned for Biden in 2020. "But when it came time to deliver, they didn't do it."
Boyd has asked the president to declare a moratorium on farm foreclosures similar to one that was put in place by the Clinton administration in the 1990s. The moratorium would prevent further foreclosures until Section 22007 of the Inflation Reduction Act could be fully implemented.
"When they repealed Section 1005 of the American Rescue Plan, it gave the guaranteed lenders and the banks carte blanche to take a lot of producers' farms who should be getting help and not being faced with foreclosure."
Kara Boyd has traveled to meet with Castor and other farmers in Oklahoma and has talked with socially disadvantaged borrowers in other states. Many of them made investments in their farms because they thought the American Rescue Plan Act would help their financial situations or have taken extraordinary measures to hold on to their farms.
"I talked to one lady in Idaho who borrowed $100,000 from family members to make her note so she wouldn't go into default," she said. "She has a guaranteed FSA loan so she's excluded from the help direct loan borrowers are receiving. She has a plan to work her way out of this situation, but it will be a struggle for her to succeed."
The Boyds say it's infuriating to read the administration is providing funding to help farmers in Ukraine replace their equipment when $1.3 billion from the IRA is not being tapped to help borrowers who are losing their farms to foreclosures.
In its latest release, USDA has said it plans to provide up to $500 million in loan assistance to socially disadvantaged borrowers by the end of 2023. For farmers and ranchers like Shane Castor that help will come too late.
For more information visit: Black farmers will receive $5 billion of the stimulus package - The Washington Post
Subscribe to receive top agriculture news
Be informed daily with these free e-newsletters
You May Also Like
---