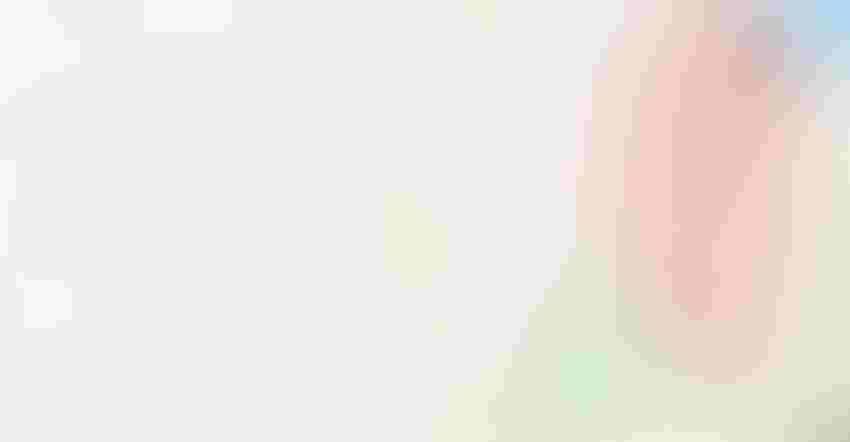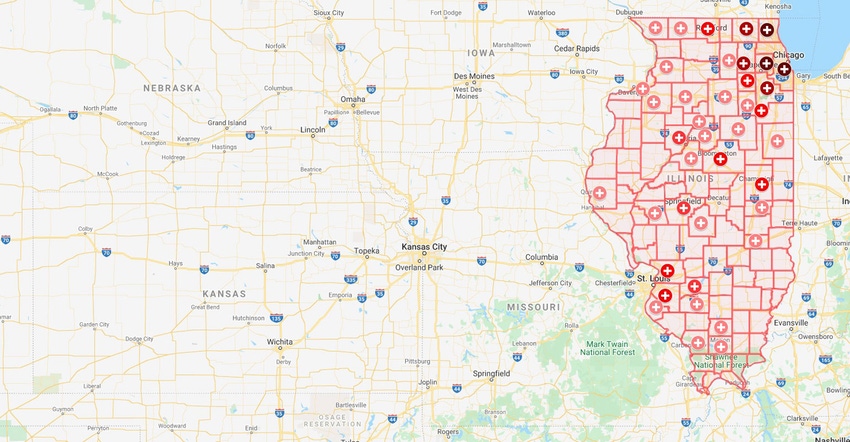 MAPPING: As of March 27, the Illinois Department of Health reported 2,500 cases of COVID-19. Scroll down to the map in the story to see the case count as of May 2.
Illinois Department of Health
Update: This story was updated on May 4.
Events ranging from Prairie Farmer's Master Farmer banquet to World Pork Expo have been postponed and canceled as public health officials try to delay the spread of the coronavirus and build ventilator capacity.
It's not just cities at risk, says Jim Lowe, an expert in infectious diseases in the College of Veterinary Medicine at University of Illinois. He worries the food and input supply chain is in danger of people who are carrying the disease but don't have severe symptoms — emphasizing the need for social distancing for the essential rural workforce in the face of limited testing.
Related: Complete coronavirus coverage
"The number of people who have been tested and tested positive — we know that's a gross underestimation of the number of people that are infected in the country. And so we've got some real challenges with what the denominator is," Lowe says.
What's missing in the "denominator" he's referencing? Carriers and those who recovered from the virus but were never tested. Which means that the coronavirus is likely in your county, even if you don't have any confirmed cases there. 
He says every state has a different need when it comes to the COVID-19 crisis, based on bed capacity and hospitalized patients who test positive for the virus. Of the 50 U.S. states, 22 are recommended to have shelter-in-place orders according to the covidactnow.org model Lowe uses. Illinois is included. The model draws data on bed capacity and other factors to determine how policymakers should respond to the virus on a state-by-state basis.
While voluntary shelter in place is encouraged for 24 other states, the model shows South Dakota, Nebraska, Kansas and Oklahoma require "minimal" mandates. 
A necessary step
Lowe takes the example of Illinois, where 250,000 cases were modeled to be sick at the peak of a no-intervention scenario. The state only has 10,000 beds available, hence the need to "flatten the curve," he says. The four minimal mandate states had less of a need due to a lower population and a higher bed count.
Lowe says those who need a ventilator, which are scarce in rural counties, will likely die if they don't get access to one.
"In Italy, they're saying if you're over 60, 'sorry, you're too old, we're not going to try to save you.' And I think that's really the concern of where we're at in the U.S.," he says, pointing to social distancing in rural areas as necessary to prevent an Italy-style jump in confirmed cases and deaths, the latter of which stem from a taxed system and strained ventilator access.
Lowe rejects the idea that COVID-19 is like the common flu, saying patients lying on their bellies strapped to ventilators to stay alive is a different kind of menace.
"If you've got a cough and you don't feel very good, this isn't, 'I'm going to tough it out and be OK.' This is not the flu," he says, pointing to younger people who have permanent lung damage following COVID-19, and even deaths.
Despite being statistically more deadly for elderly people and those with comorbidities, Lowe concludes, "It impacts all age groups."
About the Author(s) Associate Editor, Prairie Farmer
Austin Keating is the newest addition to the Farm Progress editorial team working as an associate editor for Prairie Farmer magazine. Austin was born and raised in Mattoon and graduated from the University of Illinois at Urbana-Champaign with a degree in journalism. Following graduation in 2016, he worked as a science writer and videographer for the university's supercomputing center. In June 2018, Austin obtained a master's degree from the Medill School of Journalism at Northwestern University, where he was the campus correspondent for Planet Forward and a Comer scholar.
Austin is passionate about distilling agricultural science as a service for readers and creating engaging content for viewers. During his time at UI, he won two best feature story awards from the student organization JAMS — Journalism Advertising and Media Students — as well as a best news story award.
Austin lives in Charleston. He can sometimes be found at his family's restaurant the Alamo Steakhouse and Saloon in Mattoon, or on the Embarrass River kayaking. Austin is also a 3D printing and modeling hobbyist.
Subscribe to receive top agriculture news
Be informed daily with these free e-newsletters
You May Also Like
---