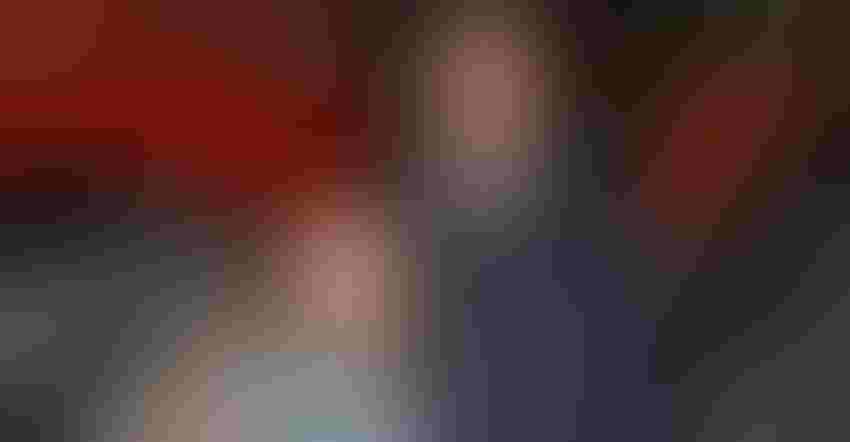 WORTHY TO WATCH: Cameron and Cara Mills have impressed many people who have watched them build a successful, sustainable farming operation.
Tom J. Bechman
People watch you as you farm, whether you know it or not. John Grant, an older farmer, watched Cameron Mills. "When he started farming, after getting his education, he was farming family ground," Grant begins in his letter of support for Cameron and Cara Mills to be named Master Farmers. "I could see him as a go-getter and as an innovator who was willing to try new ideas that were coming to agriculture.
"When I retired from farming, he was the first and only person I wanted to take over my operation. The many landlords I rented from saw him as a good farmer and family man. He has not proven us wrong. To this day, he is willing to help anyone in need by loaning farm equipment or trucks or himself to help out neighbors."
Related: Team approach works for Mills farm 
Tom Uthell also wrote a letter of support for Cameron to receive the Master Farmer award. The award is sponsored by Indiana Prairie Farmer and the Purdue University College of Agriculture.
"Cameron enjoys a good challenge and is willing to try new things when it might not be the most popular," Uthell says. "He is the kind of farmer whom, within he first 15 minutes of meeting him, you know he is passionate about what he does and what he believes in.
"You will never hear him answer, 'I am not sure why I do it that way, it is just the way I have always done it.' He farms with a purpose and is willing to adjust his practices if it is in the best interests of the soil."
Then Uthell adds, "Far more important than any of that is the integrity and values of Cameron and his family. They are driven to treat people fairly and with respect. Cameron believes he needs to be a steward of the land and is strong in his Christian beliefs."
More comments
Michael Kuhn, an ag lender with First Farmers Bank & Trust, looks at the Millses from the family point of view. "Cameron and Cara contribute a great deal to the local community and make sure their children are taught the same principles through involvement in organizations like 4-H," Kuhn says. "They work to be a good neighbor in the farming operation and all other meanings of that word."
Jenna Langley Blue, a neighbor and owner of Langley Farms, plus regional manager of La Crosse Seeds, summarizes her thoughts about her neighbor this way: "Cameron is a phenomenal farmer, teacher, family member, community leader, mentor and steward of the land. It is my belief he will win the greatest award we are all given the chance to earn: eternal life with God for living a life that pleases him."
It's always good when a parent can get in the last word. Here's what Tom Mills says about his son: "Cam Mills is a man who has made the most of the opportunities he was given. From a modest start, he grew his business and developed innovative practices which enliven his soils and produce high-quality, nutritious foodstuffs. He is generous with his time and knowledge, desiring to help anyone who wants to improve and sustain healthy agricultural practices. … I am very proud of his accomplishments and am excited for his future contributions to Indiana agriculture."
Subscribe to receive top agriculture news
Be informed daily with these free e-newsletters
You May Also Like
---