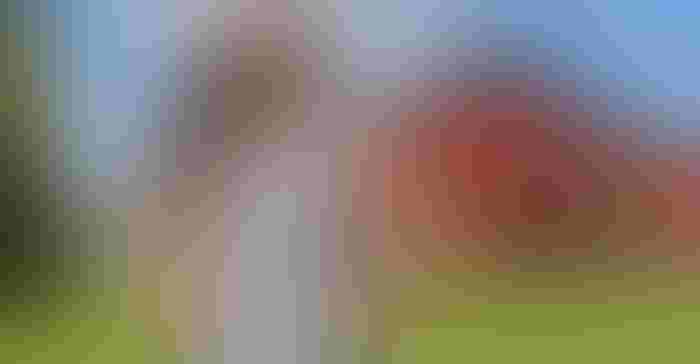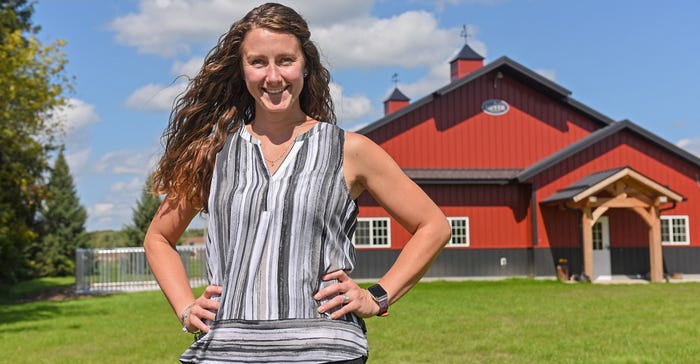 Chickens in the classroom? Goats wandering the aisles? Pigs in nearby pens?
"I try to make learning fun," says Lisa Kopp, ag teacher and FFA advisor at Medford High School in Medford, Wis.
Kopp and a second ag teacher work with students, teaching everything from agronomy and animal science to shop classes and wildlife. Three of the all-elective semester courses — Dairy Science, Agriculture Mechanics and Veterinary Science — earn college credit, and there's an Exploration of Agriculture class for eighth graders. They come to the high school barn and classroom for the first hour of the day and then are bussed back to the middle school for the rest of their day.
The coronavirus caused the Medford High School barn to be emptied early as students switched over to virtual learning. Before animals were moved out of the barn, Kopp happily reports, around 10 students volunteered to feed the animals and keep their pens clean.
"It's a shame that this hands-on facility is available but couldn't be used, as teaching had to be done by computer," she says.
During normal times, the ag classroom is in half of the barn, which is within walking distance of the high school.
"They can be engaged with [the animals] right here," Kopp says. "The kids get so pumped; they clean pens, pick up eggs." If a hen poops on the classroom floor, there are giggles and a quick cleanup. Some barn chores are required of students for part of their grade.
"We trimmed goat hooves [one] day," Kopp says. "I can show a video for haltering and leading, but to actually go out with a 200-pound heifer calf … the classroom is filled with animals all the time."
Students have loaded pigs on trucks, tapped maple trees and butchered chickens.
"They learn by doing," says Kopp, a former FFA and 4-H member and a graduate of University of Wisconsin-River Falls with a degree in agricultural education. "The students are just excited, and the courses are growing because of it. Maybe they don't leave here wanting to be a farmer, but maybe they'll start a hobby farm, or if anything, an appreciation that, 'Yeah, I'll pay for that pork chop.'"
Learning opportunity
Despite having to learn at home with the rest of his class since mid-March due to the coronavirus and school closings, senior Wyatt Sherfield became a Medford High School graduate. He studied a course labeled Independent Agriculture for his final semester.
Wyatt lives on a hobby farm and says he enjoys "agriculture things, and also I enjoy learning more so I can improve my hobby farm. I took Independent Ag this year to get the school honeybee hive started." He has also studied animal science, fish and wildlife, dairy production, and horse and small-animal science as one of 155 students enrolled in the various ag classes.
What has he learned? "A lot of great things," Wyatt says. "These classes have taught me things I didn't know and would not have learned otherwise." Wyatt is planning to attend Northcentral Technical College at Wausau, Wis., to study electrical mechanical technologies to continue his well-rounded education.
Kopp also advises the active 91-member FFA chapter. Several members have received state proficiency awards and taken part in contests at the state level, and one has participated in the state FFA choir.
Kopp teaches animal-based courses. Early in her career, she started bringing animals to the classroom. "The students just loved it," she says.
Then she thought of a better setting: a real barn with live animals. She went to the principal and the Medford School Board. Her passion and enthusiasm for the project shined through, and it was approved. Kopp volunteered to spearhead a drive for community support and funding.
In 2016, the barn, a 50-by 50-foot structure with half devoted to classroom space, was added near the high school. Total cost was about $350,000. A high-tunnel greenhouse was built, and there are plans to add sweet corn to the garden crops. Apple trees are also in the works.
The energetic teacher has developed a Bringing the Barn to School Facebook page. Cameras in the barn allow watchful eyes over the animals.
Each student keeps a set of "barn clothes." "I require they have them, so they don't take stinky barn boots to English class," Kopp says, laughing.
The 3-acre barn site bought by the school district already had a stanchion barn that now provides extra pens and storage. There are pig and beef pens, two chicken rooms, stalls and a tractor area in the new barn. There also are outdoor pens and a beehive minded by Wyatt, who has bees of his own. Kopp has even brought her own horse to this miniature farm.
"Some days I go home, like, wow! I just got paid to do that," she says.
Buchholz lives in Fond du Lac, Wis.
Subscribe to receive top agriculture news
Be informed daily with these free e-newsletters
You May Also Like
---