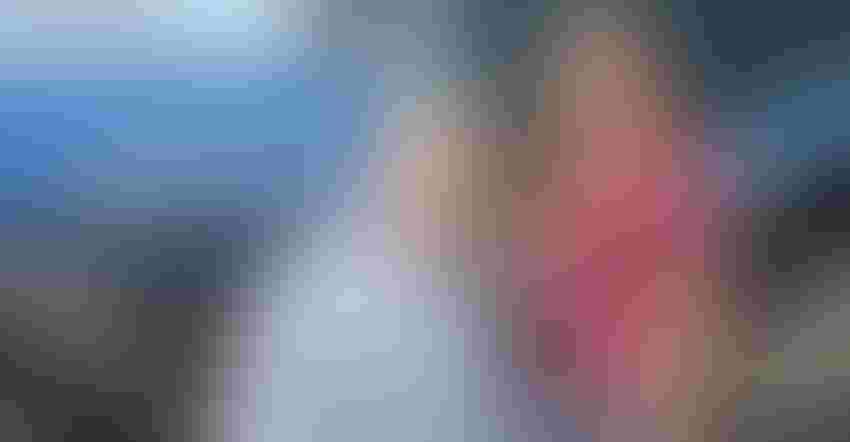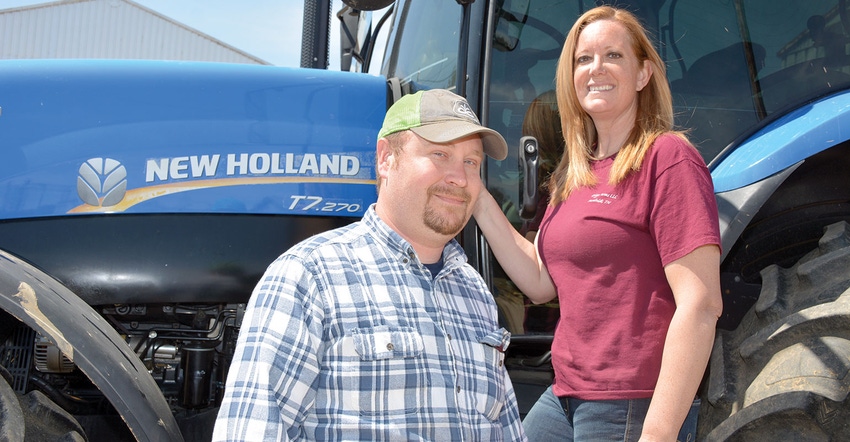 Matt and Kelley Griggs are partners in Griggs Farm, Humboldt, Tenn. The farm is featured on a History Channel documentary, The American Farm.
Matt and Kelley Griggs admit to feeling more than a little apprehensive about opening their Humboldt, Tenn., farm — and their lives — to a film crew from Los Angeles.
But they reasoned that if the History Channel documentary featuring five farms from across the country were done right, they could help dispel a lot of misinformation about modern agriculture.
"We had a lot of concerns going into it," says Matt. "We were concerned about our rights, our privacy and how the producers of The American Farm documentary would portray us and our industry."
He and Kelley believe the final product, now airing Thursday evenings (10 p.m. Eastern Time) on The History Channel, paints a realistic picture of farm life in America. In addition to the Griggs' farm, four other farms, all going back at least three generations are part of the documentary. Other farms in the eight-part series include operations in Virginia, New Hampshire, Utah and Alaska.
"One of the best things about the project is that the producers came with no agenda," Kelley says.
"Their only agenda was to tell our story and the story of agriculture accurately," Matt adds.
And the producers were eager to learn about farming. "They thought they had done their homework," Matt says, "but we had a lot of education to do."
The on-site crew was a two-person team who "asked a lot of specific questions about why we planted one crop instead of another, and they got into a lot of specific details. They wanted to know how machinery worked, especially planters, the combine and the cotton picker.
"The funniest thing," Matt says, "they wanted to know our schedule. There is no schedule. Everything is dictated by Mother Nature."
He and Kelley were impressed that the film crew stuck to Mother Nature's timetable. "When we were working, they were working," Kelley says. "If Matt was working past midnight, they were in the field."
The crew was on the farm every day from April 4, 2018, through Nov. 16 — from planting through harvest, with a break in July when fieldwork slowed.
Excited to tell story
After their concerns were addressed, Matt and Kelley say they "were excited to tell the story of a five-generation farm." Matt says he can trace the farm back to 1882, when his great, great grandfather bought a cotton gin.
"Our goal," says Matt, "is to educate the public that food and fiber come from a sustainable source. We practice sustainability while producing high yields.
"We wanted to show that farmers are the most environmentally conscious people in the world. If we can take that message and change some minds, it will be a success."
"Some minds will not change," Kelley adds, "but maybe we can reach some consumers, maybe some politicians."
The documentary "could not come at a better time," she adds. "Farmers in Georgia can't get funding following last fall's hurricane damage, and farmers in Nebraska face disaster (from flooding).
"Farmers are not asking for handouts," she says. "It seems the government can send aid to foreign countries but not to help our own farmers."
"We feel like this is a good time to educate the public," Matt says.
Some sacrifices
The project interrupted their lives a bit. "It took some getting used to," says Matt, 39. He and and Kelley, 41, have three children, Paige, 22; Nate, 17; and Carter, 10, who is on camera frequently in episode one.
Kelley says the project came about with a message from a friend who passed along an announcement on Facebook asking for farm families going back at least three generations. The Griggs' farm goes back five. A few email responses, a questionnaire and a "sizzle" shoot for a promo pitch in 2017 resulted in the Griggs' selection to be part of the documentary. "We got the go-ahead Jan. 18 last year and the crew was here from April 4 until Nov. 16 (except for July)," Kelley says.
Matt likes the idea of showing how family farms operate. "This has been my life since I got out of school. I worked for my dad full time when I got out of college."
Kelley grew up in Chicago and learned about family farming through on-the-job training. She's now not just a farm wife but a farm partner who understands the joys and stresses that come with the job.
Matt admits to getting frustrated and wanting to "do better than I did last year. When I go home at night, I think about what to do the next day. It's hard to turn it off."
Kelley agrees but says she's working to help Matt "deal with it another way. It's important to disconnect, to get away. Some older farmers told me that years ago." So, they try to get away every July for family vacations.
Matt and Kelley are equal partners in the farm. "She does what I do," Matt says.
"We run a simple family farm every day," says Kelley.
Their desire is that The American Farm will show the public not only the hardships that come with running a modern farm but also the pride, the tradition and the hope that another generation will find fulfillment and success from this land.
Subscribe to receive top agriculture news
Be informed daily with these free e-newsletters
You May Also Like
---