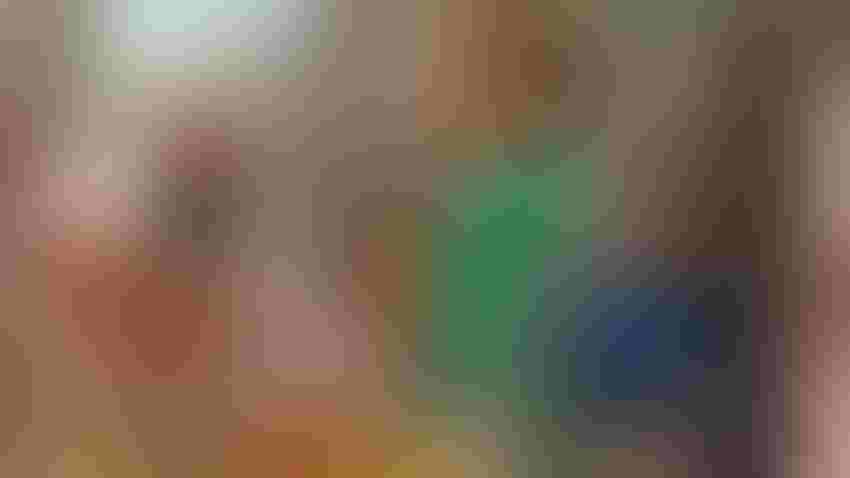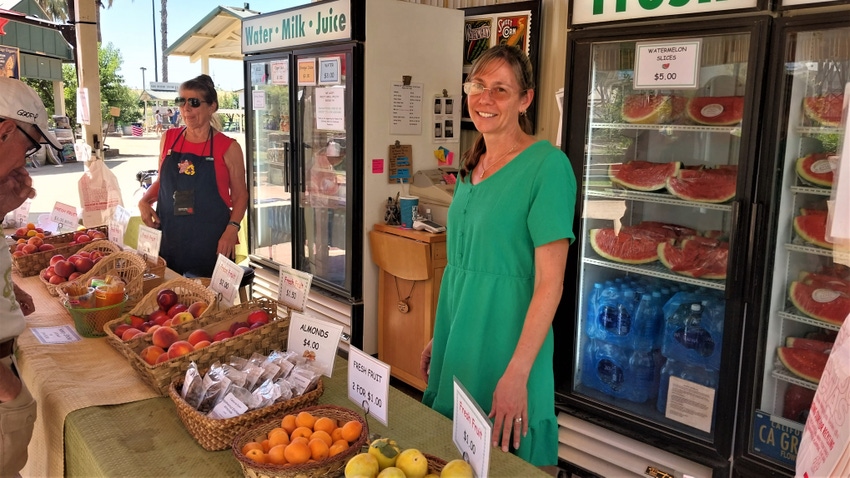 Angela Anderson, right, of Sacramento, Calif., farmers' markets sells fresh produce at the California State Fair's farm.
Tim Hearden
From cooking demonstrations to a cannabis competition, California's state fair still maintains a focus on agriculture – so much so that it even incorporated the food industry into its title.
The State Fair and Food Festival in Sacramento – which started July 14 and closes July 30 – celebrates the Golden State's status as a leading ag state with animal shows, a petting zoo, an indoor ag exhibit and numerous activities at the Cal Expo fairgrounds' 3 ½-acre farm.
As persistent triple-digit heat appeared to stifle attendance early in the fair, more brisk foot traffic could be seen at the farm, which grows and exhibits some 70 crops and features a forestry center, a pollinator exhibit and other attractions.
For many attendees, the fair isn't just about the midway, noted Angela Anderson, a representative of Sacramento farmers' markets who was selling fresh produce at the farm.
"I think people look forward to it," Anderson told Farm Press. "When fairs originated, agriculture played a huge role.
"It's been quite warm," she said of the weather. "The people that come out are very happy to see us. They appreciate getting hydrated naturally with some fresh fruit."
Bobbie Dhaliwal, whose late father was a farmer who immigrated to the Yuba City area from India in 1978, makes it a point to go to the farm each year.
"It amazes me when I come here, the personal touch," she said. "It's sentimental to me."
Last year's state fair was California's first in three summers, as the 2020 and '21 events were cancelled because of COVID-19-related restrictions on public gatherings. While the farm's managers got a late start at planting last year because of lingering pandemic uncertainties, this year they had a full season to plan for the fair.
Weather a factor
The only impediment this year was weather.
"With produce, everything depends on the growing season," Anderson said. "For example, because we had such a cool spring in the Central Valley, grapes aren't quite ready yet."
The fair's opening came as afternoon temperatures soared to as high as 109 degrees on July 16 and 108 degrees on July 22. The heat prompted fair organizers to cancel thoroughbred racing on opening weekend.
"We want to ensure that our beloved equine athletes are in optimal health," first-year fair CEO Tom Martinez said. "With the current heat wave, their safety and well-being come first."
The heat didn't prevent junior livestock competitions in Cal Expo's covered pavilions, however. Graduating high school senior Ashley Rossen of Oakhurst, who has won championships in breeding and showmanship, was competing this year in market poultry and other small-animal categories.
"She just graduated, so this is her last fair," said her mother, Heather Rossen, as she was participating in a dog-obedience contest. "She's been doing this since she was 11 years old."
Competitions are gathering steam again in the pandemic's aftermath, Heather Rossen said.
"When COVID happened, a lot of 4-H kids fell out and did other activities. I do see an upswing" in new participants building up to the state fair, she said.
In addition to the farm and livestock exhibitions, the fair's food festival featured a record 34 vendors with over 50 samples highlighting the diversity of the state's culinary tastes. The fair's second annual cannabis competition featured more than 250 entrants, and a cannabis exhibit returned with mostly hemp-based products.
Competition winners
Winners were also crowned in more traditional fair competitions:
Joseph Farms and Sierra Nevada Cheese Co. took top honors in the commercial cheese category.

A home-wine category returned after a three-year hiatus with 784 entries, as top honors were given to Michael Gardner for Best of Show White with his 2022 Viognier; Richard Mansfield, Gordon Armstrong and Elias Amireh for their Best of Show Red 2019 Cabernet Sauvignon; and Robert Joakimson for Best of Show Other with his 2022 Passion Fruit/Mango Wine.

In the commercial wine contest, earning the Best of Show Red honor was the captivating 2020 Souzão from Lewis Grace Winery. The title of Best of Show White was awarded to a 2022 Assyrtiko from New Clairvaux Winery in Tehama County.

The commercial craft beer category drew more than 900 entries. HiDef Brewing, a Los Angeles-based craft beer enterprise that launched during the pandemic, won the Best of Show title.
The fair at 1600 Exposition Blvd. is open until 10 p.m. daily. Tickets are $16 for adults, $12 for seniors and $10 for kids ages 5-12; children 4 and under are admitted free. Parking is $15.
Subscribe to receive top agriculture news
Be informed daily with these free e-newsletters
You May Also Like
---