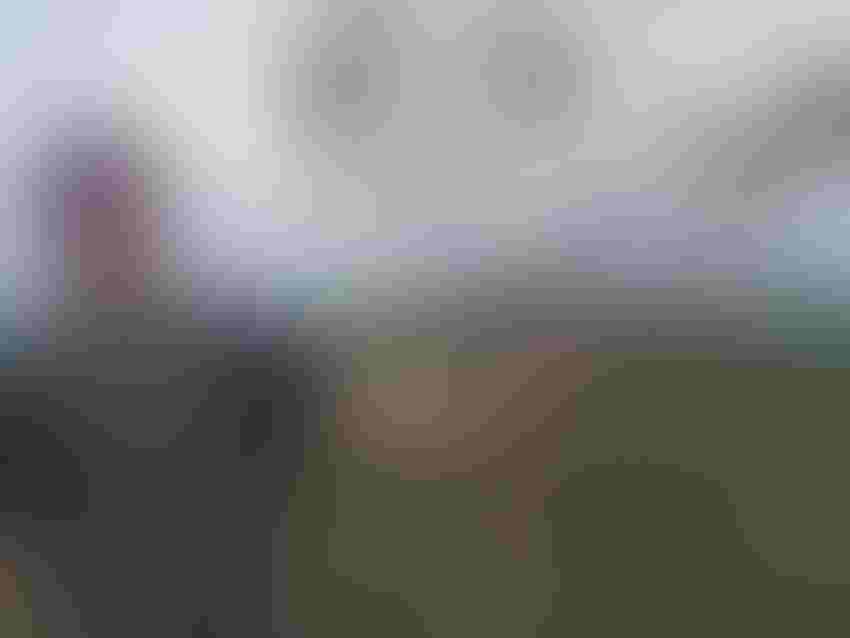 Oak Grove, Fla, farmer Scott Walker holds plant he easily plucked from his flooded cotton field Sept. 17, the day after Hurricane Sally came through and twisted everything up. Libbie Johnson, University of Florida Extension - Escambia County, was there, one fine example of Extension on the ground with growers in times of crisis.
Libbie Johnson/University of Florida Extension - Escambia County
First responders all have a special place in heaven as far as we are concerned. They are a welcomed sight in times of troubles. Solid hands reaching out to help people at their most-vulnerable state.
In the South this time of year, especially for us so near the Gulf of Mexico, we know as harvest gears up so does the unpredictable nature of Mother Nature's most contemptuous offspring: tropical depressions and their nastier cousins the high-grade hurricanes. In each of the past five years, we thought we surely had reached the pinnacle of what the tropics can throw our way, and each year we've been wrong to think so. This year has been one for the books.
After the storm, neighbors and family show up certainly, driveways and county roads need clearing or trees need moving off houses, trucks, barns, fences, or, in some cases more precious things. Many of us have been on one or both ends of that exchange at one or more times.
But soon after the neighbors and family show up, land grant Extension personnel are often also on the ground during, before and after trouble hits their counties or regions. They are there accessing damage often in official capacities to help policymakers or local or state government leadership make informed decisions on what immediate or future financial assistance might need to be delivered to a region. But, most importantly, in times of natural crisis, Extension comes to check on their growers, the ones they work with and live near every day.
Too often, I ask a successful producer what's the trick to being successful producer. The answers may differ slightly, but common answer is, "I use Extension recommendations."
We at Farm Press have many friends in Extension and we thank them all. When Laura and Sally hit this year, we reached out to those friends to make sure all were well, and in the Extension way they gladly offered their help to us in getting information and the word out on how things were evolving from those storms, sending pictures and calling us from flooded fields and, at times, calling while standing next to the grower of that flooded field or pasture.
There are fewer Extension people now than 20 or 30 years ago, in too many cases. Budgets and technology change and affect that. That's OK. Looking down the road 20 or 30 years from now, I hope there will still be Extension agents standing in fields with growers in good and bad times.
Subscribe to receive top agriculture news
Be informed daily with these free e-newsletters
You May Also Like
---