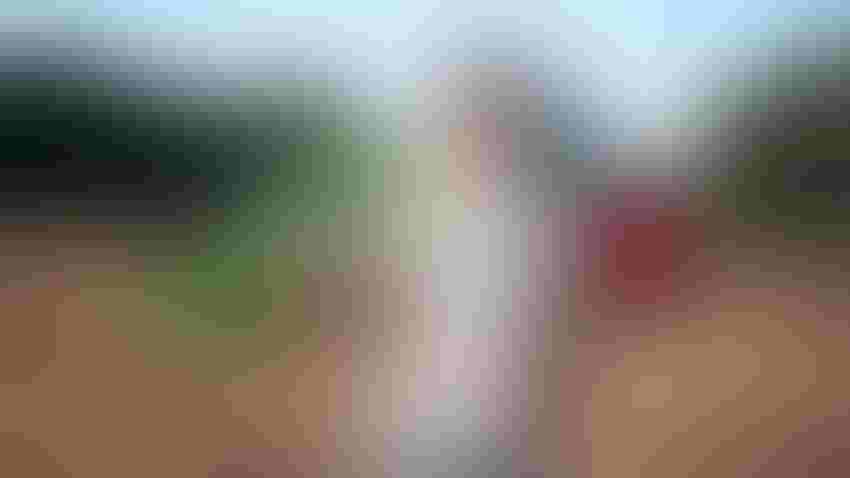 GOOD THING: Between his Georgia peanut farm roots and Tennessee corn crop, Luke Bryan's got agricultural bonafides — enough that it shows up in his music. "That was the main thing, when I started having success, to know those farmers are like, 'Hey, that guy's speaking my language,'" Bryan says.
Courtesy of Fendt
It's September, and if it feels a little like Luke Bryan's everywhere right now, at least in the agricultural world, well, you might be right.
Bryan announced a partnership with Fendt just last month to serve up a line of peanut snacks. It's fitting, given that he's the son of a Georgia peanut farmer, and the peanuts in his line are raised in Georgia. Called "Boldly Grown Peanuts," the peanuts come in several flavors, and even better, Bryan is donating $50,000 from their sales to the National FFA.
Last year, Bryan and Fendt introduced "Boldly Grown Popcorn" and made a $25,000 donation to FFA. You can order this year's peanuts online at Boldly Grown Goods for $5 a can plus shipping. Stocks are limited.
Bryan is also in the middle of his farm tour series, sponsored by Bayer, with six concerts on farms across the Midwest:
Sept. 14. Mulberry Orchard, Shelbyville, Ky.

Sept. 15. Miller Family Farm, Millersport, Ohio

Sept. 16. John Schaendorf Dairy, Allegan, Mich.

Sept. 21. Schnell Family Farms, Colfax, Iowa 

Sept. 22. Klondike Farms, Brooklyn, Wis.

Sept. 23. Gar-Lin Dairy LLC, Eyota, Minn.
Bryan made one Illinois farm family's day during his Kentucky concert, when Chase Wendte got a special behind-the-scenes treat. Chase had long dreamed of meeting Luke Bryan. His family farms near Altamont, Ill., including his sisters Lydia Holste and Faith Kemme, who farm with their parents, Roy and Christine Wendte. Through an old friend from her early career at Bayer, Lydia was offered a handful of VIP tickets for the siblings, and they set off to surprise Chase in Kentucky — under the guise of a "parts run." Check out the video for a look at how it all unfolded.
"Luke was just so down to Earth and genuine," Lydia says of the experience, adding that Bryan took time to make sure Chase got autographs and pictures with him.
"There are good people in the world, and then there are really good people in the world. To find friends and people within an industry that we care so much about that would go above and beyond to make his dream come true just means so much," Lydia says. "Not everyone in the world has the patience or the heart to be that generous and giving to people like Chase. It was a really awesome experience — and awesome doesn't even begin to describe it!"
Sit-down with Luke
Farm Progress recently had the chance to speak with Bryan, who shared a little more about his background with FFA and agriculture.
"FFA is a great organization that does a great job at community and lifting up the kids," Bryan says. "I've played the FFA National Convention, and these kids are always from the heartland and the salt-of-the-earth American farm families. Anytime you meet kids in FFA, they've got a lot of pride about it."
Bryan grew up on a farm in south Georgia and says this is prime time for peanut harvest. His dad raised peanuts and owned a peanut mill, which made for early mornings and long days for his family.
"This time of year, I'd be working to 3 a.m. every day at the peanut mill because when the weather got perfect for harvest, we put in 20-hour days," Bryan says, adding that they'd pull from 40 to 60 peanut wagons into the mill every night and spend all night getting them through the dryer.
"It was hard enough work to where I knew I wanted to go chase my music dreams," he says, laughing.
Today, Bryan's agricultural pursuits are certainly secondary to his musical life, but he raises about 300 acres of corn each year, plus some food plots. He runs a Fendt 724 Vario tractor and has added some tillage equipment and other implements.
"My farm manager jokes that the deer have plenty of corn to eat!" Bryan quips.
"It's just really a fun thing to have a real corn operation going on, and I find myself checking corn prices and checking yields — but at the end of the day, I know where my bread's buttered! I'm a country singer, so I let the farmers do the farming," he says.
And like a lot of farmers, Bryan has his favorite tractor snacks.
"I've always been a popcorn guy — that and some Ritz crackers and peanut butter'll get you through the day," Bryan says, laughing. "Down in Georgia, too, we had those old Lance crackers. It's hard to beat those Lance peanut butter crackers!"
Subscribe to receive top agriculture news
Be informed daily with these free e-newsletters
You May Also Like
---