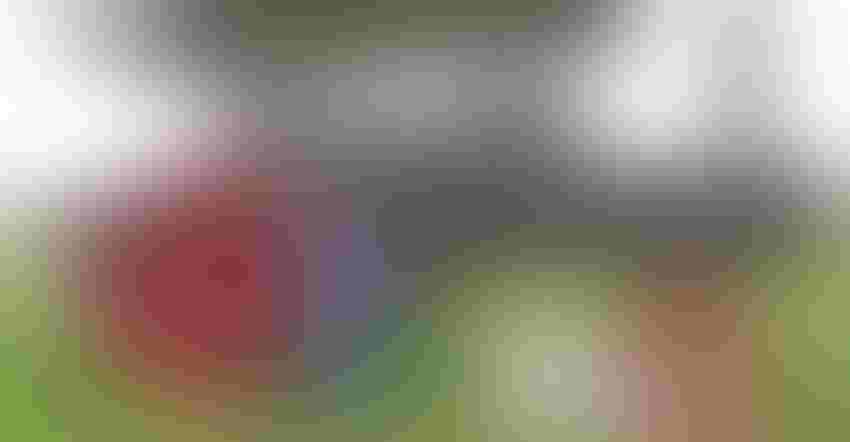 OLD-TIMER: After purchasing this 65 Case steam tractor in 2004, John Reinke (standing) and his son John P. were able to fire it up again, even though it had sat idle for nearly 50 years.
Check off 100 years. That's the time frame the 65 Case steam engine has been a part of the rural farming landscape. One proud owner to hold a title for this machine is John Reinke from Kewaunee, Wis.
"In May 2004, I traveled to an auction in Montgomery, Minn., looking to purchase an 80-hp engine but came home with the 65 unit for $5,250 plus an $800 hauling charge," he says. "While it was in relatively good condition after setting outside for a long time, my initial restoration began by removing the roof and stack."
During the next four years, Paul Reckelberg re-flued the engine; built the differential; replaced broken springs and the babbitting pinion gears; cleaned the lower cannon bearing; redid the crank shaft, hitch frame work and cylinder; and remade the water tank and coal bunker. Everything was sandblasted, primed and then repainted. In July 2009, the steam engine was fired up again after nearly 50 years. The agricultural giant was one of 38,000 engines built at the J. I. Case Threshing Machine Co. Engine Works in Racine, Wis.
As a typical general-purpose tractor, it was adaptable to almost any heavy-duty farming operation. Steam engines were originally used to break up sod and turn virgin prairie into fertile farming ground. The rig easily handled a six- to eight-bottom plow and was capable of operating the largest threshing machine of the time — the Case 40x62. Rated at 65 hp on the belt and 40 hp on the drawbar, its maximum speed was 2.4 miles per hour, and its weight without water was 20,600 pounds.
The biggest hurdle for any owner-operator is following strict safety procedures. There needs to be enough water on the crown sheet located above the fire box. And if the steam plug is not in the correct position, steam is made too fast and the boiler may blow up. It's imperative that boilers on these century-old machines pass an annual inspection.
"Since there were no welders years ago, hot rivets were used to double-strap high-grade steel around the boiler. During operation, pieces of wood were placed into the boiler bark-side down to keep the flues from clogging," Reinke says. "This is my favorite tractor because it's so unique, sentimental and a one-of-a-kind machine. In the 1940s our neighbor had a 65 engine, and I can still recall the fellows on that threshing crew. As a proud owner, it's important to pass this heritage on to my family."
Persinger writes from Milwaukee, Wis. To have your favorite tractor featured, email or send in a photo of yourself with your tractor, along with a 300- to 400-word write-up about the tractor, to: [email protected] or Wisconsin Agriculturist, P.O. Box 236, Brandon, WI 53919.
Subscribe to receive top agriculture news
Be informed daily with these free e-newsletters
You May Also Like
---