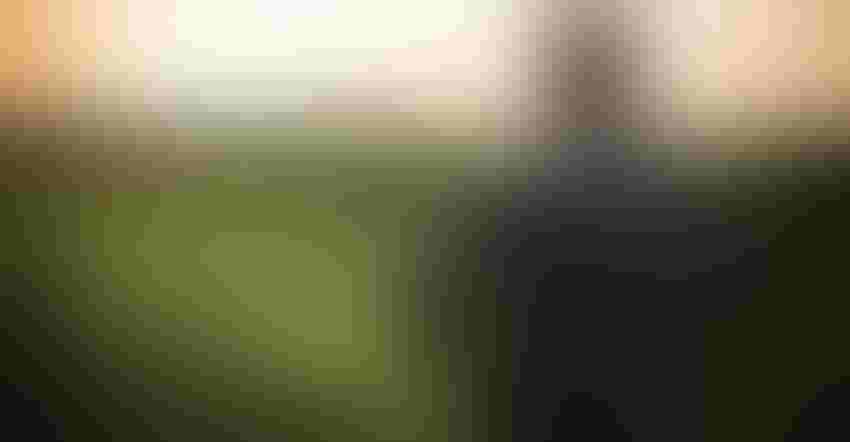 "We want folks to wear a mask if they've been exposed," John Dillard said. "We're also seeing recommendations that everybody should wear a mask if they can't social distance, but they certainly want people who have been exposed to do so."
Getty Images/iStockphoto
While people are continuing to get sick from COVID-19, it is important to help keep workers on the farm and in manufacturing plants safe.
During a recent webinar, John Dillard, attorney at Olsson Frank Weeda Terman Matz, P.C., spoke on regulatory responses to COVID-19 affecting the food and agriculture sectors.
Ag worker getting sick
"One of the biggest questions the agency gets right now is what to do if a worker or inspector has or gets COVID-19," Dillard said. "Either the individual is showing symptoms or tested positive for the virus. The primary advice the agencies have for employers is to first make sure your employees are educated in terms of knowing they shouldn't show up to work when sick.
"Employees may be tempted to show up to work sick, so managers are advising their employees on paid leave, and, if they're having symptoms, they won't lose their job if they stay home. Also, employees should leave if they start having symptoms while they're on the job. Notify local health authorities and follow their guidelines if an employee becomes sick with COVID-19."
The local health authorities are responding to this public health issue and providing guidance, so it's important to notify them.
"Local agencies can come in to assess the situation, or they may be looking for contact tracing," he said. "They may order that certain people be quarantined, so they will also have a perspective on sanitation and whether there should be testing."
Fellow employees, especially people who have had close contact with somebody infected, should be notified while maintaining confidentiality, so they can closely monitor themselves to see if they have any symptoms.
"The guideline for all workers used to be if they had been in close contact with somebody who had COVID-19 they should self-quarantine for 14 days to make sure they don't develop any symptoms," Dillard said. "However, given how widespread the virus now is, the CDC has issued guidance that's specific to critical infrastructure workers, including food and ag employees. The guidance on how to deal with people who come in close contact, within 6 feet of someone that has been ill, is no longer that they automatically should spend 14 days at home."
Screening for illness
Work facilities should step up screening such as taking temperatures, doing questionnaires on symptoms, and regular monitoring. Some plants are checking people's temperatures twice a day.
"We want folks to wear a mask if they've been exposed," Dillard said. "We're also seeing recommendations that everybody should wear a mask if they can't social distance, but they certainly want people who have been exposed to do so. They also want them to social distance to the furthest extent possible."
Stepping up cleaning and disinfecting frequently touched surfaces is also essential.
"Another frequently asked question is if a food manufacturing plant has a positive case of COVID-19, what kind of sanitation should be undertaken in the plant? The number one piece of advice we're hearing from federal agencies is to follow the directives provided by state and local health authorities," he said. "Oftentimes, these agencies may require certain cleaning procedures to be undertaken to stay in operation or get back into operation."
Many companies are screening employees before they come in for work, such as checking temperatures.
"Initially, this was done with forehead thermometers; however, that still requires somebody to get close to another person, so we're seeing a lot of plants invest in infrared cameras," Dillard said. "Using questionnaires for workers can also help determine if employees are possibly developing symptoms or have been around someone infected or possibly carrying the virus."
6 feet apart
Social distancing, staying at least 6 feet apart, is one of the main mitigation practices food plants are using.
"A lot of these facilities were not designed with social distancing in mind, and they are having to make do with the facilities they have for the time being," Dillard said. "Another solution we're seeing is installing plexiglass shields to put up a barrier between employees."
Many plants are thinking of ways to further spread people out or considering having a second shift of workers to reduce the number of people working at one time.
"A lot of plants are providing face coverings," he said. "We're also seeing some plants setting up outdoor areas for common areas or break rooms. This just gives people more space to spread out.
"The best mitigation step is to temporarily close a facility if possible. We've seen some facilities shut down voluntarily for a day. Some have been shut down by their state governments for an indefinite period."
Shutting down temporarily due to one or more employees getting sick helps to make sure the workplaces are clean and make some changes to keep from spreading the virus.
"Another thing being discussed is testing for the virus," Dillard said. "I know a lot of companies want to eventually move to testing, but there's just a shortage of supplies as of this point."
Subscribe to receive top agriculture news
Be informed daily with these free e-newsletters
You May Also Like
---