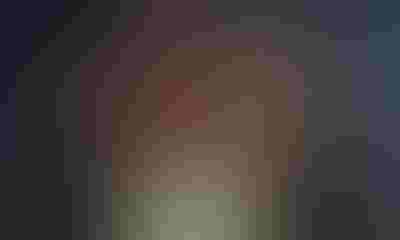 Zippy Duvall, a third generation dairy farmer from Greene County, Georgia, was elected the 12th president of the American Farm Bureau Federation this week at the organization's annual convention.
Duvall and his wife, Bonnie, began their farming career in the dairy business. Today they maintain a 300-head beef cow herd, raise hay, and grow out more than 750,000 broilers a year in a poultry business. Duvall has served as Georgia Farm Bureau president since 2006, and has been involved in nearly every level of Farm Bureau leadership - county, state and national.

PRIDE: "We should be proud to be American agriculture," said new AFBF president Zippy Duvall, with newly-elected vice president Scott VanderWal, South Dakota.
Duvall addressed the AFBF delegates following the election, thanking them for their votes and sharing the story of how he got involved with Farm Bureau.
"I had just bought the dairy business from my dad and I was complaining to him about milk prices, regulations, taxes, labor. He told me, 'Son, if you want to make a difference in those areas, you have to manage the farm and make time to get outside the fencerows.'
"I took that advice and served Farm Bureau in many levels, and it's been a great experience," Duvall explained.
On the stump
Duvall announced his candidacy during the summer, and since that time has visited 29 states, logging 55,000 miles in three and a half months.
For Duvall, who comes from a agriculturally diverse state that raises more than 40 different types of commodities alone, what he learned from seeing the nation and talking to farmers all across the country didn't surprise him.
"Farmers and ranchers share the same values I do. We're all concerned about the same things," he says. "We're all family people. I saw family farms across this country that have a moral responsibility to feed the nation and assist in feeding the world. What an awesome responsibility they have, and they take it so seriously."
Duvall says he'll spend the next several months reaching out to commodity groups and agribusiness. "I bring the ability to build relationships, and I want to see us start working together with one voice, to reach common goals."
His positions line up with Farm Bureau's, noting that he is against mandatory GMO labeling, despite AFBF speaker Mark Lynas's position in favor of mandatory labeling. Duvall embraces the Young Farmer & Rancher programs, but adds Farm Bureau needs to find a way to engage those farmers after they turn 35 and leave the YF&R program.
And if there's one issue he could head straight to Capitol Hill to talk about?
"Immigration," Duvall says. "There is a crisis across this country of having a stable work force to get crops out of the field. Americans no longer want to do the work we do to get crops out, and with the chickens and the livestock.
"It's a moral issue and a sensitive issue, but it's also a business issue. Anytime we make it hard for farmers to get crops out, that's a chain reaction for the consumer that adds costs."
Just call me 'Zippy'
As for the question of the day: where did he get the name Zippy, when his given name is Vincent Mearl Duvall, Sr.? Brad Haire, editor of our sister publication, Southeast Farm Press, says it started with his Caesarean birth. He left the hospital with the nickname 'Zipper.' Soon after, his mother and father were watching a TV show with someone named Zippy in the show. "And there you go," Haire adds.
Duvall is well-known in Farm Bureau circles for publicly living out his faith, and has offered the closing benediction of the AFBF policy session for the past nine years.
"I live by a verse that I keep close to my heart: Colossians 3:23," Duvall says. "Whatever you do in life, do it as though you're doing it with all your heart, for the Lord and not for man.
"I'm going to get up every day and do that, for you. We are the strength and the hope for this country and all around the world because we will provide the nourishment. There's no human right more precious than the right to eat.
"I believe we're here as farmers to be stewards to God's great works."
Subscribe to receive top agriculture news
Be informed daily with these free e-newsletters
You May Also Like
---