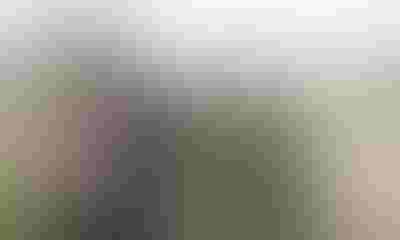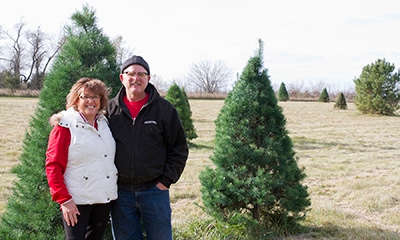 What started as a fluke has turned into quite the business Larry Johns and his wife, Colleen.
About 25 year ago, the Harrisburg, S.D., couple converted 6-7 acres in alfalfa field into a Christmas tree farm
Johns says it was relatively inexpensive to get started since seedlings were 15-20 cents to put in the ground, plus a tractor and a little bit of equipment to get the ground ready.
"It was something that we could do at nights and on weekends and knowing that we had six years of taking care of the tree before we could sell anything, it was a fun thing," he says.
Collen and Larry Johns are gearing up to sell Christmas trees from their farm.
At the time, they had two young boys and one was in FFA. The tree farm made for a good FFA project for his sons and some of their friends.
Christmas Tree Acres offers choose and cut trees in two varieties – Scotch Pine and White Pine. However, they also offer cut trees in Balsam Fir, Frasier Fir and Canaan Fir.
Johns says the reason they started offering cut trees 10 years ago was because the firs were becoming more popular and those varieties would not grow well on their farm. Those trees come from northern Minnesota and Wisconsin.
 "We got into fresh cut tree sales because No. 1 our tree sales in the field were happening so fast that we couldn't get any taller trees. They were cut before they could really get tall," Johns says. "So we've actually complemented our tree farm by bringing in fresh cut varieties that we can't grow and taller trees so that the vaulted ceilings in the nice houses and a do a combination of both."
Johns says a 6-foot tree takes about six or seven years to grow. He says generally Christmas tree farms are planting bare root seedlings that are bagged up and moist that need to be put in the ground before the roots dry off. Keeping them watered for the first few months is needed to establish a root system.
 "If you put a bad seedling in the ground, it's going to be a bad tree when it grows up," Johns says.
To keep the "bad" trees at bay, they stake the trees so they stay straight. He says they also keep the dirt around the trees black so they don't have to compete with weeds and other grasses. In June and July, they go out and shear the trees to keep them in the shape of a Christmas tree and to keep them looking fuller.
The trees start going dormant in August. Due to the harsh winters in South Dakota, the trees start to lose their luster as it gets colder. He says they turn from a vibrant green to more of a faded green or yellow green. To make the trees look better they apply a tint that does not hurt the trees.
"Bottom line is it's a year-round business. It's not you plant them and then at Christmas time you sell them. You're taking care of them and doing things throughout the course of the year to get them ready to sell," Johns says.
In addition to the trees they sell, Christmas Tree Acres also has a heated building to take care of the sales and to sell wreaths, garland and other Christmas items. When they built it, they used some old barn wood from a dairy farm that was on the corner of 69th Street and Minnesota Avenue in Sioux Falls. The barn wood lines the interior walls, as well as some old windows and a rolling barn door. They have decorated the ceiling with tree branches and Christmas lights and painted the concrete floor a bright red.
Johns says he has enjoyed seeing so many families come through their farm over the years. He says it's pretty fun to see new generations of families coming back.
 "We've had a lot of fun with it and met a lot of neat people over the years," Johns says. "When the whole yard's full and the kids are running around, it's pretty festive."
Sweeter is from Worthing, S.D.
About the Author(s)
Subscribe to receive top agriculture news
Be informed daily with these free e-newsletters
You May Also Like
---