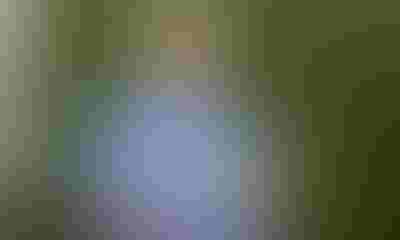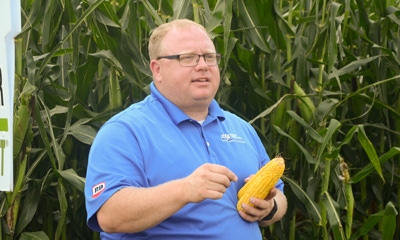 Nitrogen is the second-biggest line-item investment for corn growers, after seed and before water. "If we can make you 10% more efficient in using those line items, how does that affect your bottom line?" asks Mike Zwingman, agronomy R&D manager at Central Valley Ag.
At a recent field day near Waco, Zwingman discussed several tools and management practices to help growers achieve greater nitrogen-use efficiency. This includes making use of the 4 R's — the right time, placement, source and rate of nitrogen applications.

STRIVING FOR EFFICIENCY: At a recent field day near Waco, Mike Zwingman explains how splitting up nitrogen applications three or four times throughout the season can improve efficiency and minimize loss, while still maintaining yield.
Corn plants use 80% of the nitrogen they need in the V8 to R1 stages, within three to four weeks of the growing season. "We're managing a sink-source relationship," Zwingman says. "Early on we've got to grow a plant. Later on it's all going to grow an ear. There's a period of time when the plant's the sink. After we start grain fill, the ear becomes the sink."
At full dent, the ear still has about 40% of dry matter accumulation left, and it takes sunlight, nitrogen and water to do that. When it comes to nitrogen, there has to be a big enough source to meet the demands of the sink at any given time. However, when applying nitrogen early on when the plant is the sink, there's always a risk of losing that nitrogen to denitrification, leaching or runoff.
Zwingman notes there are two ways to mitigate loss, either by managing the amount of nitrogen applied at any one time, or protecting the source, which is the case with nitrogen stabilizers.
"When we're in the vegetative growth stages and the plant's the sink, with nitrogen stabilizers we're protecting that nitrogen source so it's continually available to the sink," he explains. "This way, we don't experience a period of time where our sink is greater than our source."
Another way to minimize loss is by managing a smaller pool of nitrogen. Zwingman also discussed using 360 Yield Center's Y-Drops to minimize loss by splitting up applications and placing nitrogen closer to the row using a high-clearance machine. "This tool alone helps me manage three of the 4 R's," he says. "We can apply later in the year, dial our rate in, and we're applying within 7 inches of the stalk."
When applied in the center of a 30-inch row, corn roots typically need to grow 12 inches to get to the nitrogen. However, 63% of the nitrogen is taken up within 7 inches of the stalk.
Whatever the tool, the goal is to minimize the amount of nitrogen lost and make the most of the nitrogen applied. Zwingman notes the best way to do this is to split up nitrogen applications, especially if your nitrogen program consists solely of applying anhydrous in the fall.
Splitting up nitrogen applications takes knowing your production environment and how much nitrogen you can apply and how late you can apply it. "Our ability to choose the last time we apply nitrogen is going to be beneficial to how we manage it down the road," Zwingman says. "That's where we start to pick up efficiencies, by figuring out when we can apply."
What if you're already splitting up applications with an anhydrous application in fall or spring followed by a sidedress application? The goal is continuous improvement, and the more applications are split up, the more efficient your nitrogen applications are. As the season progresses and you make more applications, you gain a better understanding of how much nitrogen is needed. By adding a third and fourth application, growers can reduce the overall amount of nitrogen applied for that crop and not give up yield.
"In Texas hold 'em, does anybody go all in when they see the first two cards? The more cards we see, the better we get at dialing in that rate," Zwingman says. "No matter what, we can be better. We can manage nitrogen better and improve our efficiency."
About the Author(s) Tyler Harris is the editor for Wallaces Farmer. He started at Farm Progress as a field editor, covering Missouri, Kansas and Iowa. Before joining Farm Progress, Tyler got his feet wet covering agriculture and rural issues while attending the University of Iowa, taking any chance he could to get outside the city limits and get on to the farm. This included working for Kalona News, south of Iowa City in the town of Kalona, followed by an internship at Wallaces Farmer in Des Moines after graduation.
Coming from a farm family in southwest Iowa, Tyler is largely interested in how issues impact people at the producer level. True to the reason he started reporting, he loves getting out of town and meeting with producers on the farm, which also gives him a firsthand look at how agriculture and urban interact.
Subscribe to receive top agriculture news
Be informed daily with these free e-newsletters
You May Also Like
---