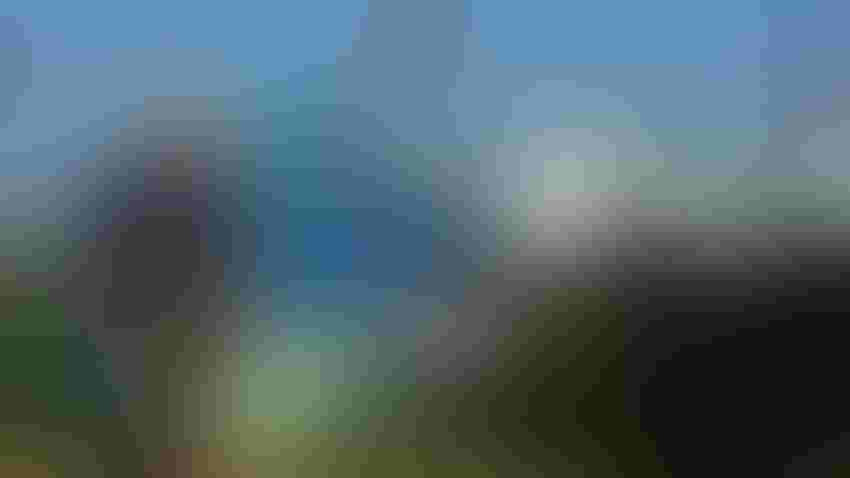 PUMPING PROPANE: Mike Newland, director of ag business development for PERC, stands by a demonstration exhibit at the PERC booth at Husker Harvest Days this past fall, showing how a propane-fueled engine can assist irrigators.
Elizabeth Hodges
From grilling burgers and heating livestock barns to irrigating crops, propane is a versatile fuel that can power your operation.
"It's an incredibly clean burning fuel that does not require any after treatment on the exhaust and emissions as it goes through these new machines," says Mike Newland, director of ag business development for the Propane Education and Research Council.
By powering up with propane, you can have a fuel that is easily stored and burns clean, Newland adds. Propane is the only energy source that does not require containment. With the ease of having this portable and reliable fuel on hand, no matter what the time, it can create easier management.
Set apart
Propane is a fuel that keeps irrigation rolling. At Husker Harvest Days, where the latest irrigation technology is in full view, PERC had different irrigation engines on display to promote the usage of propane for center pivots. Newland says that propane irrigation is a growing market share every year.
Here are three reasons why PERC believes farmers should consider propane as a power source, for irrigation in particular:
1. Cost-effective. Propane engines are less expensive, and propane is generally more affordable as a fuel. According to PERC, propane-fueled irrigation engines can reduce fuel costs per hour by 45% compared with alternatives.
2. Environmentally friendly. With propane irrigation engines, you can be confident that you are keeping up with environmental regulations. According to research from the Gas Technology Institute, propane-powered irrigation engines produce up to 18% fewer greenhouse gas emissions than other fuel alternatives.
3. Same amenities. Newland says that propane pumps can do all the things that people are accustomed to on their electric pumps. An example of this is remote start and stop. This new and convenient technology can be found on propane engines today.
Keeping livestock warm
The reach of propane is not confined to irrigation. This fuel can be used to heat buildings within a vast variety of livestock operations.
"I tell people who don't understand what propane does, if you eat pork, chicken or turkey products, you are using our fuel in some form or fashion," Newland said.
Propane is a consistent fuel that heats livestock buildings. In a hog operation, for example, once pigs are weaned at 21 days of age, they move into a nursery. This is one of the most critical stages of their lives because they are going through a big change leaving the sow. It is important that these pigs are kept at a warm temperature, and that the fuel heating the nursery is a consistent and reliable source.
"When [pigs] are small, they need a tremendous amount of heat, and all those buildings have been kept very warm to get that animal through their most critical stage of life," Newland says. "Our fuel is the fuel that does that."
Future of propane
While propane is not a new product, the fuel is being transformed to other systems to give the producer options. The organic industry has benefited from propane by using it for weed flaming.
"As we fight chemical-resistant weeds across the Midwest, I can really see that technology taking off," Newland said. He can see traditional row crop producers who are looking to decrease their herbicide applications adapting this technology.
Once the grain is out of the field, producers are relying on the power of propane to dry their grain. According to PERC, 80% of grain dryers rely on propane because it is a portable fuel that creates less shutdowns at a lower cost to the farmer.
To learn more about how propane can help fuel your operation, visit propane.com.
Subscribe to receive top agriculture news
Be informed daily with these free e-newsletters
You May Also Like
---