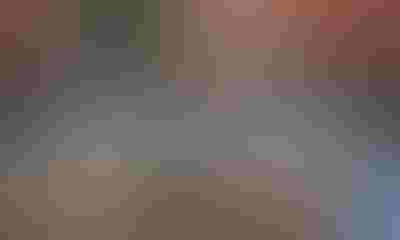 Every dog brings a special skill to the farm. That's why every year Prairie Farmer honors some of the best farm dogs in the state. This year, top honors in the Favorite Farm Dogs contest went to Max, and Maggie and Butter. With so many outstanding 4-legged friends in Illinois, here are 3 more farm dogs recognized for their unique characteristics.
Thanks to each of you who shared stories and photos of your amazing farm dog. Keep those cameras handy for our next contest!
Honorable Mention – Most Photogenic: Charlie

Meet the winners of the 2016 Prairie Farmer Favorite Farm Dog contest.
Our dog, Charlie, waits for our children to come home from school every day. He will be on this rock every day 15 minutes before the bus arrives. He's also good at waiting for the next load of corn, and it sure seems like he likes having his picture taken – he always sits at attention when photographed!
--submitted by Mark Niebrugge, Sigel, Ill.
Honorable Mention – Pint Size Pal: Ellie
At first glance, Ellie may appear to be a small deer or a Greyhound, but she is a Chihuahua mix. The exact mix is uncertain but the rescue shelter said there was a bit of wiener dog in the gene pool. 
Her compact size offers convenience and versatility unavailable in many of today's typical farm dogs: Easy, one handed installation into any cab or vehicle, fits nicely on the buddy seat, provides old school companionship for long hours of farm duty not offered by today's smart phones or iPads. She offers an unparalleled security system, providing early warning of approaching strangers or vehicles and can easily be placed inside a jacket as a hand warmer. Her highly developed sense of smell allows her to pinpoint the location of any rodents that may potentially damage expensive equipment, and I never have to worry about cleaning food crumbs from the cab. She sleeps most of the time but is ready to spring into action should a squirrel, chicken or cat invade her territory. Cost of operation and maintenance is very low, consuming only a handful of food per day. She doesn't mind working 7 days a week and is happy to "dance" (twirl on her back legs) as compensation for snacks. We feel Ellie is an outstanding representative in the small breed competition!
--submitted by Mark and Dawn Steigman, Thawville, Ill.
Honorable mention – Best Name: Kinze
When I graduated from college last year, my uncle gave me a purebred German Shepherd puppy.
Since we have two Kinze planters and two Kinze grain carts, it seemed fitting to name my four-legged canine after a reputable American company like Kinze.
Since graduation, I have learned a lot about this dog and what she truly means to me. Kinze has ridden with me while planting in the spring, crop scouting in the spring, tilling fields in the fall and helping as I feed cattle year round. In the evening, she can be found gnawing on a leg bone from the cattle locker. At the end of the day, she always comes and lies by the side of my bed with four paws in the air. In the morning, Kinze is already sitting by the door waiting for me so we can eat breakfast together.
Life for me would not be same without Kinze in it. She definitely helps me appreciate the small things in life and helps me reflect at the end of the day on the more positive aspects of life.
--submitted by Jake Perino, Deer Grove, Ill.
Subscribe to receive top agriculture news
Be informed daily with these free e-newsletters
You May Also Like
---