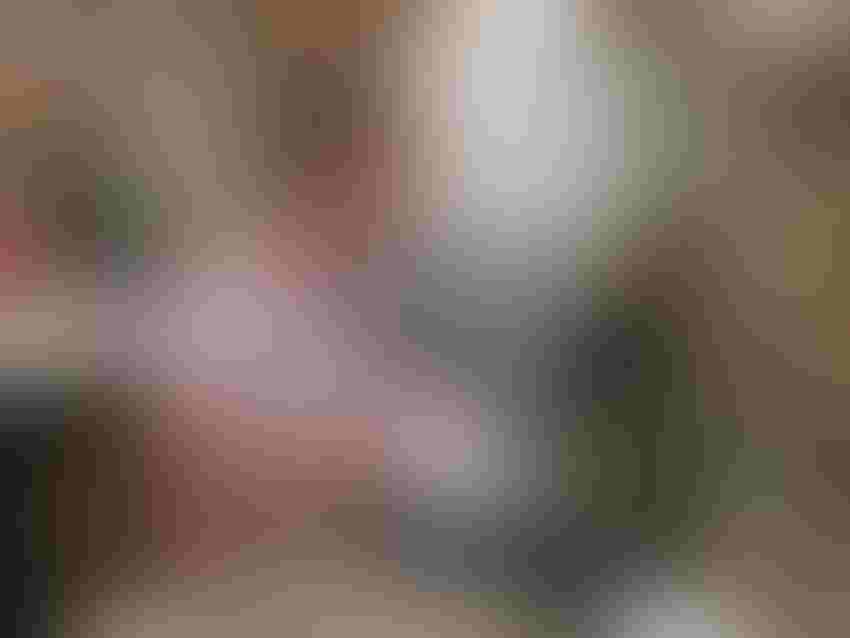 Stephanie Doria, a staff research associate at the University of California's Lindcove Research and Extension Center in Exeter, Calif., looks at red scale on twig samples under a microscope in the center's lab. The UC's extension centers have been hit with funding cuts in recent years.
The first budget proposal of Gov. Gavin Newsom's tenure is a $209 billion document that includes a $1.4 billion boost for state-run colleges and universities, but no new money is planned for the University of California extension advisors and specialists who work with agriculture.
Officials say the governor's proposed $240 million in new ongoing funding for UC operation costs and other efforts won't trickle down to the Division of Agriculture and Natural Resources, whose budget of about $207 million will remain flat.
"At this time, it appears that there is no increase for ANR," said Glenda Humiston, the UC's vice president for agriculture and natural resources. "The budget for the Office of the President is held flat again. Effectively, this will require cuts to programs as we will still be required to cover unfunded obligations.
"As we have had to do in the previous years of unfunded obligations and budget cuts, we will implement a comprehensive strategy that includes several parts," Humiston says in an email. The university will decrease hiring of UC Cooperative Extension advisors and specialists, reduce the budgets of statewide programs, cancel a competitive grants program and have research and extension centers further reduce their subsidy of research projects.
"ANR will continue to develop new sources of funding and expand partnerships to leverage available resources to serve our mission as best we can," she adds.
EDUCATION TOUTED
Newsom touted his ledger's support for higher education as he promises free attendance for first-time, full-time students in community colleges for two years and identifies $942 million in ongoing funding to support increased enrollment, improved time to degree and a tuition freeze, according to a news release. Segments serving a higher number of students receive a greater amount of the increased resources, according to the governor's office.
Funding increases for the UC are set for such things as launching initiatives on student success, student hunger and housing; ongoing support for graduate medical education; and mental health resources, according to the governor's news release. The budget also proposes $138 million in one-time money for deferred maintenance.
Newsom also proposes $300 million in ongoing funds for the California State University for increased enrollment and other costs, and $247 million in one-time grants for such efforts as the expansion of on-campus child care facilities serving students.
Among other priorities, Newsom also proposes what he calls the largest per-pupil expenditure for elementary, junior high and high school in history, funding for universal preschool and expansion of the state's Earned Income Tax Credit for working families.
FUNDS DECREASING
UCANR administrators say they've seen a 67 percent increase in undergraduate student enrollment since the 2000-01 fiscal year but that the division's portion of the UC's state funds has decreased from $70.2 million that year to $40.7 million in 2017-18.
In recent years, UCANR has taken such measures as closing the Shafter Research and Extension Center and several program administrative offices to save about $1 million, consolidated support units to save $1.8 million and reduced administration to save another $1.2 million, according to a budget presentation by ANR officials in December.
The $72.6 million the division received from the state in fiscal 2017-18 represented only 35 percent of its total budget, with competitive grants and "extramural" income, federal and county funds, crop income and other sources making up the rest.
Among other parts of Newsom's proposal that impact agriculture, the state Department of Food and Agriculture would see its overall budget drop from $718.7 million in the current fiscal year to $565.9 million in 2019-20, according to detailed state budget documents. State contributions to the department would decrease from $519.1 million to $414.4 million, respectively.
CDFA HIGHLIGHTS
Among the highlights of the 2019-20 ledger for the department would be $2.5 million and 65 positions to build a dedicated Citrus Pest and Disease Prevention Division within CDFA to enhance Asian citrus psyllid and huanglongbing detection, suppression and eradication activities throughout the state, according to a CDFA blog post.
Groups such as California Citrus Mutual tried for years to get state money for the psyllid and HLB, and then-Gov. Jerry Brown two years ago signed a budget that included $10 million from the general fund for the crisis.
Newsom's blueprint also includes a request for $18 million to implement conservation management techniques to improve soil health, sequester carbon and reduce greenhouse gas emissions through the agency's Healthy Soils grant program.
Also, $25 million is proposed to reduce methane through the CDFA's Dairy Digester and Alternative Manure Management grant programs, officials say. The governor also wants six positions set aside to develop an industrial hemp program, for which some 300 growers would be expected to register, and nearly $4 million to build a new full-service California Animal Health and Food Safety Laboratory System facility in the northern San Joaquin Valley.
DISASTER READINESS
Newsom's budget also places a big emphasis on disaster readiness and recovery. His emergency response package would include what he calls a sizable investment in forest management—$214 million—to increase fire prevention and complete additional fuel reduction projects, including increased prescribed fire crews.
Farmworkers may take note of a line in the budget that would provide $25 million from the general fund, including $5 million for this fiscal year, for an immigration rapid-response program to assist qualified community-based organizations and non-profit entities in providing services. Newsom also proposes $75 million in ongoing general-fund contributions for other immigration-related efforts, including helping applicants seeking Deferred Action for Childhood Arrivals; naturalization; and other remedies, according to the governor's release.
The full summary of the governor's budget proposal can be found at www.ebudget.ca.gov. The ledger must be approved by the Leg
About the Author(s)
Subscribe to receive top agriculture news
Be informed daily with these free e-newsletters
You May Also Like
---