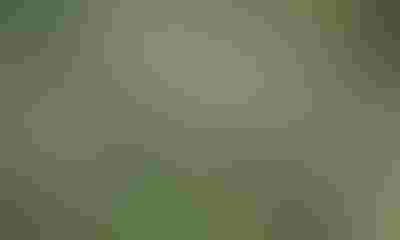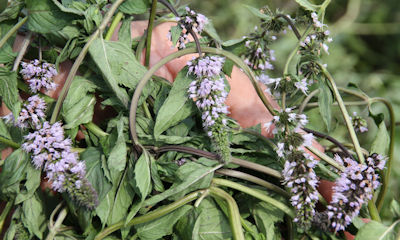 While travelling through parts of Jefferson and Rock counties during late July and early August, it's impossible to ignore the distinctly, fresh scent that wafts along the roadway. Mint production is in full swing for Tom and Rochelle Anfang, owners of T0-ROC LLC farms near Sullivan.

PRIME PERFORMANCE: The Badger State ranks 6th in the nation for production of mint oils. About 80%-85% of the total acreage is peppermint, while the remainder is spearmint.
"We started growing mint in Rock County in 1995. It's a crop that few consumers are familiar with," Tom Anfang says. "Mint is a perennial that doesn't produce seeds. New fields are planted with root stock, as underground runners, called stolens, from existing plants. It goes in as a row crop, but by the second year spreads out. The growing cycle lasts three to five years but there can be problems because plants are susceptible to disease, insects and weeds."
Planting season kicks off as early as March and April. Three 6-row planters drop mint roots with an 18-inch spacing between rows.
After being cut and hauled to the distillery, boilers provide pressurized steam which is forced through a line into tubes along the bottom of the mint tub. As steam is released it rises through the hay and mint oil is vaporized. Oil and steam then pass through an outgoing vapor line at the top of the tub. From here the vapors are piped to water-cooled condensers where they return to the liquid state. In the separator, oil rises to the top and is drawn off.  
"After removing all the water, oil is pumped into a stainless steel vat and loaded into 550- gallon shipping containers. They are transported to a broker," says Randy Renz, plant manager. "Few people know about this crop but it is amazing how that mint aroma lingers in my truck until Thanksgiving."
CHOPPING TIME: When the crop matures in mid-summer, windrowers mow 15-foot swaths down the field. The cut mint is left to dry for 24 hours before it is blown into a mint tub.
INTO THE STILL: Loaded mint tubs steadily roll in by trucks from the fields to the 50 x 200 square-foot distillery. Here, oil is extracted from the leaves by steam distillation.
WORLDY TASTES: One drum of mint oil, weighing approximately 400 pounds, can flavor more than five million sticks of chewing gum or 400,000 tubes of toothpaste.
COMPLETED CYCLE: Plant discharge is rich in organic matter. It's hauled to several different sites, leveled, spread and then chisel plowed back into the fields prior to freeze up.
Persinger lives in Milwaukee.
Subscribe to receive top agriculture news
Be informed daily with these free e-newsletters
You May Also Like
---