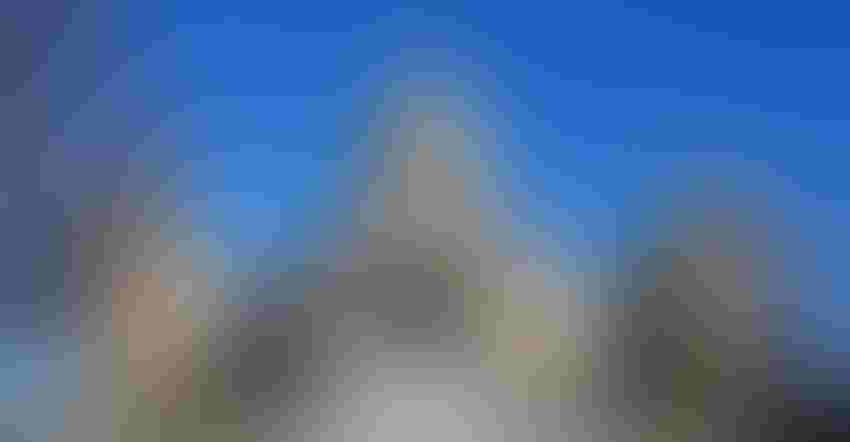 VET SHORTAGE: To recruit more rural veterinarians, Iowa lawmakers are proposing to pay student loans for vets who work in an underserved area for four years.
Farm Progress
As many readers are aware, this winter, Des Moines hosted the Iowa Pork Congress and Iowa Beef Expo. Among other features, the events provided producers a daily opportunity to attend seminars and learn more about issues facing the livestock industry. This month's column will focus on some of those issues and examine them from a legal standpoint. These are current issues that may impact Iowa producers. These state-level issues range from ongoing court cases, newly implemented regulations and state legislation introduced to support the industry. 
Iowa's common ownership regulations 
As of Feb. 19, the Iowa Department of Natural Resources rule that defines common ownership of animal feeding operations changed for confinement structures constructed after that date.  
Before the change, a "majority" ownership by a person in a business entity was used to determine if two or more adjacent confinement facilities owned by that entity were "separate" facilities. The new definition replaces the word "majority" with "10% or more." That means a common owner now includes any person, business or any other ownership entity with an interest of 10% or more in two or more operations located within a regulated adjacency separation distance.  
The definition of common ownership is used to determine if two facilities are actually one and therefore have enough animal units to trigger the need for a manure management plan, a construction permit, the required setback distance, etc. Under previous rules, if several people joined together in a limited liability company or other business entity to own adjacent facilities, but changed the majority ownership for each facility, or did not have a majority ownership in any of the facilities, the separate facilities would have smaller animal unit capacities than if they were combined as one. 
Like most administrative rules, this rule change does not apply to confinement structures built before the adoption of the rule. The rule change also does not apply to dry-bedded confinement feeding operations nor open feedlots because those operations are subject to other regulatory definitions of common ownership. 
Efforts to support livestock producers 
Many readers have inquired about the status of statewide legislative efforts to support livestock producers. At the time this article went to print, three bills stood out as bills to watch on that front in the Iowa Legislature:
Supporting rural veterinarians. One of the more interesting bills is a proposal to assist rural veterinarians with their student loan repayments (SF 2398 and HF 2615). The bill would establish a rural vet loan repayment program in the College Student Aid Commission for veterinarians who agree to practice in rural areas (city with a population of less than 26,000 located more than 20 miles from a city with a population of 50,000 or more) or in vet shortage areas for four years. This bill would also establish in the state treasury a rural vet care trust fund under the control of the commission.
Veterinarians would be eligible if they are enrolled in the final year of a vet degree program at an accredited college of veterinary medicine, or if they are a licensed vet who, within five years of applying for the program, received a degree from an accredited institution. To receive loan repayments, the individual must secure an offer, or establish and maintain a practice in the above areas and engage in full-time practice for the requisite four-year period.
Veterinary liability. SF 2029 and its companion HF 2374 both relate to veterinary immunity, and both bills survived the first funnel deadline. The bill proposes to amend the Iowa Veterinary Practice Act (Iowa Code 169) by providing immunity from administrative, criminal or civil liability for a vet's actions in assisting in the investigation or prosecution of another individual for violations of Iowa law relating to abuse, neglect, torture or injuring of animals. Among other things, the bill provides that the licensed veterinarian is not subject to professional discipline by the Iowa veterinary board for taking such actions.  
Hauling oversized loads. HF 2310 also survived the first "funnel" deadline and relates to moving hay. The bill would eliminate the need for an annual permit for oversized loads for hauling loads of hay, stover, straw or bagged livestock bedding if the load exceeds the length, height or width restrictions for an oversized load, unless the load exceeds an overall width of 12 feet, 5 inches; an overall length of 75 feet; and an overall height of 14 feet, 6 inches. If haulers violate the size restrictions, they could be fined $200. 
On March 17, the Iowa Legislature announced a suspension of the 2020 legislative session for 30 days. It remains to be seen what the outcome of these bills will be in light of COVID-19 concerns nationwide. We will keep monitoring these bills and update readers when the session resumes.
We continue to monitor several cases impacting the livestock industry at the state and federal level, including litigation involving the constitutionality of Iowa's Ag Fraud Law, which has been filed by the Animal Legal Defense Fund and other groups. We will continue to watch those cases and provide updates on new developments to readers along the way, as well as the ultimate outcome of that litigation. 
Special thanks to Eldon McAfee, my law partner, for his thoughts and information shared in this column. 
Herbold-Swalwell is an attorney with Brick-Gentry in Des Moines. 
Subscribe to receive top agriculture news
Be informed daily with these free e-newsletters
You May Also Like
---