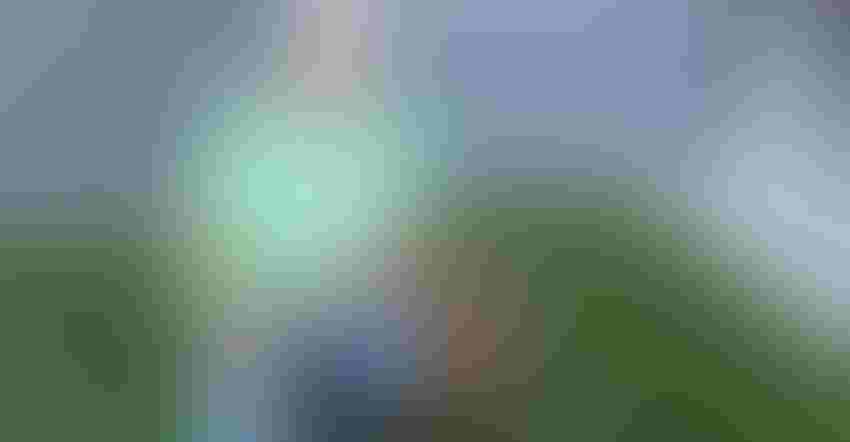 PATH HOME: Travis Strasser is pictured here with Moxie, one of the foundation dogs in Strasser's kennel, Lockdown Labs. Turning his hobby, breeding and training gun dogs, into a business helped Strasser finance his return to the farm.
Photos by Lon Tonneson
Starting or expanding a livestock enterprise is a common way get back to the farm. It's what Travis Strasser, of Wilmot, S.D., did, too. But he didn't do it by feeding cattle or finishing hogs.
Strasser, 39, breeds and trains dogs. His kennel is called Lockdown Labs.
Strasser farms with his wife, Andrea, who works off the farm as a nurse; his brother, Darren; and his parents, Delton and Vernette. Travis and Andrea have three children: Emmett, Aubree and Holden. Travis also serves on the South Dakota Corn Growers Association board of directors.




FAMILY FARMING: Travis and Andrea Strasser have three children: Emmett (center, standing), Aubree and Holden.
Good fit
Breeding and training dogs is an enterprise that is a good fit with the farm. As with all livestock operations, Travis has morning and evening chores to do daily. During the summer and winter, he spends many hours each week training dogs. Dog training can be done before or after fieldwork, trucking and other tasks, however.
Travis got interested in breeding and training dogs after college and had his own hunting dog, Birdie. She performed so well people started asking if he would train their dog, or if they could buy Birdie's puppies. When Travis and Birdie started competing at trials, he met other trainers and breeders and learned how to how to turn his hobby into a business.
"I'm passionate about things I do," he says. "Once I commit to something, I strive to be competitive in those fields."

ROLE MODEL: Travis Strasser (left) looks to his father, Delton, as a role model and mentor. Besides building a successful farm and bringing two of his children back into the operation, Delton served on the South Dakota Corn Growers Association and South Dakota Corn Utilization Council boards, the National Corn Growers Association action teams, and he was also president of the Poet Inc. board of directors at the company's ethanol biorefining operation at Big Stone, S.D. Delton received the SDCGA's Excellence in Agriculture Award in 2010.
Another career
Dogs weren't the only unique thing about Travis' path back to the farm. He managed golf courses for 11 years before returning the farm full time in 2014. He was assistant superintendent at a course in Iowa for two years, and superintendent of the Ortonville, Minn., municipal golf course for nine years.
"It was my off-the-farm dream job," Travis says. He had been an avid high school and college golfer.
Travis knew he wasn't going back to the farm as soon as he graduated from college. His parents encouraged their children get an education and work for someone else for a while before coming back to the farm. He majored in in turf management and minored in agronomy and business at South Dakota State University.
"Managing a golf course is a lot like farming," Travis says. "You work outside, you do things on the course like you do in a farm field — seed, spray for weeds and disease, and mow — but you don't have the commodity marketing risk."
The golf course provided him with an opportunity to gain management experience. Travis learned how to be a boss, work with teams, create budgets, answer to a board of directors, and be open and transparent with the public.
"With a municipal course, everyone is an owner," he says. They want to know how the course is being managed and if the products and practices being used are safe and environmentally friendly — much like what consumers expect from farmers.
Another plus for golf course management: It was seasonal, so he could help his family on the farm during planting and harvest.

LISTENING LESSON: Travis Strasser directs Moxie, a pointing Labrador retriever, to sit quietly.
Complementary experience
Travis had a good example of how to develop skills that would be useful when he came back to the farm. His older brother, Darren, worked for Farm Credit Services before returning to the farm. Darren's banking experience is a valuable asset for the farm today.
"I always knew I wanted to farm," Travis says. "It just was a matter of timing, getting the right experience and developing some extra additional income to make it possible."
You can visit Lockdown Labs online.
Subscribe to receive top agriculture news
Be informed daily with these free e-newsletters
You May Also Like
---