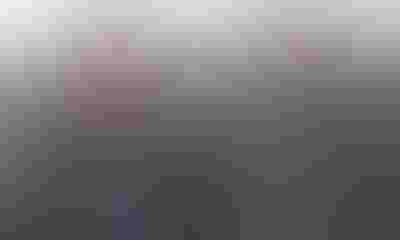 This is the first part of a three-part series. Follow the series using the links at the end of this story.
Ever since the great hog collapse of 1998, farmers have more often been seen exiting, rather than entering, the pig business. Not so for Levi Greuel and his cousin Austin Greuel, two young farmers who bucked the trend and began – from scratch – a feeder pig business seven years ago at their family grain farm near Industry, Ill.
Related: Access to land still the biggest concern for young farmers, ranchers
"Hogs are a great way for a young farmer to build equity fast," says Levi Greuel (right), with his cousin and partner Austin Greuel, Industry, Ill. Photo by Holly Spangler
Each generation looks for their place, and so was the case for these young farmers. For Levi, he chose livestock even though he disliked animal science in college and had never touched a hog when the first 5,000 head arrived at the cousins' freshly minted hog houses in 2008.
He and Austin tackled the difficult world of permits, EPA guidelines and manure easements. And then tackled them all again when they built the next set of hog houses four years later – and again, three years after that.
In 2006 Levi graduated college with an ag business degree and one objective: "I wanted to farm," he says. "I could stay on the grain side with my dad and uncle, and be a hired hand most of my life, or I could start something on my own."
In his search for options, Levi asked a local hog producer what he would have done differently if he knew then what he knows now. This mentor said, "I'd have done it sooner."
After Levi reviewed the stats, he agreed. Levi worked with family members to secure building sites and collateral, and then locked down a Farm Credit loan for $1.1 million for his first hog buildings in 2008 after negotiating a 10-year contract with TriOak Food, one of several integrators looking for farm partners.
Related: How to help young farmers
TriOak owns the pigs, and the Greuels own the land and facilities, which each hold 2,480 head in a wean-to-finish (12 to 285 pounds) system. The manure is used to lower the farm's fertilizer bills. Hog feed comes via contracts with TriOak.
"We provide the labor, expenses, utilities and animal care," Levi adds. "One hundred percent of our feed comes directly from the contractor in nine phases suited to the hog's development."
Grace writes from eastern Tennessee. Read her blog at beefandsweettea.com.
Contract hogs, part I: Young farmers, risk and opportunity
Contract hogs, part II: Inflation, insurance and expenses
Contract hogs, part III: Crops and livestock go together
Subscribe to receive top agriculture news
Be informed daily with these free e-newsletters
You May Also Like
---