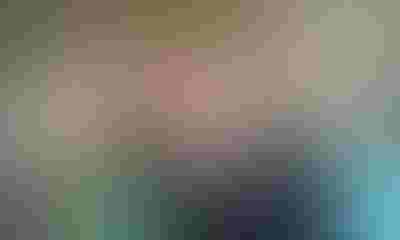 Editor's note: we're sharing the story of the Chatterton family this week, who were gracious in revealing their story of loss, grief and rebuilding, following Greg Chatterton's death in 2012.
What happens when your husband of 35 years is suddenly gone? The big and the difficult are hard to put words to - and changes are inevitable.
The biggest change?
"I see life going on," Charlotte Chatterton says today. "You think life should stop but it just continues. Your faith grows in size, because you just have to go on.

Live from the combine during the 2015 harvest, Erin (Chatterton) Featherlin welcomed her mom, Charlotte Chatterton (far right) and Charlotte's sister, Theresa Pierce.
"I think sometimes that maybe Greg wouldn't like this or that. But decisions have to be made and sometimes that means change. Eventually, you feel better about that," she adds.
Her family was conscious of all those changes, too. Even about pulling into the drive on the home farm, where Charlotte lives. "There were times I thought, 'should we pull in the driveway with the combine?' I didn't want to hurt her," says Deanna, Charlotte's sister-in-law.
Her daughter, Erin concurs. "That was a tough transition over the last four years. We were making changes that I knew would be uncomfortable to my mom. I was protective of her and her emotions and how it might make her feel."
So protective that Erin would strategically plan her attempts to gather farm mail: riffling through it when Charlotte wasn't looking, or running over when she knew her mom was busy.
"As funny and stupid as it is, it was very serious," Erin says today. "I wanted to protect my mom."
Looking back, Charlotte smiles, unaware but grateful.
She's observed that farming is unique, with so many involved and all right in front of you. "There were times in the beginning when I didn't want to see the farming going on," Charlotte says, wondering what it would be like for a woman whose husband ran a corporation or some other business.
"I wouldn't have to watch someone sit at his desk."
But this past fall, she came around, stepping back into the combine for the first time.
"For a long time, I didn't like the smell of the tractor inside, and I hated the smell of diesel and dirty farming clothes – all the things that brought him back to me. There was a time when I felt like I needed to separate," Charlotte says.
"And now I'm riding in the combine, with my sister and daughter. I've come around!"
For more:
Chatterton Family: A sudden succession
Chatterton Family: A corn field conversation
Chatterton Family: Protecting the hurting
Chatterton Family: Opportunity, and other strange words
Subscribe to receive top agriculture news
Be informed daily with these free e-newsletters
You May Also Like
---